The Best Press Release Examples for every occasions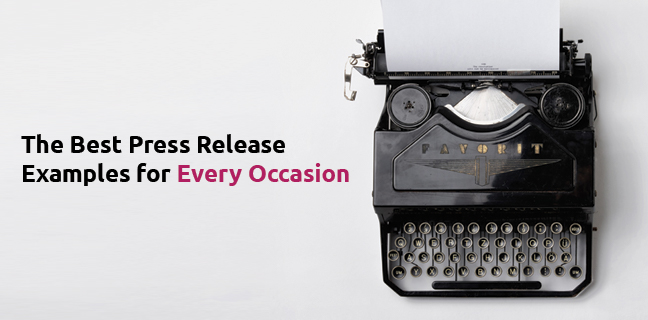 You've got a business announcement in mind, and now you're looking on get it out in words and pen it down to share with the whole world.
But writing a press release that gets picked up in media outlets is no easy task, and sometimes it's easier to replicate success when you have some great examples to follow.
That's why to help your next press release and media coverage, we've shovel through tens of thousands of press releases in our database to find our best press release examples.
These news releases were selected because not only were they written beautifully but they have been effective in garnering publicity in social media.
While writing a press release is more of an art than science, there are still several tested strategies that work. We'll walk you through them with each examples, providing you with actionable advice to create your own successful press release.
Without further ado, here're press release samples in 9 different occasions.
1. New Product or Service Launch
One of the fundamental reason why we write press releases - they are the fastest way to break the latest announcements and updates with the public.
A surefire way to make sure your news announcement gets attention is ask yourself if it is newsworthy enough? Imagine something important that has occured recently and can be spread immediately.
One example that features breaking news is: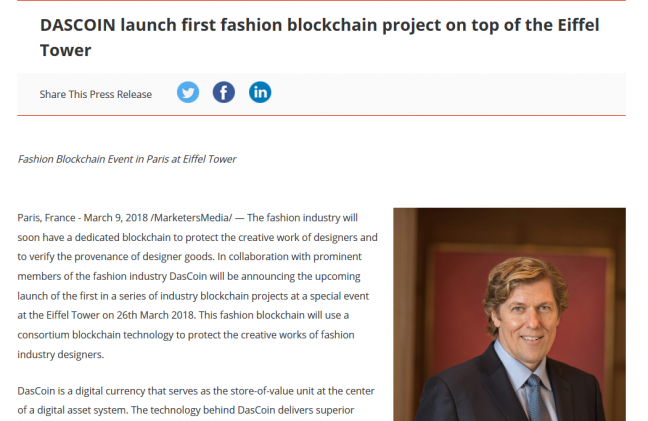 A news about a fashion blockchain event in Paris, DASCOIN highlights its importance to journalists and media outlets clearly in its headline by stating that it is the first fashion blockchain project, on top of being at the Eiffel Tower.
While this pr angle is mostly directed to journalists, notice that it also include target keywords like blockchain project and blockchain technology to help ensure that both readers and search engine can understand the subject of the news.
However, you need to remember to include them subtly. Cause you definitely don't want to go overboard with the keyword!
Another great press release example that focuses on new product launch is this news about a New York florist who is now offering a new style of flower bouquets.
The news was published on November 2017 and garnered 1.1k on Facebook engagement, taking up our top 3 spots of most shared press releases.
This press release is a success because it presents a clear and concise message to the local market (its target audience). The business describes what it provides and ends it with a call to action that drives action.
2. Crisis Communication
A crisis can happen to any business. It can be a dramatic event, such as an employee scandal or even just a rumor that has captured public attention.
In this case, your best defense against crisis is to state the facts. Communicate about the crisis and let them know your side of the story, if not a rumor can go nasty quick.
An example of a press release for crisis communication is this news regarding the SFC fraud charges on the Falls Event Center, LLC, and Steven Down.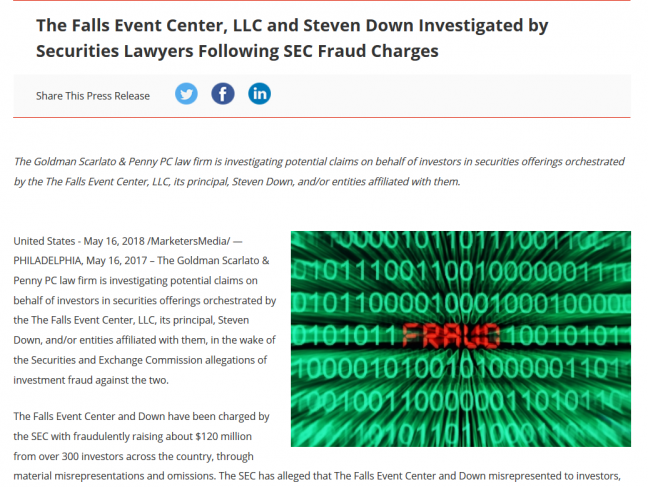 In the press release, the Fall Event Center and Down have consented to the entry of judgment against them, without admitting or denying the SEC's charges.
When writing a press release on crisis communication, it's safest to stand firm on your positioning and isolate the actual issue or problem. Determine whether it's an internal error such as bad judgment or inadequate company controls.
When you communicate your crisis, make sure the message is simple and clear. Give only facts, and don't make any defensive statement.
Another press release sample you can refer to is this pr on ASIC on how they admit their errors in the past and making promises to a more effective management.
If your statement is brief, that's okay. Just state the who, what, when, where, and why. Note that you will release additional information once you have more facts, and provide contact information to one carefully selected individual, such as the CEO or preferably the legal counsel.
Never try to hide information. Your company will be viewed more favorably by both the media and the public if you come forward before the situation becomes widely spread in the media without your involvement. You will also lose the opportunity to control your message if you don't address it proactively.
3. Hosting or Attending an Event
You have a great event and the story to spin it. Now it's time to connect the dots. When writing an event press release, you need to highlight the good stuff at your lede. Is there going to be a big name at your event? Who is it for? People want to know!
Balance pragmatic information with colorful details that will make your event stand out People seek out events that are different and exciting, so make sure to highlight it with more descriptions and details to paint a good time.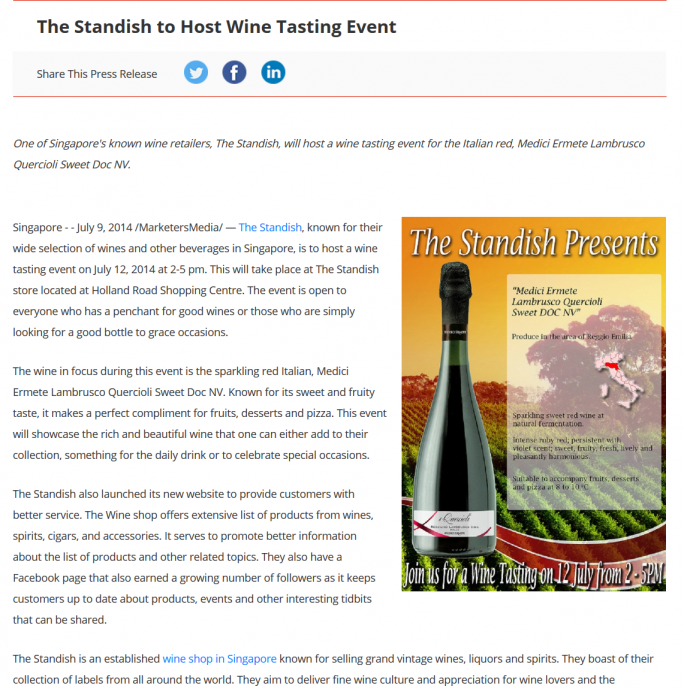 Another important point to add is to include visuals. You can create one with all the details embedded just like The Standish Wine Event or embed a great photograph in a first-person view, it will let the readers more easily imagine themselves in the event.
4. Scholarship
Briefly summarize the project. Describe who will be served by the grant, the overall goal and how it relates to your mission. Indicate any other sources of funding.
Here's an example on how you can announce a sponsorship the right way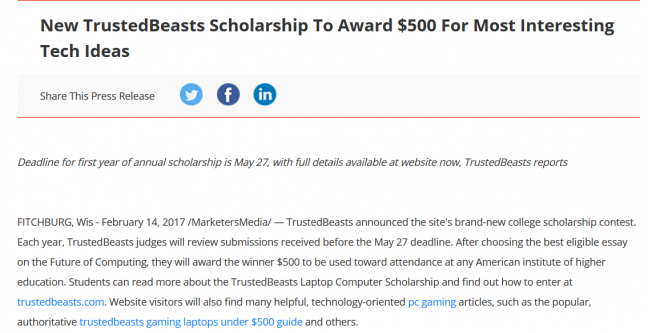 Target your sponsorship to the right audience and make sure that it is being revealed a few months before the deadline to give ample time for interested participants to register.
5. Competition and Contest
Do you want to announce a contest to the general public? Are you planning on using a press release to attract the attention of potential participants?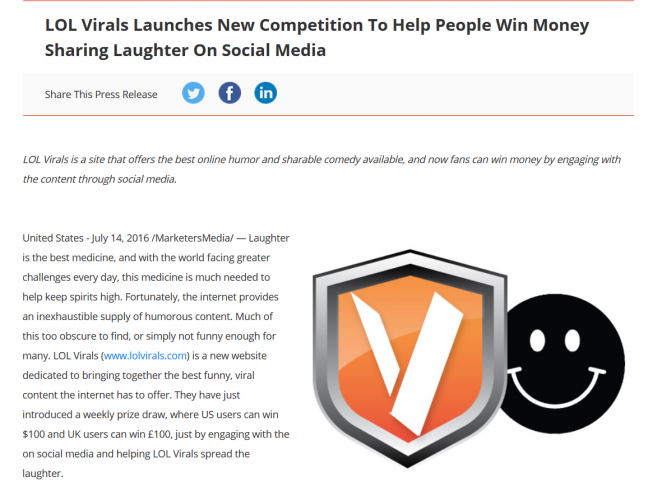 Nothing beats hooking your audience with the prizes and rewards. Also remember, to end it with a call to action, to get people excited about joining your contest.
When it comes to competition releases, you don't just need to announce, you also got to promote it. So don't just stop at one, send another to update and one more to reveal the winner. You will be amazed how one event can give you so many chances for public relations.
Press Release Tip: It's extremely hard to get a social media community interested in a press release, and it's not because they hate hearing about what your company is up to. It's just that they hate the way you're telling the story. So consider dropping the average press release approach like XXX announces XXX*
6. New Partnerships or Acquisitions
Writing a good partnership press release is not easy. So many releases use vague or made up terms and fail to describe what the partnership does. A great example of the partnership press release has to has the names of both companies, just like the example below: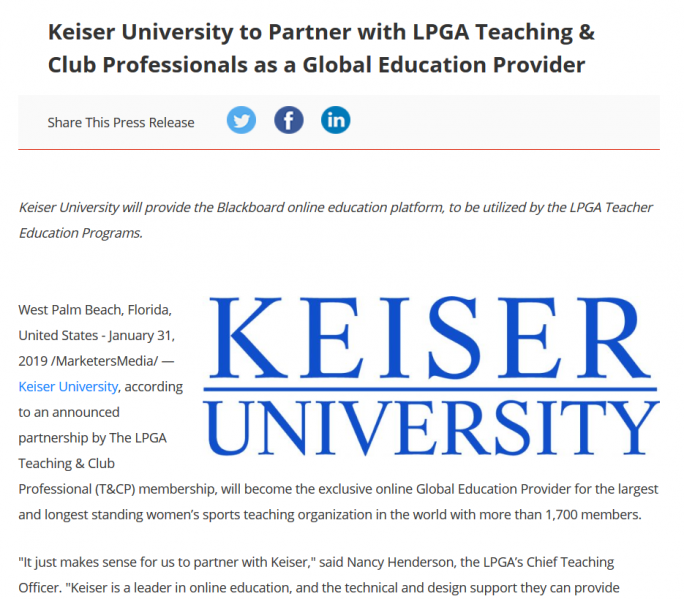 Next, get to the meat of the press release and show details of the partnership and how is it going to benefit both sides of the company. Place emphasis on both parties of the company and also state the impact of this partnership on the market, to show its importance.
Also, take this opportunity to position your company or product. For those who are new to the industry, you can use your press release as a floor to set up your company and product the way which benefits you the most.
7. Awards & Recognition
Congratulations! Winning an award can be exciting an so satisfying. Not only is it fun to compete against the rest of the industry and get your work validated (not to mention, with the chance of outshining your competitors).
Besides being a confidence booster, new clients also may actually come knocking when they hear the buzz about your company excellence, that is if you write your press release right that is.
An excellent press release you can use as a template is this news about SKYWORTH.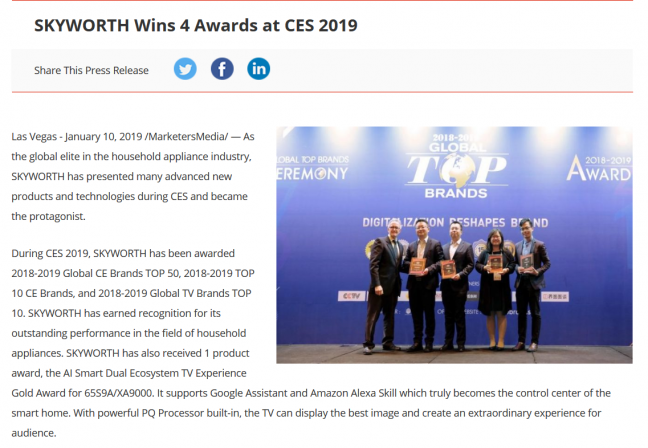 Besides stating its accomplishment, the company has also used the chance to establish itself as the global elite in the household appliance industry. The press release also promotes its products and technologies, in addition to partnerships with big names like Google and Amazon.
A plus point is a picture taken during the award ceremony which goes to further boost its credibility.
8. Ebook Publication
Ebooks are now the new name card. It's an exciting accomplishment to be a published author, but to become a New York Times Bestseller, you need to get the word out.
With that being said, telling people about your new book and expecting them to come running is a dream, if you don't have an exciting ebook press release, you need to create interest through your press release.
Find the keywords that people search for when looking for the topic of your book and also remember to include a link to the sample of your ebook if possible.
9. Milestones and Success Stories
When Cobb Chiropractic Clinic reached their 40 year anniversary serving in Greater Greensboro in March 2018, the company decided to send a press release. As a result, they have sent a press release that received more than two thousand engagement on Facebook (one of the top performing press releases in MarketersMedia.com)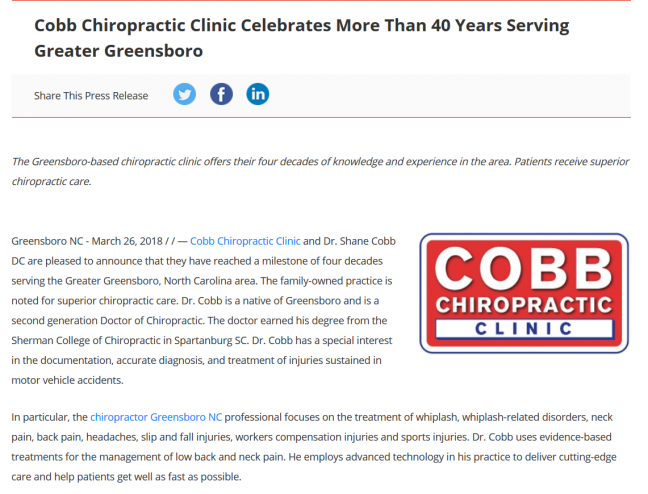 This really goes to show how announcement and press releases can be a great way to generate new or renewed interest in your business. Don't just walk the walk, remember to talk the walk and show your customers how your business has been growing.
An effective press release takes time and effort in order to be put together correctly. While it may be time-efficient to just copy off a press release template or sample. Remember that they are just your guide, take the time to revise the writing and align them with your business or purpose, and create a news story of your own.
If you are just sending them out without a strategy or purpose involved, most of the time they simply fall on deaf ears. The idea behind a press release is to educate, as well as to empathize with any single person who reads it.
Of course, there are some things you should avoid - New website (the press release is boring and will be considered spammy because it simply uses hyperbole to shamelessly promote a company's product or service).
Get Started on Your Press Release Now
Hopefully, these press release examples were able to give you some inspiration on what angle your businesses can take on to write a press release.
And while there's no clear cookie cutter for how a press release should look like, remember to stick to the press release format and requirements. And there you have it, next you need to...
Go forth and distribute!
There you have it! Along with this guide to how to write a press release, you should have everything you need to write your own press release and start. If you are looking to reach national media, you can always get in touch with us!