The Best Local Rank Monitoring Tool | Grid My Business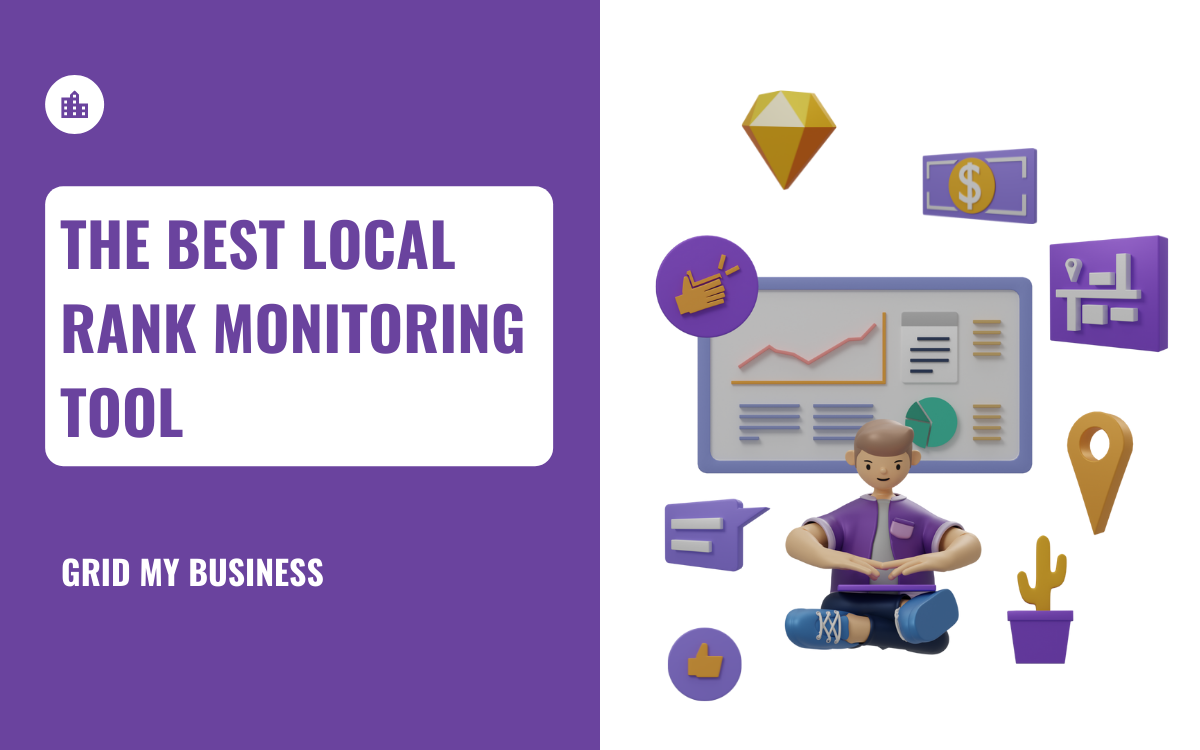 Tracking your rank is crucial if you want your business to take a leap in the search results. For many businesses, the easiest way to climb to the top of the algorithm is to carry out in-depth keyword research, do optimization, monitor keywords rankings, and aim to capture a prime spot in Google snippets. And if you are aiming to rank for local searches, a local rank monitoring tool can help you with this work.

You will learn:
About local SEO and the pillars of local search

How to monitor your ranking with a local rank monitoring tool 

Get to know one incredible tool - Grid My Business
Local SEO has shifted from a rankings-first approach to more conversion and revenue-driven one. The fact is 66% of marketers are reporting this as their marketing goal and it has become an irreplaceable part of every business. 
However, optimizing content to rank higher is not enough. Most people go overboard when it comes to tracking their business' ranking. They check their website every day, hoping that their ranking for a profitable keyword would improve.
This makes sense to an extent. Keywords are the foundation of web marketing. If you enter one of the top spots for a particular phrase, the online traffic of your business can skyrocket. 
Getting enough exposure in Google or one of the other search engines is the best way to build your brand and increase sales.
Tracking business ranking is not easy since your rank can change every day and every week. In order to find accurate data about rankings, you have to use a local rank monitoring tool. 
This article will show you details about how local SEO works and the common local search intent. Besides, you can also find a way to establish your NAP easier with Press Release; or learn how to use a local rank monitoring tool like Grid My Business.
Local SEO and local search intent
The definition of Local SEO: 
SEO is the pulse of any online industry and it's a technique used by the business to rank higher on the search engine. It is a series of methods and actions designed to improve your ranking on search engines when people in your vicinity search for something with a particular location included. 

How does local SEO work?
Local SEO works like normal Google searches. When someone searches, Google scans through its index to provide the best results for their query.
But specifically, local SEO has a set of unique ranking signals, including
The location that the person is searching from

NAP citations

Presence of Google Business Profile listing

The sentiment of online reviews

Number of "check-ins" at that location

Shares on social media

Google Maps star rating for that business
Local search intent examples
Search intent (or user intent, audience intent) is the term used to describe the purpose of an online search. It's the reason why someone conducts a specific search. After all, everyone who does an online search hopes to find something.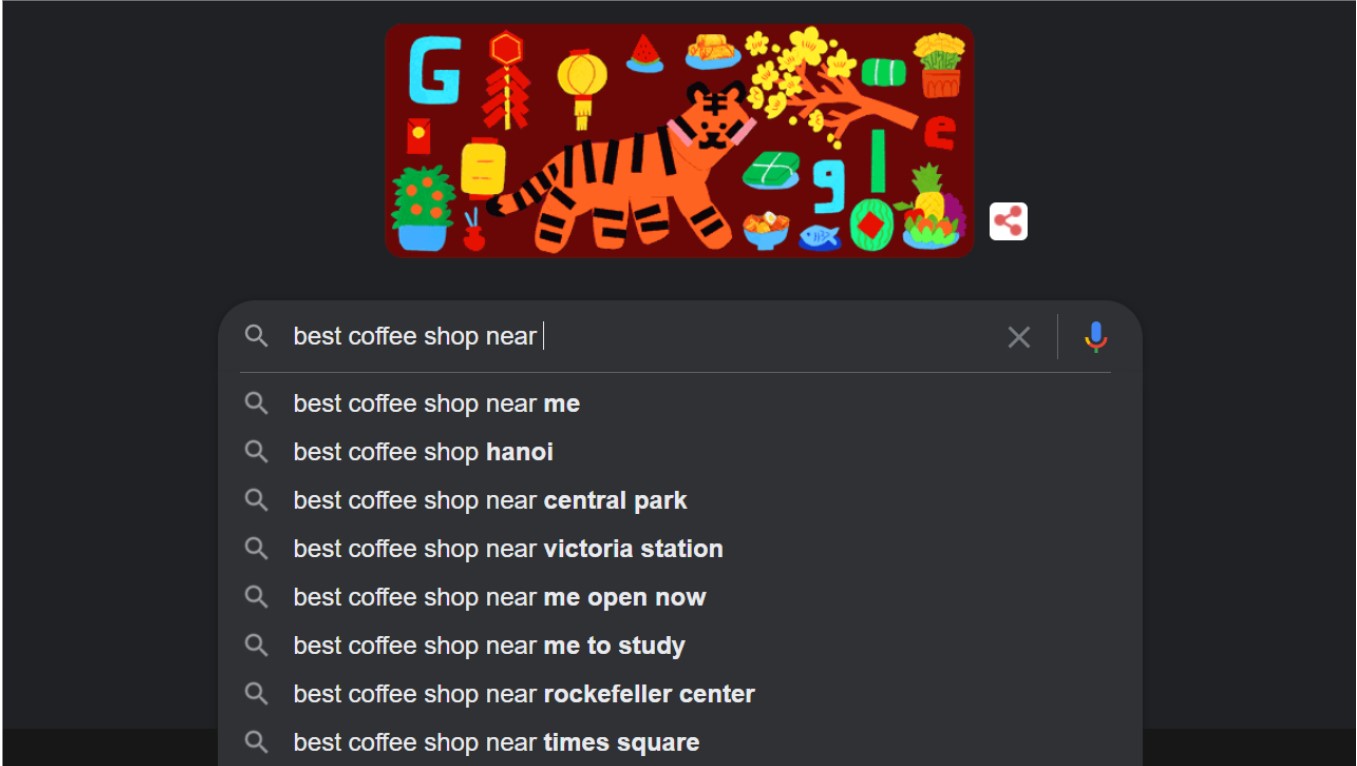 For local search, people often include some words like:
Near me

Best XX (business type/product/service) in YY (location)

Open now

YY (Location) XX (business type/product/service)

Nearby
3 pillars of local search
The fundamentals of Local SEO boil down to three fundamentals: relevance, proximity, and prominence. 
#1. Prominence
In Local SEO, this means that websites that are well-known will rank high when people search for your business or similar to your kind of business in your area. 
The best way to establish prominence is to create business listings on well-known websites. When you're researching local SEO, one of the first phrases you'll see or hear from your SEO consultant is 'online business citation'. This data set is known as your NAP (Name, Address, Phone Number).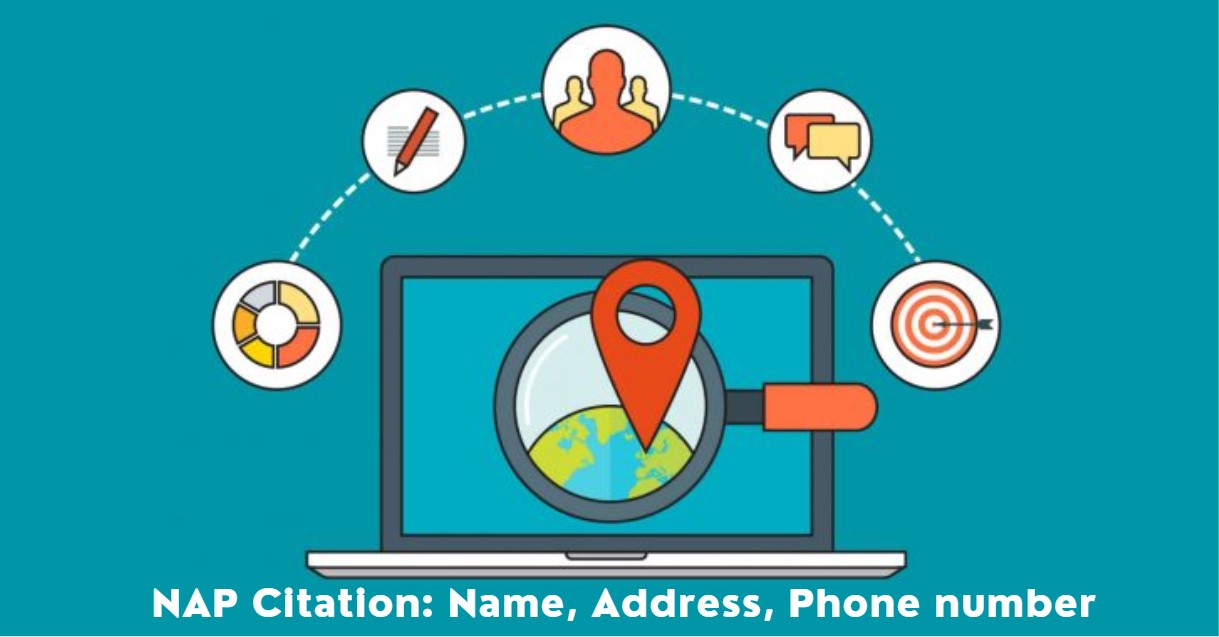 Building citations on sites like Google, Facebook, and within relevant online directories such as Yelp or TripAdvisor gives your business more online visibility. It also helps your business to be discovered by the right people (those interested in your product or service in their local area) at the right time (when they're actively searching for a business like yours). 
Another thing that you must know to improve your prominence is customers' reviews. Review signals improve your chances of getting featured in the local 3-pack and play a role in your overall local search ranking. You should make an active effort to try and collect reviews from your customers instead of expecting them to voluntarily review you.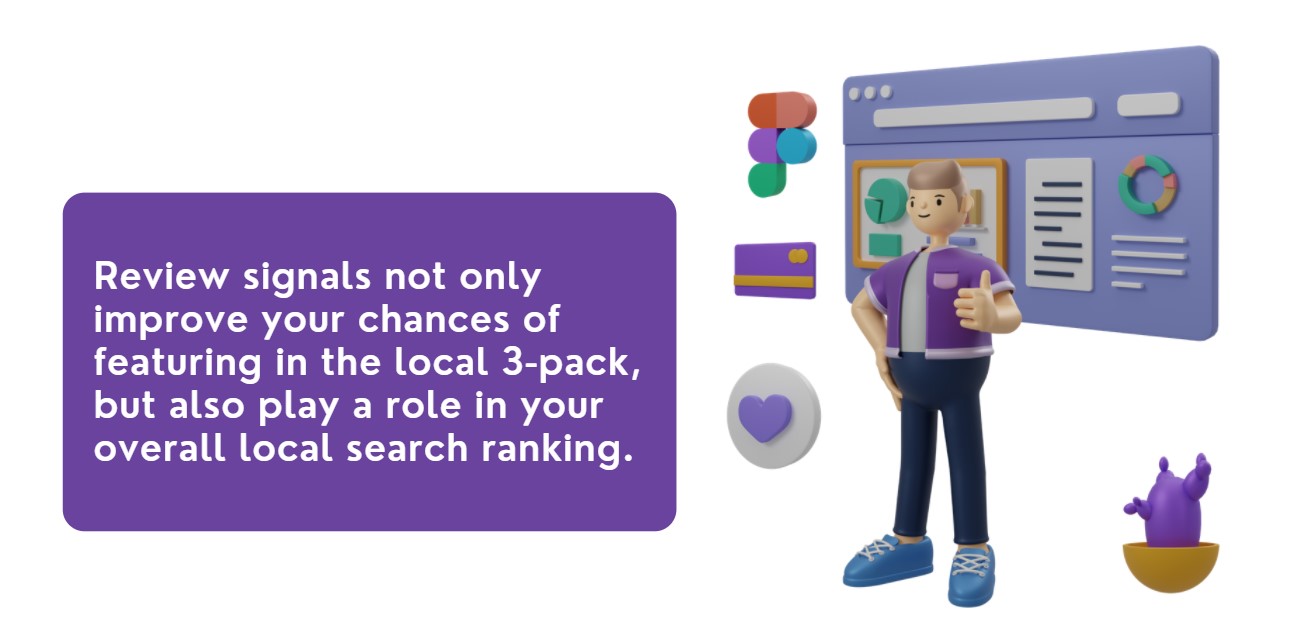 #2. Relevance
Relevance is probably the most important aspect of any Google search. 
When you take the time to create locally-focused evergreen resources, you're more likely to receive links back to your site from other local businesses. Whether they are from a local source such as your town newspaper or an industry-specific site, these links will boost your relevance and prominence signals. Thus, these things also increase your authority and credibility as a local business.
In addition to adding as much information as possible, you want to use keywords so people can easily find you. Brainstorm what you think prospects would search to find your business and start there. Modern customers prefer to make informed decisions and carry out research before taking action. Therefore, it's logical that companies who develop the greatest localized web presence will obtain the vast majority of the share market in a local niche market.
#3. Proximity.
Proximity is all about location, location, location! It refers to how close your business is to the user as they key in their search query. Google's algorithm is constantly being updated to ensure that search results contain searches that have the closest proximity to the search user. Google uses complex algorithms to figure out where people are and connect them to the right places in search. You can search "pizza in Boston," or you can search "pizza near me," and Google will connect you with the closest locations in a list and a map.
However, this is perhaps the most difficult ranking signal to optimize for.
MarketersMEDIA - A tool that helps you establish NAP and distribute maps easier.
So now you are aware of the 3 pillars in local SEO. You also know about the importance of your Google Business Profile, NAP citation, backlinks, reviews, and so on. But there is a lot of work to do, so why don't you use MarketersMEDIA to help with your local SEO's press release distribution?
What can MarketersMEDIA help you?
Create a consistent NAP citation for your business:

When you distribute your press all over the place, this tool supports your NAP citation consistently. You can have your business' contact information across all local directories, social media profiles, and websites.  

Build your backlinks over reputable sites:

MarketersMEDIA has a great network of big media brands like MarketWatch, AP News, Yahoo News, ABC, CBS, Fox, and others. Isn't it amazing to get your business mentioned on these media sites that is viewed by millions?

Distribute your business on Google Map:

This tool has Google Maps API automatically integrated into every press release submission. With the help of this feature, you can strengthen your Google business listing and increase proximity.
The truth is, ads space is becoming more competitive and expensive. MarketersMEDIA is another alternative to promote your business website locally and you can then witness your business getting mentioned within the week. 
The fundamentals of local rank monitoring
After you know the pillars of local search and recognize how to optimize, you can start to publish your press release. And what goes after that? Do you think you just need to move to the next content? No, you should monitor what you had done.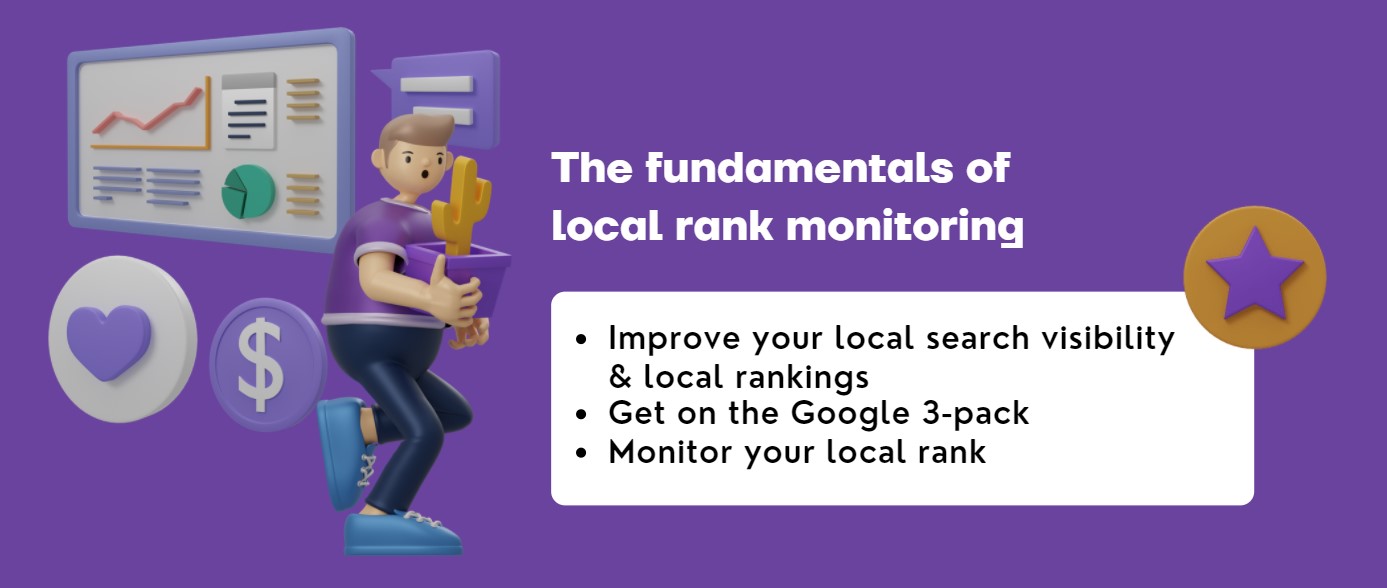 Improve your local search visibility & local rankings
Roughly 49% of local businesses will have over 1,000 views on their Google My Business listings every month. Your business will gain more visibility as it gets discovered by the right people who are interested in your product and at the right time.
The fact is that approximately 78% of mobile local searches prompt an offline purchase. When your business is more visible, this means more profits, sales, and even relevance.
Get on the Google 3-pack
As you appear above the organic results, you will be dominating the search results for local-related searches, ensuring that traffic and revenue can come to your website and business. Google places great importance on on-page signals. So, make sure your name, address, and phone number are accurate on your website. Google will also look at relevant keywords used in the page content.
Monitor your local rank
How well-known your business is (its prominence) and how well your listing matches a search user's requirements (its relevance) will determine how good a local ranking your business has. 
With a local rank tracking tool, you can pay attention to your strategies and determine what works and what doesn't. You can then plan your own strategies to retain your customers and sway customers away from your competitors. This can make or break your long-term success.
Know your ranking and performance with Grid My Business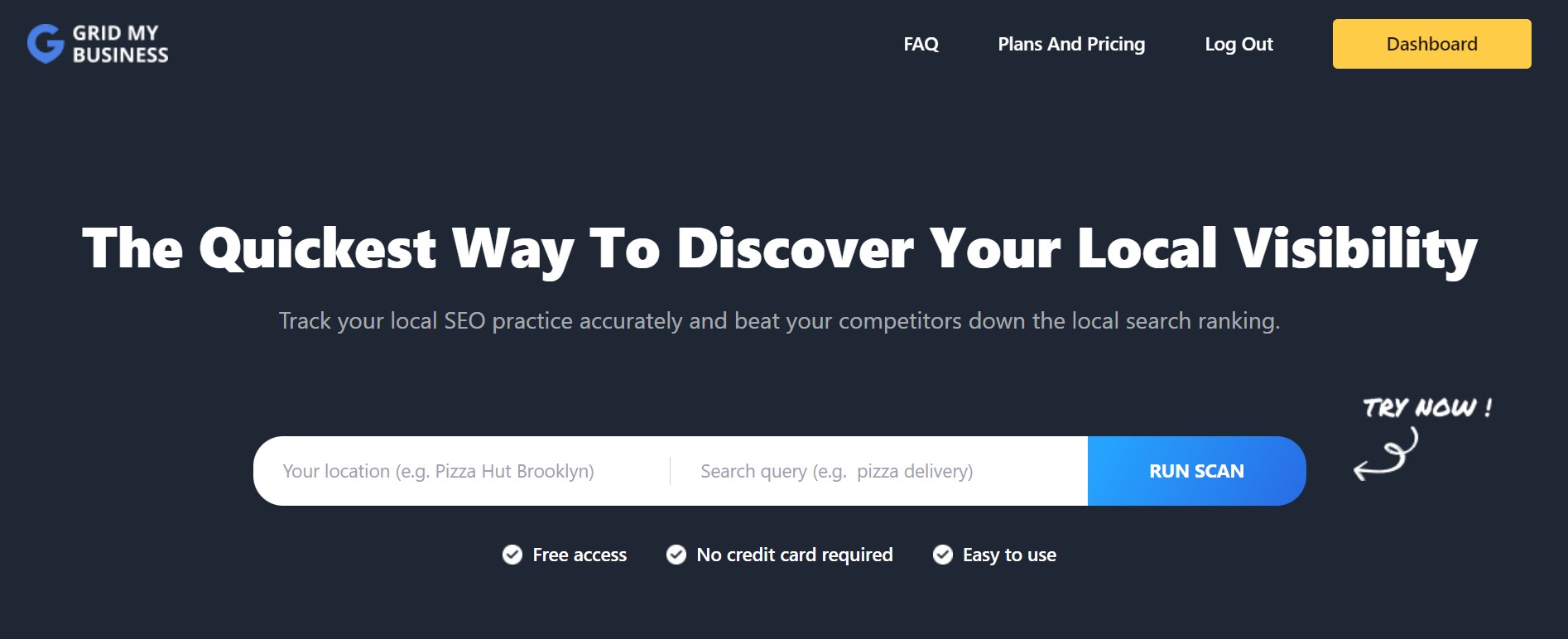 Grid My Business is a relatively new local SEO tool specializing in monitoring search visibility and providing valuable insights to its users. These are amazing features of Grid My Business: 
Personalize your search parameters, such as grid size and distance.

Identify up to 20 of your competitors per grid point in an instant for more ranking insights.

Make the most of your time by analyzing queries in bulk (up to 5 search queries).

Keep track of your local rankings, monitor the reports, and compare ranking performances.

Show off your results with a comprehensive white-label report.
How to use this local rank monitoring tool
Case 1: Using Grid My Business To Monitor Your Rankings
Step 1 - Insert Your Business Location & Search Query
Enter business location at the field given. A list of relevant results will appear as suggestions. Select the location that best matches your business location.
After that, add the search query that is relevant to your business. Now, remember, you have already optimized your website and Google My Business listing for localized keywords. So try to use a local search query such as "cocktails near me".

Step 2 - Select Your Grid Parameters
The grid is one of the most important features in Grid My Business (it's even in the name!). This determines the scope and coverage you want to view your results in. There are two items to select here.
The first is grid size. This is pretty straightforward; you pick the size of the grid you want to view your results in. In Grid My Business, we have seven grid sizes available:
Next, select a grid radius. The grid radius is the radius between each grid point. You can choose between the imperial (miles) or the metrics system (kilometers).

The scanning radius between each grid point increases at an interval of 0.1. The maximum radius you can select in Grid My Business is 100 (both miles and kilometers).
Step 3 - View Your Scan Results
Once you have everything all set up, click on the "Run Scan" button to run your scan. Do note that it may take some time for the results to load. You can wait for the results to pop out if you like. Or you can also choose to run a new scan with a different search query and location if you like.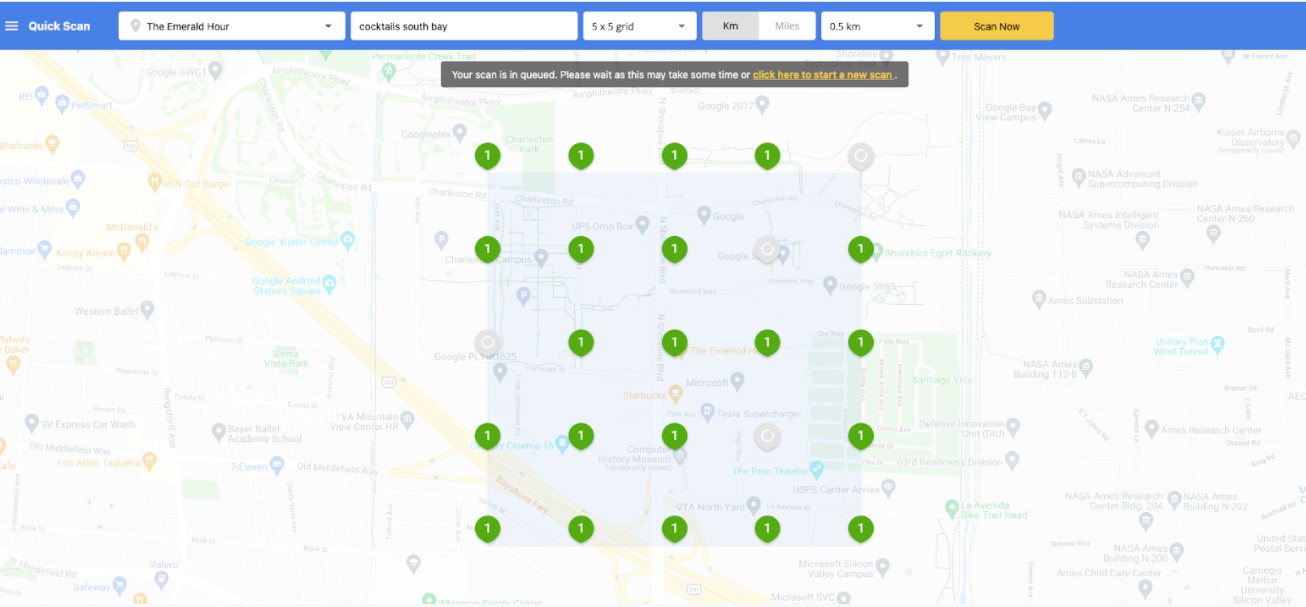 Once your scan result has loaded, you will see a grid that looks something like this. When you click on any grid point, you will see a maximum of 20 business listings on the right. The listings are organized based on their current local rankings on Google 3-pack.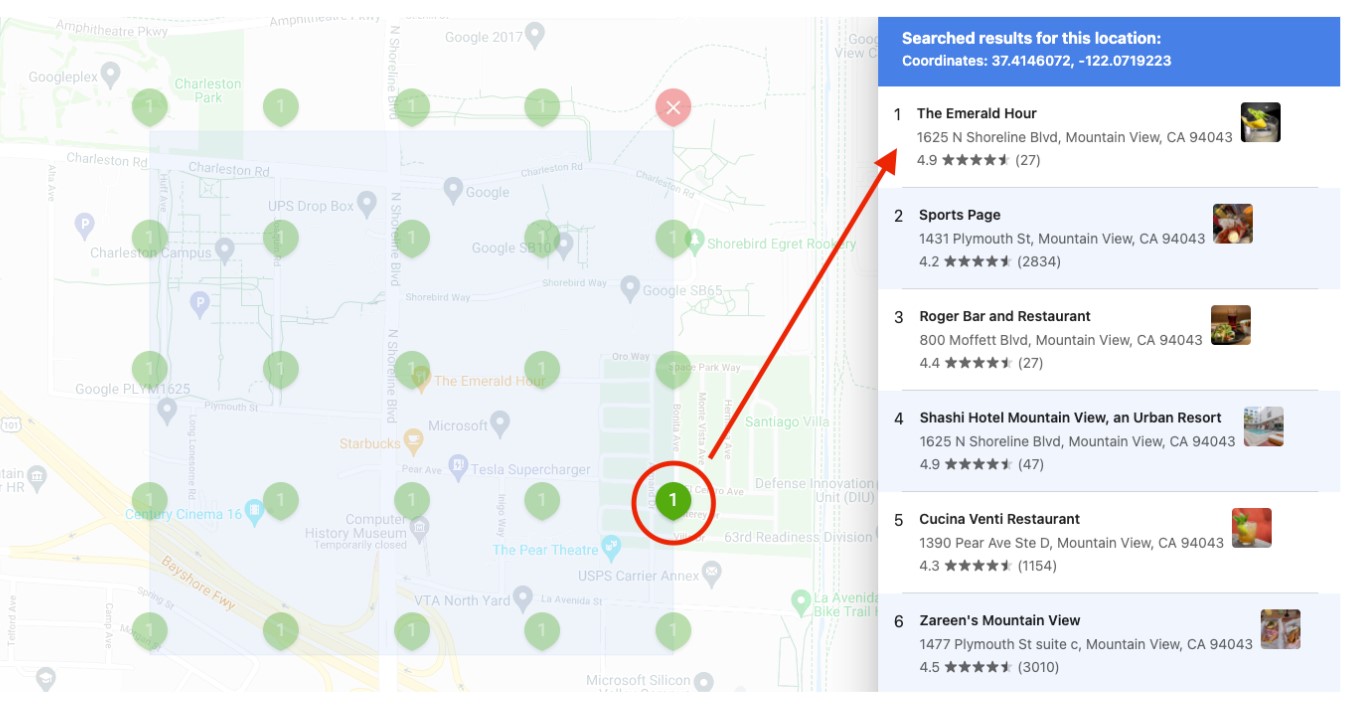 Case 2: Analyze Multiple Search Queries With One Click
With Grid My Business, you can perform a bulk scan of search queries to get numerous results in an instant.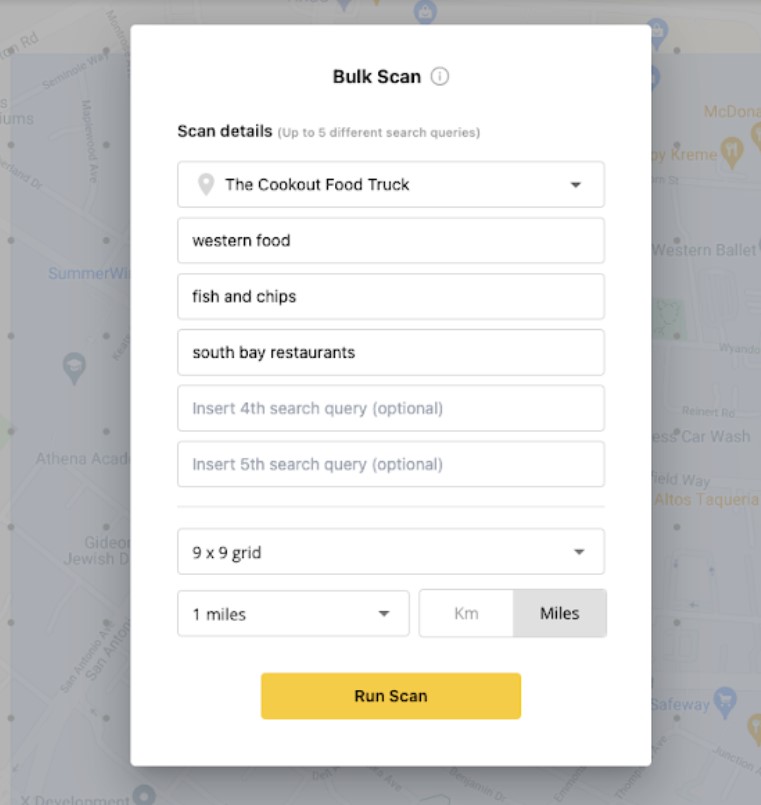 Enter all search queries you want to scan for a location. You may include up to 5 different search queries at once. Be sure to select the right grid parameters that you want to run your scan on.
You can check whether your details are correct before running your scan.
After you have run your scan, you can view or export the reports at the "My Reports" page when it is ready.
Case 3: Plan In Advance For Better Time Management
Grid My Business allows you to schedule a monitoring scan ahead of time. 
To schedule a monitoring scan, go to the "My Reports" page and click on "Start". You can view this button under the "Monitoring" status.
Add your scan details; location, search query, grid size, and radius. Below, you can select the date and time of your intended scheduled scan.
You can view your results once the scheduled scan has been completed on that day itself. You will also notice that the monitoring status for the same report has changed from "Inactive" to "Active".
Case 4: Analyze The Results Of Your Local SEO Actions
You can compare two scan results that are generated on different dates, as long as they have the same location and search query.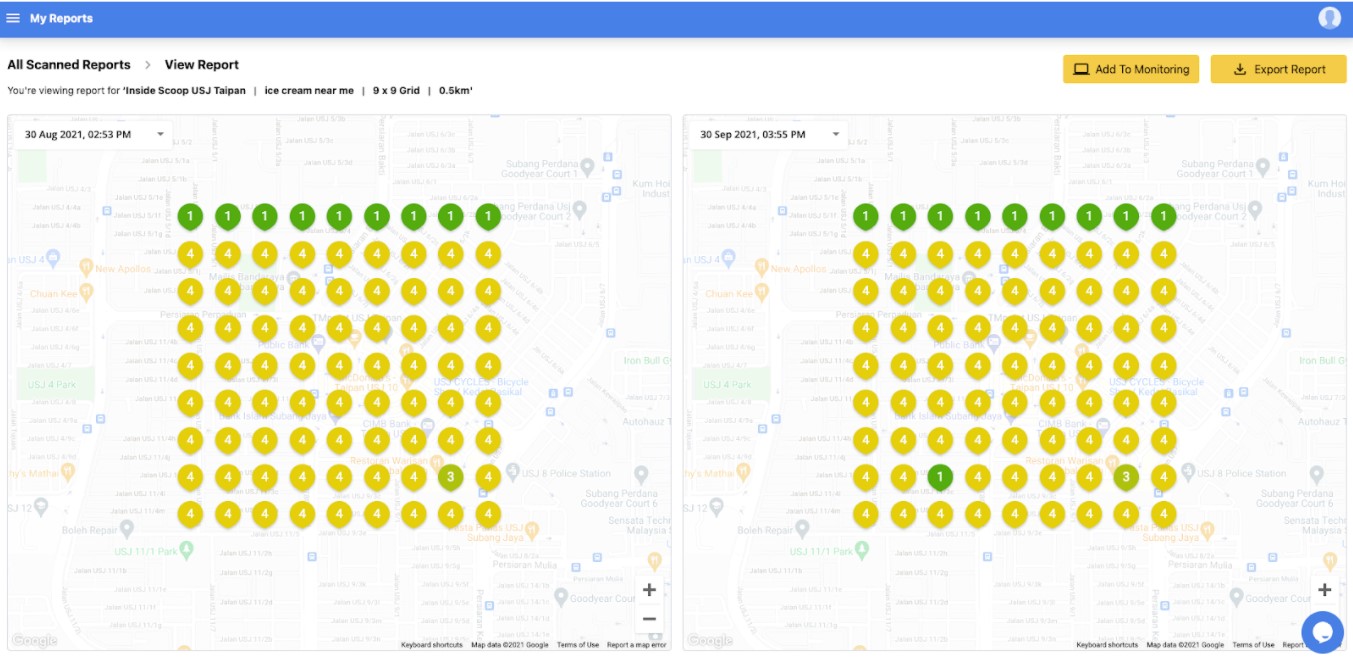 You can view your location's local ranking performance with a side-by-side comparison analysis. You can select the date of a particular report to measure against. 
You can export either a single report or a comparison report. A single report will contain one scan result of your selected date.
As for a comparison report, it will display scan results between two date intervals. Both reports will be generated in PDF format.
TL;DR
If you are not utilizing local SEO, this could mean that you are missing space in the search results with competitors and other businesses. The chances of your business getting unnoticed or passed over are high. But with local SEO, you'll have potential customers clicking on your website to see your products.
A local rank monitoring tool can help you keep track of your position on the SERPs in an easy and most effective way. You must try out Grid My Business which contains features like bulk scan, monitoring, report, etc. to know your rank and optimize your content marketing strategy to rank higher.