How to Write a Press Release that Actually Gets Read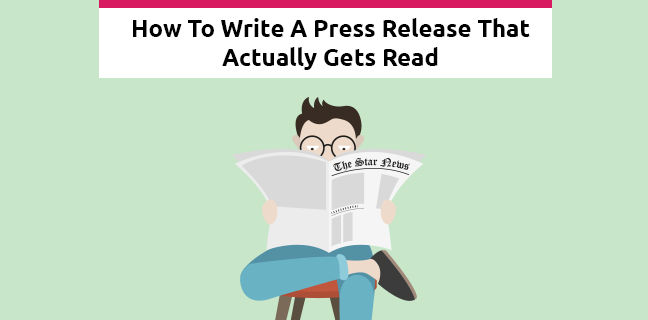 Headline, body, and contact info --- these are the ingredients to writing a press release.
The task by nature, is almost formulaic. All you need to do is fill in the blanks to some news release template, and you are ready to distribute.
There's no need to knock out a 2,500-word blog post nor does it cost you a fortune like ads targeting to reach your audience.
A press release is the quickest and easiest way to get free publicity. If written well, there's an opportunity that your firm and products may even be picked up by media or influencers.
But while writing a news release may seem simple. It's not an easy task, especially when it comes to writing an effective press release.
Often most businesses and press release writers just copy-and-paste the same formula, that that they forget to address what's the story and why does it matter.
This misses the deal for your press releases.
However, I'm not saying that you should write your release from scratch. You can still refer to templates and examples. It's cost-effective, but it's always best to customize your business story and make sure it fits.
Instead of looking to emulate press releases from other businesses. The goal instead, should be to look within in order to write a compelling press release.
According to SSPR, there's nearly 2,000 news releases being distributed every day. That's a lot, but the real concern is, how many of them are actually being read?
The answer is, not much. Because it's always the same repetitive news about a website or product launch, which reads to be a formal, boring sales letter at best.
Most of these press release end up buried on the internet because they lack the news value and couldn't reach their audience.
Furthermore, journalists and readers nowadays are willing to respond or take time on the news only if it manages to pique their interest. If there's anything sub-par, it gets ignored or worse deleted.
So what and how you write really matters. And before we begin to look into what is important to write an effective press release, here's some context you need to understand about a PR.
What is a Press Release?
A press release shares breaking news with the public.
It is an announcement released from organizations or businesses, usually between 500 to 800 words, that is distributed to news media across the nation.
Otherwise known as a news release or press statement, they're typically targeted at journalists, but can also be used to increase appearance on the website or reach audiences looking for your business.
While press releases are not sales letters, they are still pitches.
They should still promote your business, serve as important data archived on the web for people looking you up, and hopefully improve your SEO and ranking.
Different from traditional media where you have to build relationships in order to get into popular publications, now you have the opportunity to quit playing the waiting game and generate your own buzz.
You can create opportunities that weren't there before and carve out a branding, image for your company, building meaningful mindshare that can bring real impact on your business.
With press releases, you have the control to connect.
However, like every other writeup, there are certain guidelines you have to follow when writing your press release.
Press Release Format
It is important to conform to a clear structure when writing your news as most journalists spend on average three seconds deciding if it is worth reading.
First impressions matter and you have to place information on where it counts for readers to understand your press release at a glance.
Besides, if you don't follow a specific format, you're less likely to get media coverage. So to ensure you can get your formatting right, here's a press release example.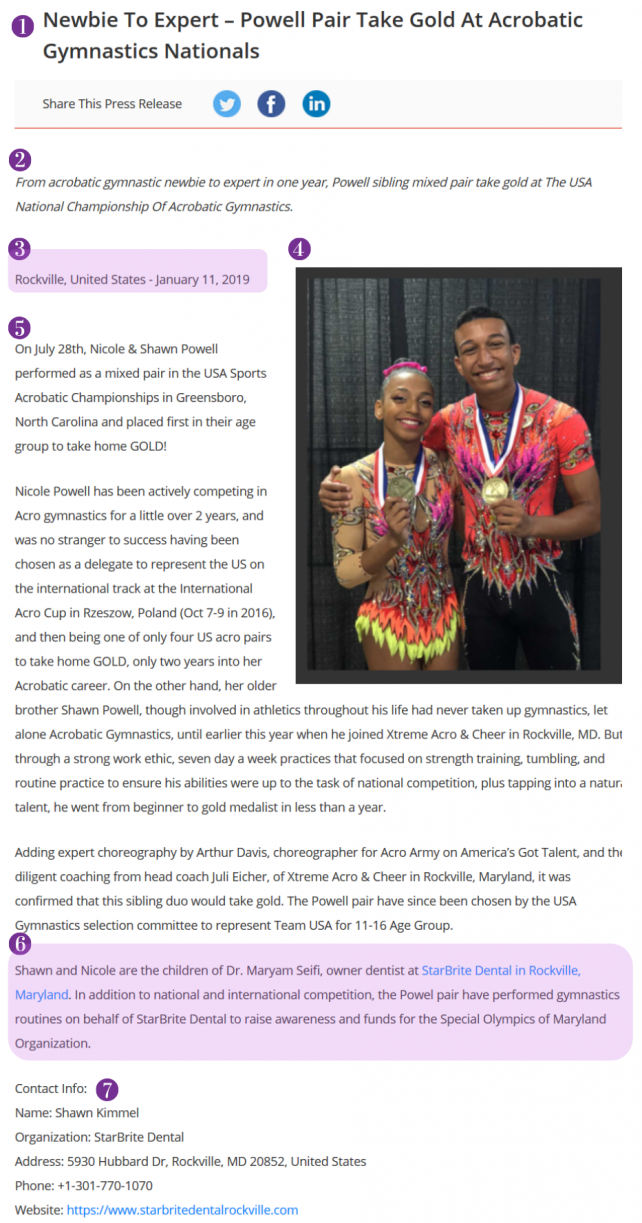 Headline: Be sure to keep it short and direct, make it clear why your story is interesting and important
Summary: To further elaborate the main announcement of the news and provide some context on your story
Dateline: Where are you and when is your news happening?
Image: A picture says a thousand words, a compelling image can help add credibility and grab attention
Body: Provide clarity and order your information by level of importance
Boilerplate: Who're you and what's your business all about?
Contact Info: How can readers or the media get in touch with you?
In any case, a press release follows the writing style of an inverted pyramid - where the most newsworthy information is prioritized and structured for the readers.
The Inverted Pyramid
A simple but powerful concept, it is always good practice to follow the inverted pyramid model when writing your press relese.
Because there are limitations to the amount of information you can share with the short attention span that audiences pay, you need to hit them with the most relevant information upfront.
So when you're outlining your press release content, outline them from the most important to the least important points you want to cover and write it from there. Remember the 3Cs.
Compile - your headline, summary, and opening paragraph are where you answer the questions - who, what, why, when, where, and how. Keep it simple but powerful to capture the attention of journalists and readers.
Context - your body copy should include additional information to let readers understand your story and business. Adding a quote by significant individuals of the business can help create a brand identity as well as credibility for your business.
Contact - directing your readers to clear next step is the key to any strategic marketing, so end your press release with a strong call to action and leave them your contact details to take action
There you have it, a general outline for a press release. But before we get to writing, here're an important point you have to bear in mind, and that is to...
Identify newsworthy angles
You may feel overwhelmed the first time you sit down to write a press release. And one question that often puzzles small businesses is do I have anything newsworthy to write?.
Well, every brand has its own story. There are literally hundreds of stories that can be written about your business, you just need to ask the right questions.
Do you have new or groundbreaking news?

Timeliness is an important criteria to creating a newsworthy announcement. Think for example, a business could pitch a story about their Christmas tree decorating content to a journalist before the holidays to increase their chance of getting coverage. If nothing newsworthy is happening with your business, you may want to create your own news.

How many people does your news affect?

People want to know how a story is going to affect them. What consequences will they suffer if they don't take action on a certain issue. For example, if you run a Plato diet business, you can pitch your products or services to health-conscious people and dietitians. Use examples or statistics to show how you can improve their lives by buying your products or services.

Does your story have a human touch?

One of the broadest categories, these are stories that show something humane. From your personal story to situations that affect people or pull on your heartstrings, these stories can always help grab a journalist's attention.

Is your story different?

Different pitches than the usual press releases can help make your story stand out. You can always grab the attention of both journalists and readers with a quirky or fresh angle like "The idol group that wants to break the "fat" stigma. Just don't go too over the roof.
You can come up with tons of stories about your business. To do that, you have to learn how to see like a journalist.
Stories are everywhere. Remember to wear your journalist glasses or place yourself in the shoes of your target audience, and think what'd capture their interest.
So, no more website launches, please.
Publishing your Press Release
Writing a press release is only half the battle. Once you are done with your write up, it's time to focus on your press release distribution.
When targeting reporters or audience for your press release, the first stop is usually national media. Everyone wants to be included in national coverage and some may even have a few publications like TechinAsia or TechCrunch in mind.
Most importantly, you have to know where are your audiences. Don't discount even smaller publications
But don't ever discount the smaller publications - like local, daily newspaper - with your story. Sometimes, it's reporters that crave your local news angle and their stories are often inspiration for national publications.
What might start as a local newspaper story could land you a feautre placement elsewhere.
Don't stop at 500 Words
There you have it. Here's how you can write a press release that will get noticed. However that's not the end.
You may have one effective press release, but what important is an overall PR strategy to increase press coverage.
There's so much more to your story than what goes across the wire, you need to translate that and let your audience know and learn about your business.
When looking to make waves with news that directly support your business strategy, you should look a little further than just one press release to share your company news.
Like Grant Cardone, the author of the 10X Rule once said, mega success is not possible without overexposure. Overexposure is usually not the problem. Obscurity is.
Press releases are still important to a publicity strategy, but the efforts shouldn't stop there – your company has a much larger story to tell than 500 words over a newswire could ever explain!
What do you think?
Are there other best practices you follow when writing press releases? Share your thoughts below and let's discuss.