A Beginner's Guide On How To Build Backlink
Establishing backlinks is one of the essential parts of SEO. It's not just about the quantity of the backlinks; the quality of links is another primary factor that will help take your website to another level. Knowing how to build backlink effective is what you need to do now.
You will learn:
What valuable backlinks are.

How to build backlinks in 5 different ways.

How to check your backlink profile with a tool called BacklinkGap.
Backlink account for a huge part in SEO. As a result, building a better backlink strategy is vital in ranking a website on Google SERP. There are a few ways you can approach link building. In this blog, I will show you the best way to build a backlink to your website.
I will also show you what is considered valuable backlinks and what is considered not. Learn the differences between them, their characteristics,s and how you can build more quality valuable backlinks.
Why do your sites need backlinks?
A backlink is a link created when one website links to another. Backlinks are also called "inbound links" or "incoming links." 
Even though Google has made thousands of changes to its algorithm since then, backlinks remain a key ranking signal. For example, there is a study that found that links remain Google's key ranking signal.
The number of domains linking to a page have a strong correlation with search rankings. In essence, backlinks to your website are a signal to search engines that others vote for your content. If many sites link to the same webpage or website, search engines can infer that content is worth linking to, therefore also worth surfacing on a SERP. By earning these backlinks, you can make a positive effect on a site's ranking position or search visibility.

There are two fundamental ways that search engines use links:
To discover new web pages, which they can then use in their search results.

To help determine how well a page should rank in their results.
Once search engines have crawled pages on the web, they can extract the content of those pages and add it to their indexes. In this way, they can decide if the page is of sufficient quality to be ranked well for relevant keywords.
When they're deciding this, the search engines don't just look at the content of the page. They also look at the number of links pointing to that page from external websites, and the quality of those external websites. 
Generally speaking, the more high-quality websites that link to you, the more likely you are to rank well in search results.
What can backlinks bring more?
Building relationships: Link building can often involve outreach to other relevant websites and blogs in your industry. This outreach frequently relates to the promotion of something that you've just created, such as a piece of content or an infographic. A common goal of outreach is to get a link, but there's much more to it than just this: Outreach can help you build long-term relationships with key influencers in your industry, and these relationships can mean that your business becomes highly regarded and trusted. 
Brand building: Good link building can help build your brand and establish you as an authority in your niche. There are some link-building techniques, such as content creation, which can show people the expertise of your company, and this can go a long way toward building your brand. 

Sending referral traffic: A good link from a highly-visited website can lead to an increase in traffic, too. If it's a relevant website, chances are that the traffic is also relevant and may lead to an increase in leads or sales, as well. In this situation, the value of a link isn't just about SEO — it's about customers.
Know more about valuable backlinks:
What are valuable backlinks?
#1. Come from trusted, authoritative websites
Would you rather get a backlink from Oxford or a random website? As it turns out, Google feels the same way.
This concept can be seen as domain authority. Essentially, the more authority a site has, the more "link juice" it can pass on to your site. Backlinks obtained from linking domains of high authority usually offer more value in link equity than links from low-quality, new, or spammy websites. Backlinks from spammy websites should be avoided whenever possible.
Thus, it's usually better to get 100 links from 100 different websites than 1,000 links from the same website. 

#2. Include your target keyword in the link's anchor text
As a reminder, anchor text is the visible text part of a link.
In general, you want your links to have anchor text that includes your target keyword. This is to inform the reader in advance the content that your backlink link to. Anchor words are the promise about what is on the other side of the link, so they must be highly relevant. Thus, Google's algorithms use your anchor choices to make sure you are not engaging in spammy practices.
#3. Topically related to your site
Similar to the above idea, when a website links to another website, Google wants to see that the two sites are related. Not limited to the anchor text, the overall content should be related as well.
Imagine you just published an article about baking a croissant. In that case, which backlink would you think Google thinks is more relevant? Is it the links from sites about cake, baking, cooking recipe or sites about business, digital marketing and finance?
What influences those backlinks:
Understanding what influences backlink value is crucial for link building and evaluation of the health of your backlink profile. 
Follow vs. no-follow backlinks:
Dofollow links are those that tell Google and other search engines that they are passing "link juice" to your website or blog. On the other hand, there are those links that do not pass any "link-juice", they are called nofollow links. 
A nofollow link have an HTML tag similar to:
<a href="https://www.nameofthesite.com/" rel="nofollow"> Link Text </a>. 
A no-follow link does not pass link equity, or "link juice", to the linking domain, while a follow link does. They do not boost PageRank, nor do they help with better placement on SERP as much. A followed backlinks are much more desirable, but no follow links from high-quality websites can still be beneficial to enhance your brand. 
Although it is nofollow, the fact that the link is there can lead many readers to access it, increasing the number of visits, which is also one of Google's ranking factors.

Authority of linking domain & Relevance
As the above part has mentioned, a good backlink must come from authority and a relevant website. So, the origin and content from a website can influence the quality of the backlinks.
Link location
Website architecture is significant to Google, as is the positioning of a link on the page. For example, a backlink tucked in the footer of a page may not pass as much equity as one added in a relevant blog post paragraph.
Link number
A backlink listed among hundreds or thousands of links on a single page is likely not as valuable as a link referenced among fewer. Beyond link equity, a user would be hard-pressed to locate your link among the hundreds and click through to your content, eliminating value.
How to build backlinks:
Before building links, you need something of value to build links to. Often it's the homepage of your website. More often than not, though, you build links to specialized resources such as a blog post, tool, research study, or graphic. 
Now, there are some way for you to build your backlink profile.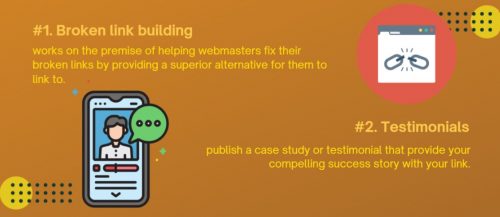 #1. Broken link building
The internet is filled with broken links. Often, these broken links exist on valuable, high-quality pages. 
Broken link building is a very popular practice that works on the premise of helping webmasters fix their broken links by providing a superior alternative for them to link to.
Although the specifics can vary, the basic process looks like this:
Research broken links and find good targets

Create content to replace content that no longer exists

Outreach and pitch your content
There are many different approaches you can take to do so. What ends up being the most effective will depend on the type of content on your website, the type of people and businesses that might link to you, and how you might get them to look at your site.
#2. Testimonials
If you're a happy user of products and services online, they might publish a case study or testimonial that provides your compelling success story. Similarly, if you're able to find the right person to ask, it's a pretty easy sell. This content is super-useful for marketers looking to sell their products, and if you get a link out of it, it's a win-win.
#3. Niche bloggers
In many industries, there exist passionate bloggers who constantly produce content for their own audience. Fostering relationships with these bloggers is an excellent way to give yourself a step up online. They already have an engaged audience who likes their content, and if your product or service is a good fit for their audience, there could be a range of benefits to collaboration. Offer to write a feature, send them samples, do an interview, or pay them to write on your site as a guest author.
#4. Partnerships
Mutually beneficial business partnerships have plenty of upsides already, and there's no reason you can't use an existing relationship to put the spotlight more firmly on your business. 
You could offer your partner some feature content to include on their website, or do some co-promotional activities like a webinar. This has the added benefit of exposing you openly to their audience. If you already have an existing business relationship with other establishments, encourage them to mention you on their website. Perhaps they already have a listings section, then make sure your site is included in it.
#5. Press release
While it can be difficult to get press, it offers potential because journalists are always looking for stories. If you happen to have a compelling story about your business or your products, it might intrigue them to hear it. The press also has the potential to multiply the reach of your story, as other news outlets pick up and republish stories to their audience.
There is one tool that helps you with this - MarketersMEDIA. The Press Release site will provide you tons of choices to appear infamous media.
You can gain authoritative backlinks by featuring on 500+ media outlets, including numerous premium news outlets like Fox, MarketWatch, NBC, StreetInsider, Yahoo! News, etc. 
As MarketersMEDIA helps you to be published on numerous media sites, you will build your backlink network and increase your traffic. Thus, these authority presses will also enhance your branding and reputation.
Way to check your backlinks faster - Use BacklinkGap.
After you are done with building backlinks, you will want to evaluate your effort.. Or, you will want to monitor your backlinks. Then, you need a backlink checker. We highly recommend this free backlink checker for your SEO - BacklinkGap.
Overall, BacklinkGap has 9 outstanding things you can discover:
Backlink profile strength: You can see the value and authoritativeness of all your backlinks. The friendship score stands for the number & the quality of backlinks you have. Of course, the higher score you have, the better for your backlinks.

New and lost backlinks: You can be instantly informed of any gain or loss in your list of backlinks. This is like a real-time notification that tells you what you need to pay attention to.

Backlink Monitoring: BacklinkGap has this feature to help you keep track of the statuses of all the backlinks pointing to you. This feature will be launched soon.

Referring domain: You can uncover where your backlinks come from and the quality and trustworthiness of them.

Backlink anchor text: This helps you to learn how your backlinks are labeled and the common keywords pointing at you

Shareable link report: This feature allows you to share your backlink report easily and instantly. As the picture illustrates, you can adjust how the report displays by filtering or choosing the number of rows.
The very good part is that you have free access to BacklinkGap. Almost all of the features can be used without paying. With premium access, you can unlock more perks such as more rows for backlinks, more rows for reports.
TL;DR
There are a number of link-building strategies used to get external websites to link to yours. You need to know which ones are the best working for you. Awareness of how to build backlinks from the very first stage can benefit your SEO a lot. With some tactics like broken link building, giving testimonials, collapsing with niche bloggers, expanding partnerships, and doing a press release, you can get more backlinks.
In addition, remember to make use of a backlink checker such as BacklinkGap to discover your backlink profile and know your performance.