New best selling book, "The Waiting Room: Invisible Voices of Lyme," a compilation of 27 real life stories, is released to help raise Lyme Disease awareness, to encourage suffers to keep fighting, and help caregivers and doctors understand how to better support Lymies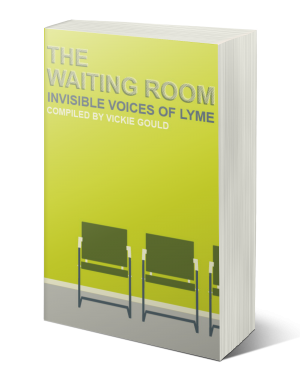 Detroit,, USA - May 20, 2018 /MM-VG/ — "The Waiting Room: Invisible Voices of Lyme," compiled by Vickie Gould is being released Tuesday, May 22, 2018 during Lyme Awareness Month. This was a passion project headed by Ms. Gould in order to share the truth behind Lyme Disease, the struggles that sufferers go through on a daily basis, and to bring awareness and understanding in the communities that we live in.
Inside, 27 true stories share what it's like to live with Lyme, be denied by doctors and insurance, search for a cure, and detail what it's like to raise children with Lyme Disease.
"It is our hope that this book will not just raise awareness for Lyme Disease, but also to give hope to those suffering. Suicide is a top killer of Lymies and part of the angst that goes along with the disease is the fact that many family and friends don't believe in Lyme, as it's an invisible disease. I want this book to help those who surround Lymies, including doctors, to believe, love and support us so that heartbreaking part of suffering can end," says Ms. Gould.
Some of the authors chose to be anonymous and that in itself should show the stigma that is attached to the disease.
Authors included are:
Vickie Gould
Becky Bugala
Elise Bugala
Sam Bugala
Jillian Burgess
Cassidy Colbert
John Coughlin
Lori Dennis
Nancy Fisher
Michael Gould
Rachael Goetz
Jennifer Heath
Carleen Eve Fischer Hoffman
Carole Kamerman
Kim Luton
Stephanie Lyskawa
Candice Mallicoat
Kelsey O'Brien
Laurie Penner
George Popovici
Niki Slovacek
Alana Stamper
Shelley White
Jenna Wright
There is a special section of the book for caregivers.
Profits from the book will be donated to the Lyme documentary, "The Monster Inside Me."
Cover art by Stephanie Lyskawa
Vickie Gould is a certified Law of Attraction business and book coach who has studied under Joe Vitale and is currently coached by Lisa Nichols. Using her signature holistic strategy, she helps her clients go from blank page to best seller, grow their following, help others who are struggling, attract ideal clients, increase their income, and make the worldwide impact that they desire.
Vickie is the author of 8 international best-selling books like Hit Publish! and Standing in the Gap, and has also helped 59 other entrepreneurs become worldwide best-selling authors. She has been seen on ABC, NBC, CBS, and Fox, was a frequent contributor to HuffPost and Thrive Global, and has previously published an online magazine.
Vickie lives in Michigan with her husband and three children. "The Waiting Room: Invisible Voices of Lyme," is her most recent project and is currently working on another anthology book showcasing entrepreneurs' stories of overcoming adversity. She is also embarking on a new novel based on stories from her own life.
Join her Facebook Group, Write Your Biz Book for free coaching and training at:
https://www.facebook.com/groups/vickiegouldcoaching/ and more at https://member.vickiegould.com/
Visit her at www.vickiegould.com
Contact Info:
Name: Vickie Gould
Email: Send Email
Organization: Vickie Gould International, LLC
Website: http://www.vickiegould.com
Source: MM-VG
Release ID: 347814