Favorite Outdoor Safety Pack Seals Another Milestone with 5 Star Review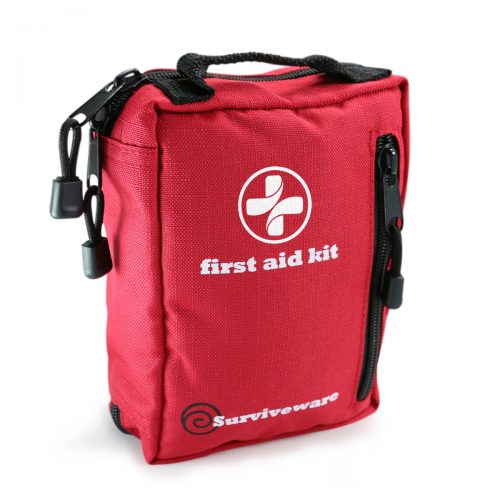 Woodbridge, United States - October 17, 2019 /MarketersMedia/ — Surviveware, a well-reputed adventure and survival gear brand, is pleased to announce their Small First Aid Kit has received its 1600th customer review on Amazon. Surviveware has continuously endeavored to earn the admiration of adventure-seekers and travelers by providing high-quality, multi-functional outdoor products. This achievement showcases the trust and respect gained by Surviveware's customers.
Surviveware's Small First Aid Kit offers more than just the usual supplies of first aid kits that barely address the preparedness and safety requirements of an individual. The Surviveware first aid kit holds a wide assortment of provisions for handling abrasions, bruises, contusions, punctures, and other common wounds and injuries. More than just a typical first aid kit, it provides sound value and support to the active lifestyle of outdoorsy individuals.
The Surviveware Small First Aid Kit, which is available on Amazon, is perfect for both outdoor and indoor use. With its softshell, water-resistant casing, this kit can withstand both inclement weather and rough use. It has durable straps that enable the kit to be secured to MOLLE-compatible systems on rucksacks, hydration packs, hiking packs, as well as bicycles, tents, hammocks, and strollers. The loophole on top of the package allows the kit to be attached to a carabiner and hooked to hiking gear with ease.
Apart from encompassing convenience and portability, Surviveware's Small First Aid Kit boasts function. Surviveware incorporated an efficient labeling system into the package's interior and organized compartments for segregating each provision. The 100 life-saving items are neatly stored inside resealable packs that protect them from water and contamination. The supplies are stored inthe kit's compartments and marked with the content and use. This labeling system ensures that kit users and first responders will be able to identify, retrieve, and replace the items with ease.
In the following featured Amazon review, a Surviveware customer named Joel shared his thoughts about this lightweight outdoor and travel must-have:
"This kit is great. I haven't had to actually use anything in it yet (thank god - right !?!?), But from holding it, inspecting it and testing the water resistance, I am definitely satisfied.
What's best about it is the labeling of each compartment where things go. This not only helps you get to what you need fast (or lets a stranger who is not familiar with it yet also find what is needed in case they are the ones needing to help you !) but it also is very smart as it allows me to quickly see what I need to replenish and where it goes so I keep the same stuff in the same compartment as I restock items. Ingenious!
I highly recommend this kit. For me personally, though it's a "small," I am a super minimalist when hiking, so I got this for the truck, I then stock my backpack with just a couple high necessity items from the kit before leaving the truck. In super SHTF scenario, I or my companion could always hike back to the truck to get something if indeed needed. So far, it hasn't happened."
Join the thousands of satisfied individuals who have made the switch to Surviveware's Small First Aid Kit. Enjoy this pack for an exclusive 20% off by using a Surviveware Amazon discount code.
Order your Surviveware Small First Aid Kit today by clicking here.
Contact Info:
Name: Amanda Condry
Email: Send Email
Organization: Surviveware
Phone: 703-910-5188
Website: https://surviveware.com
Video URL: https://youtu.be/1fqvO3fYc8A
Source URL: https://marketersmedia.com/survivewares-small-first-aid-kit-celebrates-1600th-amazon-customer/88927649
Source: MarketersMedia
Release ID: 88927649