Local and Online Customers Advised to Purchase Surviveware's Large First Aid Kit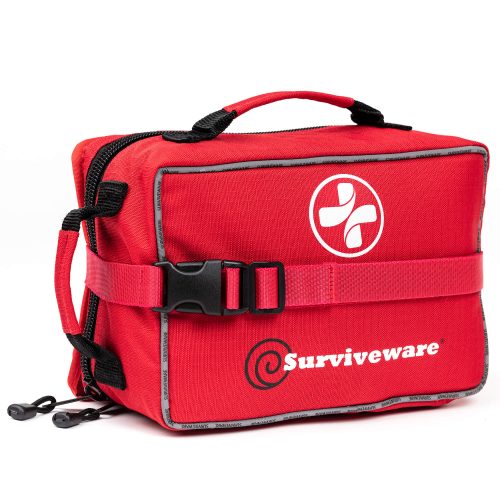 Woodbridge, United States - August 3, 2019 /MarketersMedia/ — State sales tax is suspended over the weekend as Virginia holds its annual Tax-Free Weekend. This three-day sales tax holiday runs from 12:01 AM August 2 to 11:59 PM August 4. During this period, the 4.3% state sales tax and 1% local option tax is waived on certain qualifying items.
Items that qualify for the tax-exempt weekend include clothing and footwear (up to $100 per item) and school supplies (up to $20 per item). Other items that can be purchased without paying sales tax are hurricane and emergency preparedness supplies. With the tax-free weekend just around the corner, customers can stock up on first aid kits for their homes, schools, vehicles, and offices.
Surviveware's Large First Aid Kit has revolutionized the meaning of preparedness and safety in homes, offices, and public venues. Moreover, Surviveware's first aid kits offer more value in a 3.4 lb bag.
This expanded kit contains an assortment of provisions tailored to handle lacerations, concussions, punctures, excessive bleeding, contusions, bruises, twisted ligaments, splinters, and insect bites. Despite holding 200 pieces of supplies, it can still hold additional preferred personal items such as cold packs, Israeli bandages, fire starters, and prescription medication. Surviveware provides small, resealable laminate pouches in which smaller items such as extra safety pins, medicines, and even creams can be stored.
What makes it possible to effectively hold such a large number of supplies is the organized system that Surviveware incorporated into its packs. The company separates the provisions into organized, labeled compartments, which keeps the items in place and frees up space that can be used for additional storage. Moreover, this labeling system makes the kit user-friendly, for new users, bystanders, and first responders.
Surviveware's First Aid Kits have grown to be a trusted brand among outdoorsmen and sports enthusiasts. The brand has even captured the interest of emergency professionals, such as the reviewer who shared how the Large First Aid Kit impressed her and convinced her coworkers to purchase one of their own:
"As an EMT, I roll my eyes as most 'emergency' first aid kits. Don't get me wrong, most are good for small little injuries around the house such as nicks and scrapes, but I wanted a kit for my car that would be helpful in a real emergency. I used to throw items in a plastic container, but I thought this kit would be nice. I was wrong. This kit is Fantastic! A ton of items that you would want for major problems (splinting supplies, CPR masks, deep wounds, even a tourniquet, etc.), something that a person with a medical background could use to be helpful in a situation where you need more than a few band-aids and a thumbnail size packet of antibiotic ointment.
I recently had the chance to pull the kit out -I was teaching a CPR class with some coworkers (I work at a large pediatric hospital) when we had a small injury. Everyone wanted to take a look at the kit, was taking pictures of the kit, and planning to buy one.
Shipping was quick, the container is very sturdy (and with the MOLLE straps very easy to set in a great place in my trunk), I did contact customer service to see about possible discounts for future orders, and they were quick, efficient, & very friendly! Each packet is clearly labeled (great if you have to tell a bystander to go in your kit and grab something). All in all, I'd give this kit a minimum of five stars, and I wish I could give more!"
Take advantage of Virginia's Tax-Free Weekend and grab your Surviveware Large First Aid Kit right now. Moreover, you can slash 20% off your purchase when you use a Surviveware Amazon discount code.
Enjoy this limited offer right now by clicking here.
Contact Info:
Name: Amanda Condry
Email: Send Email
Organization: Surviveware
Phone: 703-910-5188
Website: https://surviveware.com
Source URL: https://marketersmedia.com/survivewares-large-first-aid-kit-qualifies-for-virginias-tax-free-weekend/88903877
Source: MarketersMedia
Release ID: 88903877