Nurses Love Lightweight Frame of Surviveware's Trauma Shears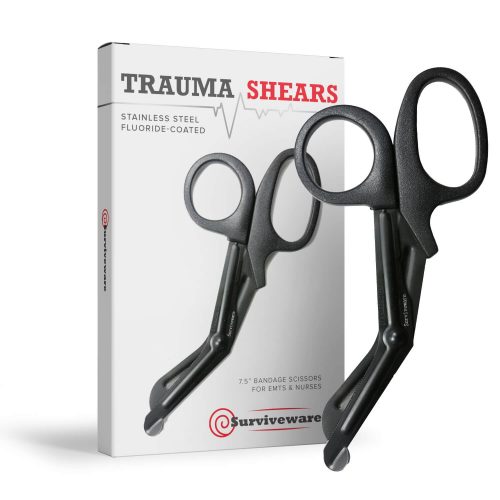 Woodbridge, United States - September 20, 2019 /MarketersMedia/ — One of the most neglected items in a first aid kit is a pair of scissors. A package should contain blunt-tipped shears that fit comfortably in one's hands. It should be sharp enough to remove bandages and trim off obstructions in the affected area. Without the appropriate shears, it can be difficult to administer care and troublesome to remove foreign objects that restrict one's access to the injured site.
Surviveware, a leading retailer of hiking and preparedness gear, offers a necessary addition to any emergency or first aid kit: the Medical-Grade Trauma Shears, which are tailored to provide convenience and rugged quality during emergencies.
Unlike other shears that dull quickly, Surviveware's trauma shears are designed to withstand heavy usage and wear and tear. Each blade is covered with high-quality fluoride coating that prevents rust and build-up on its edges. This coating also ensures the blades stay sharp longer and makes the shears distinctive in a chaotic situation.
With its sharp 7.5" angled blades, these shears can cut through thick materials such as denim, seatbelts, bandages, and heavy fabrics.
Customers love the soft-grip features that are incorporated into the scissors. Each pair has comfortable finger loops and a rounded thumbhole that provides comfort and protection to one's hands. With this ergonomic design, discomfort during use is dramatically reduced, and left-handed individuals can use this tool without trouble.
Surviveware prides itself on creating functional, thoughtful preparedness and safety gear for outdoorsmen and emergency responders. This is evident in the design of their trauma shears, which are handy and easy to carry. The shears utilize bonded stainless steel metal in the body, which makes them lightweight. For easy access, emergency personnel and responders can hook these shears to a carabiner and attach it to their belts.
Surviveware's high-quality shears provide much-needed assistance when used on an adventure, at home, or work. In the following review written by Brittany, a Surviveware Amazon customer, she shared her experience using these shears as a nurse:
"Amazing! Love the look and love the clean-cut. Good for the pocket price and good on the floor. I also got the free penlight after receiving them. Super bright and lightweight."
Remove the burden of troublesome scissors that are blunt and don't get the job done. Grab your pair of Surviveware Trauma Shears today and slash 20% off your purchase when you use a Surviveware Amazon discount code.
Don't miss out on this limited-time offer; order your Surviveware Trauma Shears today by clicking here!
Contact Info:
Name: Amanda Condry
Email: Send Email
Organization: Surviveware
Phone: 703-910-5188
Website: https://surviveware.com
Video URL: https://youtu.be/4SUtXSG5-DM
Source URL: https://marketersmedia.com/surviveware-trauma-shears-offer-value-and-convenience-to-users/88920955
Source: MarketersMedia
Release ID: 88920955