Winner Receives Surviveware Red 72-Hour Survival Backpack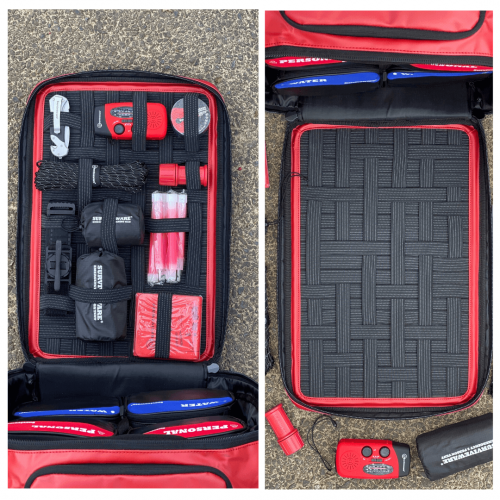 Woodbridge, United States - April 6, 2020 /MarketersMedia/ — Surviveware, a leading adventure and preparedness retailer, is happy to announce the winner of the March Sweepstakes. This month's victor will bring home the "Big Red Responder," the 72-Hour Survival Backpack in the shade red.
The winner of the sweepstakes is Kathleen Cochran. She's only the second individual ever to own a heavy-duty Surviveware survival backpack that contains a comprehensive self-sustaining system that is integrated with Surviveware preparedness and emergency gear.
The monthly sweepstakes is Surviveware's way of showing their support for the preparedness community's continuous effort to build disaster-resilient systems and instill a prepared mindset among household members. Such as with the current COVID-19 pandemic, it's essential to prioritize the welfare of the entire household and invest in emergency gear, such as survival gears, that can help achieve the desired level of preparedness.
Surviveware aims to ensure that every household has access to emergency items at all times. The 72-hour emergency backpack provides peace of mind by increasing one's level of survival during catastrophes. The company aims to ensure that high-quality provisions are within reach by ensuring availability through several online platforms such as Amazon Prime.
Surviveware is geared towards building disaster resilient communities by instilling a culture of emergency preparedness. Through the survival backpacks, the company not only increases the awareness of households when it comes to community crisis readiness but also ensures that they can survive the first 72 hours, which is critical in all emergencies.
The 72-hour emergency backpack offers enough supplies for two persons to survive during the first three days after the onset of an emergency. The items are intended to last for three days while waiting for immediate help to arrive.
This March sweepstakes prize, which will soon be available for purchase, contains personal supplies such as food and water. Moreover, the pack comes with other provisions such as outdoor ponchos, emergency sleeping bags, goggles, N95 dust masks, hazardous bags, and Surviveware Biodegradable Wet Wipes.
Surviveware's survival backpack also comes with a Small First Aid Kit and other essential items for thriving in a crisis. Other survival tools such as reflective paracord, hand-cranked emergency radio, waterproof matches, tourniquet, splint, duct tape, cable ties, and snap lights are crucial to survival. A Lifestraw water filter and a 2-person tent are also included in this 72-hour emergency backpack.
To hold these supplies, Surviveware added the GridNet™ technology to this survival backpack. This storage system incorporates a structured elastic grid system, which helps in increasing the accessibility of the bag.
In the month of April, Surviveware is giving away Surviveware Small First Aid Kits, surgical masks, and gloves to 20 lucky winners!
Check out the current sweepstakes giveaway here and be one of 20 winners to win this month. Hurry and start earning your entries right away.
Contact Info:
Name: Amanda Condry
Email: Send Email
Organization: Surviveware
Phone: 703-910-5188
Website: https://surviveware.com
Source URL: https://marketersmedia.com/surviveware-congratulates-march-sweepstakes-winner/88952714
Source: MarketersMedia
Release ID: 88952714