Popular author, motivational speaker and marketing guru Alicia Eunice, aka 'Candid Coach', is pleased to welcome everyone to the book release celebration for her new book, "Born For This: Discovering the Brand Within". The celebration event will be held at Phoenix, Arizona on October 16, 2020.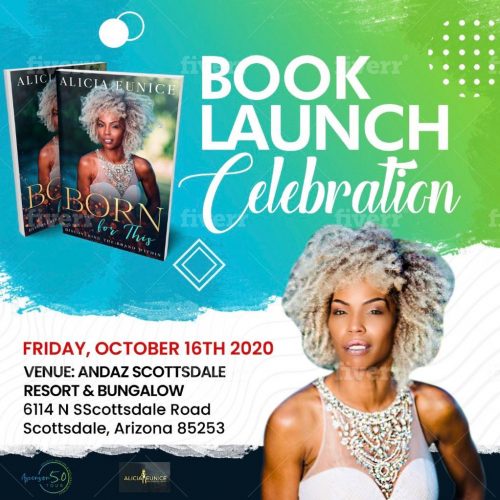 Las Vegas, United States - July 12, 2020 — "Born For This" addresses and aims to resolve the most basic limitations that everyone has felt at some time - such as not knowing who one is, the purpose here on earth, and what one must do in life. Eunice has been there in the pits of darkness, and come out victorious, owning two businesses and organizing public speaking events in churches and conventions around the world. Among the topics, "Born For This" deals with the identity crisis, realizing one's gifts and powers that one is born with, living in the 'know', and winning the race.
"I was born with the desire to help people. I have the ability to help you find the answers you're looking for in life – it's why I was put on this earth!" says Alicia.
The Candid Coach Alicia Eunice has featured on over 100 media outlets, and continues to increase her list of fans, followers and five-star client reviews. All of this is testimony to her power to bring about change and clarity in her clients so they can lift themselves out and onto the next level. Alicia is known to aim for more joy, fulfillment, a good life, financial freedom and making a positive impact with one's own gifts, talent and resources.
"After our session I left feeling empowered, strengthened and encouraged. She was precise, straight to the point and left nothing unsaid. Thank you so much for sharing your gift. I will forever cherish this major pivot point in my life!" says one recent client review.
Among the coaching sessions, Alicia offers the Big Thinkers Enlightenment Session, Chakra Balancing & Healing Session, the Journey Begins Enlightenment Reading, Spiritual Enlightenment Journey Reading and the Intuitive Enlightenment Session. Participants come out of the 60-minute sessions with greater clarity, insight into the present state of mind and the future, and guidance to tackle many areas of life, including business, relationships, family, friends, finance, etc.
For more information, please visit: https://thecandid.coach/
Facebook: https://www.facebook.com/167432874054477
Twitter: https://twitter.com/BossUpInc
Instagram: https://www.instagram.com/thecandidcoach
Contact Info:
Name: Alicia Eunice
Email: Send Email
Organization: Alicia Eunice
Address: 6742 Hyla Roman Ave Las Vegas, NV 89131
Phone: 2094166137
Website: https://thecandid.coach/
Release ID: 88968191