Bityaris has announced that they will participate in the Global Blockchain Summit Series at Dubai on November 27, 2018.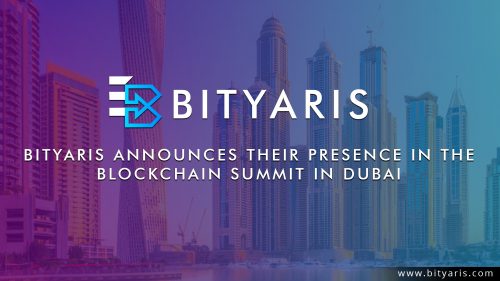 Dubai, United Arab Emirates - November 17, 2018 / / — Bityaris, a highly intuitive cryptocurrency platform has confirmed their participation in the Global Blockchain Summit Series in Dubai on 27th November 2018. The summit series will be held between 08.30 hours to 18.00 hours at the Dubai Marina in Dubai, UAE.
The Global Blockchain Summit Series is the region's leading blockchain for business event. This summit allows participants to interact with leading luminaries from various cryptocurrency exchange companies. This exchange of information can benefit the implementing the blockchain in various industries like banking, insurance, healthcare, financial services, logistics, and charity among other purposes.
The participants for the event include some of the top-level business clientele such as CIOs, COOs, CTOs, Heads of various departments like Data Science, Innovation, Engineering, technical advisors, investors, software engineers, venture capitalists, and blockchain start-up enterprises, and many more.
The reasons for attending the summit are as follows.
a) It is the leading blockchain event in the Middle East
b) Participants can interact with more than 400 qualified attendees.
c) Listen to some of the most impressive speakers on the subject
d) Spend quality time with the experts and learn the nuances of blockchain technologies
e) Discuss with the top brains in the field
f) The interactive exhibition can help build long-lasting contacts in the industry
Over 60 leading experts from the industry will be airing their views on the occasion. Some of the prominent speakers include,
a) Anshul Srivastav, CIO, Union Insurance
b) Roula Zahar, Director of Legal and Board Affairs, Dubai Real Estate Corporation
c) Amol Bahuguna, Head of Payments and Cash management, Commercial Bank of Dubai
d) Marwan Alzarouni, CEO, Dubai Blockchain Center
e) Mohammed Al Obaidali, Deputy Director Digital Transformation, Abu Dhabi Police
BitYaris is one of the principal sponsors of this summit along with other reputed companies like Cisco, IBM, SAP, Oracle, and CryptoCoin.Pro.
Company Name: BitYaris
Company Address: Decentralized
About Company: BitYaris has a reputation of being a highly intuitive multiple cryptocurrency trading platform. It ensures the most stringent security standards. BitYaris enables you to have a trustworthy entrance into the disruptive futuristic world. The high level of data protection enables cryptocurrency traders to function with a lot of comfort and ease.
Contact Info:
Name: Laura Harper
Organization: Bityaris Decentralized Exchange
Website: https://bityaris.com/
Source:
Release ID: 445453