ZOZEN Boiler, as a well-known industrial boiler supplier in China, provided steam boilers for comprehensive production plant project of EFFORT Group.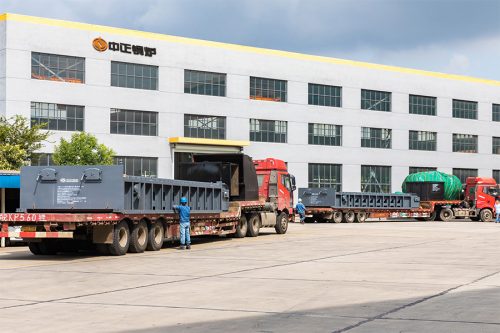 November 17, 2020 /MarketersMedia/ — Recently, three sets of SZL series steam boilers in the production base of ZOZEN Boiler had been ready for shipment. They were for the comprehensive production plant project of EFFORT Group with an annual production capacity of 60,000 tons of PVC located in Mekele, Ethiopia. The project construction was under the general contract of China CEC Engineering Corporation which belongs to Sinolight. ZOZEN Boiler, as a well-known industrial boiler supplier in China, provided steam boilers for this project.
The construction of this PVC project would cost 30 months with a total investment of 260 million US dollars. It was expected to be a PVC project with large daily output in Ethiopia, which had the demonstration significance for the development of the country's salt chemical industry. It could also promote local employment and the development of upstream and downstream industries. Therefore, this project was highly valued by the governments of Ethiopia and China.
For the project construction, CEC planned to purchase a batch of supporting boiler equipment. After investigating the boiler markets at home and abroad, CEC finally chose ZOZEN with outstanding corporate strength and product quality as its partner. This time, CEC purchased three sets of SZL series chain grate steam boilers from ZOZEN Boiler who had completed the delivery in recent days.
The steam boiler, as an essential equipment in the chemical industry, can provide sufficient heat and power sources for the distillation, evaporation, polymerization, lipidation, and drying processes in the PVC production. Since the PVC production line set high requirements for the steam quality and boiler stability, ZOZEN recommended the SZL series coal-fired steam boiler with sufficient output and high level of automation.
The SZL series boiler has the chain grate structure and double drums with the longitudinal layout. The large furnace can not only promote the sufficient combustion of fuel, but also effectively reduce the thermal load. What's more, in order to improve the fuel utilization rate, there are multiple separate air chambers and air dampers at the lower part of the boiler grate, which can realize the precise air distribution to meet the air demands at each combustion stage.
With the installation of ZOZEN steam boilers, the project construction would be completed. This project not only has promoted the new development of the industrial economy in Ethiopia, but also has deepened the friendly cooperation between China and Ethiopia. In the future, ZOZEN Boiler will strive to be an international industrial boiler supplier and continue to provide high-quality boiler products and sample projects for customers.
About ZOZEN:
Wuxi ZOZEN Boilers Co., Ltd. has been designing and manufacturing the chain grate boilers since its establishment. At present, ZOZEN has chain grate boilers including DZL, SZL, DHL and SHL series of industrial boilers and ZZ series of power generating boiler. They have a wide fuel adaptability including biomass particles, wood chips, palm shells, straws and so on. By virtue of good quality and performance, ZOZEN chain grate boilers are exported to all over the world and gain the good market reputation. In Ethiopia, ZOZEN can provide various high-efficiency and energy-saving boiler solutions according to different customer demands.
Contact Info:
Name: Jennifer Zhou
Email: Send Email
Organization: Zozen
Website: https://en.zozen.com/
Source URL: https://marketersmedia.com/zozen-szl-series-steam-boilers-support-the-pvc-plant-project-in-ethiopia/88986046
Source: MarketersMedia
Release ID: 88986046