YOUniversal Products offers 5 packs of 12-inch plant saucers on Walmart. This is the second product from the company to be offered on Walmart. Their clear 10-inch saucers were released in the new marketplace earlier in the year.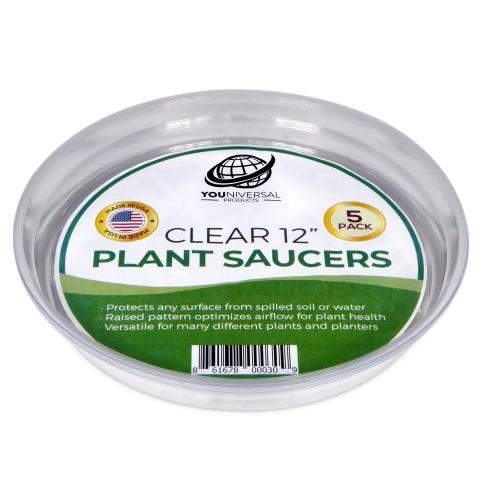 Cedar Rapids, United States - June 14, 2018 /PressCable/ —
YOUniversal Products LLC announces its second product is available online at Walmart. Their five pack of twelve inch plant saucers is now available for purchase online through Walmart. The ten-inch saucers became the first product of YOUniversal Products' line to be available online at Walmart earlier in the month. Previous to the Walmart Expansion, YOUniversal Products only had products available on Amazon.
YOUniversal Products LLC.'s co-owner, Zach Ashmore, discusses the expansion of the company's marketplace. He commented, "It was important to us that our two best selling products become available from one of the most notable locations. Walmart allows our customers to pick up their order, groceries, and other products all from one location. Customer service has always been a guiding force in the company's expansion." The five packs of twelve-inch saucers have received positive reviews on Amazon for their size and versatile color selection. The second product from YOUniversal Products available at Walmart come in clear from the Walmart website. People can read more about the companies offering on this marketplace here.
The plant saucer line from YOUniversal Products is a benchmark product for the company. They offer plant saucers in sizes ranging from 6 to 16 inches. They also have heavy-duty plant labels, decorative pots, and are exploring several more products in the home and garden field. Recently, they have expanded their marketplace to include Walmart. The company offers ten-inch and twelve-inch clear plastic saucers available for purchase on Walmart's website in packs of five.
Ashmore goes on to explain the importance of the Walmart expansion for their customers. He notes that, "Walmart is another way for customers to access our products. This allows them to purchase plant saucers in the way that is most convenient to them." The 5 pack of 12-inch plant saucers have a variety of features. The saucers clear design blends in to any indoor décor. The five pack is designed to protect indoor and outdoor surfaces without being obtrusive to the surroundings. A 90-day money-back hassle-free warranty backs all of YOUniversal Products, regardless of where the buyer purchases them.
You can purchase YOUniversal Products 5 pack of 12-inch clear plastic plant saucers at Walmart by clicking on this link.
YOUniversal Products continues to sell on Amazon here. On Amazon, customers can access their full home and garden product line of clear, black, and terracotta plant saucers ranging from 6 to 16 inches in diameter, as well as their plant labels, and decorative planter pots.
Contact Info:
Name: Dan Vander Vort
Organization: YOUniversal Products
Address: 3315 Williams Blvd Sw Ste 2-124, Cedar Rapids, IA 52404, United States
Phone: +1-307-200-9476
Website: http://www.youniversalproducts.com/
Source: PressCable
Release ID: 358556