YogaCoaster Expands and Diversifies Brand Including Sets With Raucous Directive To Use Drink Coasters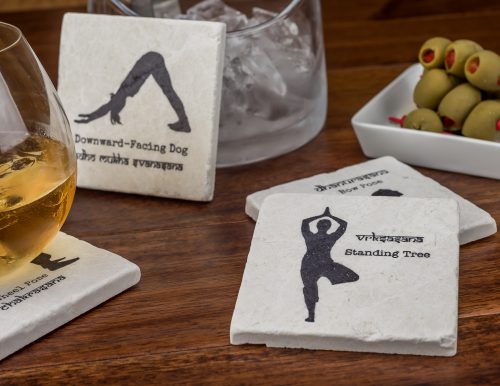 Boca Raton, United States - December 11, 2018 /MarketersMedia/ — Boca Raton, Fl – 12/11/2018 An Innovative South Florida craftsman, Gabor Kocsis wanted to present his wife with a unique and useful gift for her birthday and needed it to reflect her personality and passion for yoga. Gabor, in his garage workshop, had some Marble and the skills to craft this fine material into a drink coaster. His decision to embed images of people in various yoga poses (Down Dog, Wheel, Tree etc.) will be noted in the history books, as the idea for YogaCoaster was conceived. Upon receiving her gift, she asked Gabor to make more YogaCoaster sets for her instructor and fellow yogis. Everyone that received a YogaCoaster asked that he make additional arrangements for their loved ones. He soon realized that this idea was a winner and YogaCoaster became the answer to the question of, "what do I get my loved one for a gift?" Since its inception, YogaCoaster has experienced exponential growth yet Gabor feels that one of the keys to his success is the "Hand-Crafted Garage, Workshop" business model from which the idea spawned.
Resulting from his happy wife and the extraordinary feedback from her yoga instructors and contemporaries, Gabor decided to make them for the general public. He facilitated this by creating a user-friendly, Ecommerce website where the collections can be purchased. http://www.yogacoaster.com. Initially, he focused on yoga enthusiasts but soon realized that diversifying the line of YogaCoaster was academic because his customers loved the weighted material, aesthetics, and functionality to such a high degree. Gabor currently hand-crafts many different, aesthetically pleasing, marble, YogaCoaster sets that go beyond the Yoga pose imagery to include a selection to match anyone's personality and/or occasion. These sets include the aforementioned and enormously popular, "Don't Fuck Up The Table, Please," "Happy Birthday", "New York Yankees Story," "Cat's On Marble," "Elephant," "Vintage Coffee," "Nautical," "Star Wars," "Boho (Bohemian)," and even an amusing "Donald Trump collection" from which to choose. The pure genius, quality and success of Yoga-Coaster naturally caught the eye of Amazon and as a result, the collection can now be found on that platform as well. As an added benefit, Amazon Prime members receive their YogaCoaster set with no additional shipping fees. http://www.amazon.com/handmade/YogaCoaster
Gabor seems to have solved many problems with one cut of the stone. "People always forget to use a coaster," Gabor Kocsis, Proprietor of the Yoga-Coaster exclaimed! "In addition to solving the "what do I get my loved one for their birthday" quandary that everybody faces, I crafted a drink coaster that people actually want to use." "It gets a person's attention and the Marble looks fantastic in any home or business, resulting in increased coaster usage," Gabor said with a smile. "I'm saving people's furniture all over the world!" "I think one of the key elements to YogaCoaster's success is that I produce each set right here in my garage workshop where it all started," Gabor stated.
There are thousands that have benefited from Gabor's answer to the perpetual gift giving question. Here is a sampling what some happy customers of YogaCoaster have to say about their investment. "I love them! They are great conversation starters," Raves, Sandor Revay. "This gift was the highlight of our housewarming party," states Joey, taken from an Amazon review. "High quality coaster that fits my personality," furthers another Amazon reviewer. The praise goes on for dozens of pages with many people seeming to buy them with gift intent but loving the quality and imagery so much, they keep them for their own use. "That is the true measure of success in this marketplace," exclaims Gabor!
If you or someone you love are a yoga enthusiast, Bohemian in nature, adore cats and/or elephants, are a Star Wars or Yankees fanatic, love nautical images, drink coffee, or have a sense of humor regarding politics or protecting their furniture, there is a Yoga Coaster for you! They can be found at https://www.yogacoaster.com/ or for Amazon Prime members with no additional shipping fees at this address. http://www.amazon.com/handmade/YogaCoaster
Contact Info:
Name: Gabor Kocsis
Email: Send Email
Organization: YogaCoaster
Address: 20962 Rustlewood Ave
Phone: 5612213173
Website: https://www.yogacoaster.com/
Video URL: https://youtu.be/fKONAr79rXM
Source URL: https://marketersmedia.com/yogacoaster-grows-exponentially-yet-owner-insists-on-hand-crafted-garage-shop-biz-model/457504
Source: MarketersMedia
Release ID: 457504