YESCiGS have been selling e-cigarettes since they first entered the market two years ago, and have now embraced their potential for variety with flavoured nicotine liquid refills from UK providers.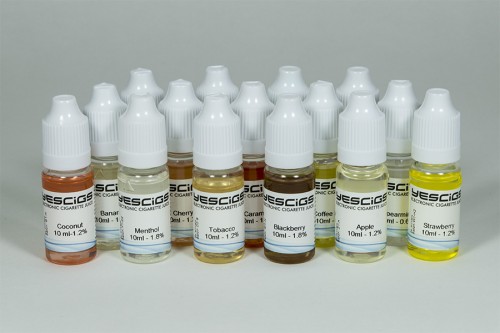 Loughton, Essex,, United Kingdom - - December 4, 2013 /MarketersMedia/ — Cigarettes are under constant attack by health watchdogs, tax hikes, advertising embargos and public smoking bans that stigmatize smokers in order to encourage people to quit the addictive practice. However, a new alternative is proving evermore popular- that is, e-cigarettes that use a water based aerosol release system to create a mist (rather than a smoke) rich in nicotine to satisfy cravings. YESCiGS have been an advocate of this new technology since the beginning, and as they become more popular their range extends, they have now released UK manufactured liquid refills with over fifteen different flavours.
The new category on the online store stocks e-liquid refills in apple, banana, blackberry, blue berry and other fruit based flavours as well as caramel, coffee, menthol and even a tobacco flavoured mist to give the electronic cigarette a new level of authenticity than has previously been enjoyed.
The new flavours are designed to bring a new level of novelty and enjoyment to the smoking experience impossible to achieve with combustible cigarettes. This adds to a growing list of advantages in lifespan, price and potency of the e-cigarette, making it more and more the first choice among smokers who value convenience and variety. This in turn is driving more people than ever to the company's leading electronic cigarette starter kits.
A spokesperson for YESCiGS explained, "The flavoured refills provide a degree of versatility never before seen in conventional portable smoking, but enjoyed throughout large parts of the world through more traditional methods like shisha. This flavoured experience can now be carried around portably and give people a new use for the cigarette case- keeping an array of different flavours available for when they wish to enjoy a different taste sensation with their reliable nicotine hit. It represents the e-cigarette embracing its advantages over simply trying to replace the old fashioned cigarette."
About YESCiGS:
YESCiGS was created in 2011 and dealt exclusively in 'real looking' e-cigarettes because as an obvious and advantageous alternative to tobacco. Now the website plays host to a range of more stylish vaporisers and a wide variety of e-cigarette liquid refills, all made in the UK to guarantee quality to the end user. The site regularly updates with new devices and flavours and provides unbeatable value.
Contact Info:
Name: Max Janso
Organization: YESCiGS
Phone: 02031500399
Source URL: https://marketersmedia.com/yescigs-stocks-exclusive-uk-produced-e-cigarette-liquid-in-over-15-different-flavours/27353
For more information, please visit http://www.yescigs.com/
Source: MarketersMedia
Release ID: 27353