The XFL is back, but with new branding, new teams, and a new mission. Starting on February 8th, with a championship game on April 26th. The XFL 2020 is ready to take flight.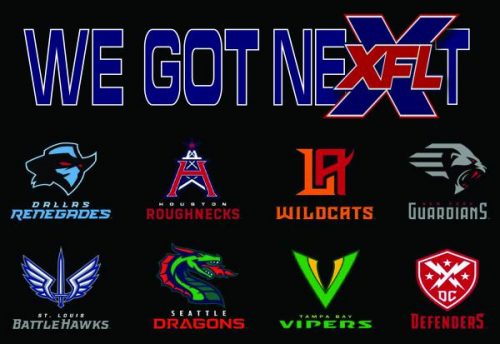 Marlboro Township, United States - February 6, 2020 /PressCable/ —
The XFL is back.
No, it isn't a resurgence of the old no-holds-barred league we had in 2001. The XFL 2020 is much more focused on the game of football than the overindulgence of violence. No more unabated hits, or guys with whatever they want on the nameplates of their jerseys. This is a legit football league, with a few tweaks here and there.
The XFL 2020 is operated by Alpha Entertainment which is owned by Vince McMahon. The league's front office is made up of Jeffrey Pollack as President, and Oliver Luck as Commissioner. Each team will operate as a separate entity, but is owned by the league.
Player conduct on, and off the field will be held to a higher standard than that of the NFL. No felony convictions and no political or social protests or issues will be allowed. Cannabis use will not be tested for, nor prohibited.
XFL 2020 kicks off February 8th. And consists of 8 teams, listed below, along with their coaches.
New York Guardians – Kevin Gilbride
D.C. Defenders – Erik Moses
Tampa Bay Vipers – Marc Trestman
St. Louis BattleHawks – Jonathan Hayes
Houston Roughnecks – June Jones
Dallas Renegades – Bob Stoops
LA Wildcats – Winston Moss
Seattle Dragons – Jim Zorn
The league has some recognizable names from the NFL, including but not limited to:
LA Wildcats QB Josh Johnson
Dallas Renegades QB Landry Jones
Houston Roughnecks WR Sammie Coates
College football fans will also get to see some guys with familiar names like Cardale Jones, Donnel Pumphrey, and Kermit Whitfield back on the field.
The rules will be your standard ones, like the NFL or college, with some variations:
Kickoffs
Only the kicker, and the returner can move until the ball is caught/touched.
Double Forward Pass
Teams will be allowed to make 2 forward passes, as long as the first one does not cross the line of scrimmage.
Point After Touchdown
Because the XFL will not have point-after tries, teams will run one of 3 options on offense:
1 point with a play from the 2-yd line
2 points from the 5
3 points from the 10
Punts
The league almost eliminated the punt altogether, but instead, to reduce the chances of a defenseless player being hit, decided to not allow the gunners to release until a play is made on the punt. There will be no free reign hits like there was in 2001. Player safety is paramount.
Overtime
There will not be a golden score rule in this league. It will be more like PKs in soccer, where teams will alternate 5 single-play possessions worth 2 points each, and the one with the most points wins.
The reported average salary for XFL players will be $55,000 a year. Contracts come with a clause that any player may leave for an NFL contract AFTER the XFL Championship game, April 26th.
Disney-owned ESPN and Fox have the broadcasting rights, so you can find the games on one of the following networks:
ABC
ESPN
ESPN2
Fox
FS1
FS2
XFL 2020 is ready to take flight.
And PigSkinNut has all the coverage you'll need.
Contact Info:
Name: Steve Fischkin
Email: Send Email
Organization: PigskinNut
Address: 13 Freneau Drive, Marlboro Township, NJ 07751, United States
Website: https://pigskinnut.com
Source: PressCable
Release ID: 88945243