Poetri's Poetry Workshop has a recorded webinar on Udemy on writing and performing spoken word. Hosted by Tony Award Winner, Poetri. Laughing while learning for POETS, ACTORS, ACTRESSES, PUBLIC SPEAKERS and YOU. https://www.udemy.com/user/poetri-2/.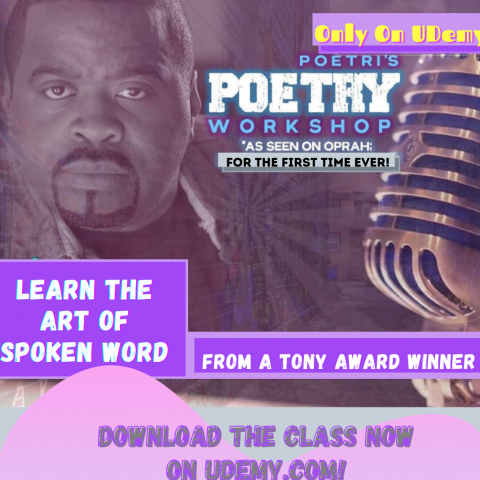 Victorville, United States - January 21, 2021 /PressCable/ —
Laughing while learning. It's always good to laugh. When you are learning something AND laughing…well that makes it all better. Tony Award Winner, Poetri teaches just that. He is calling all, poets, actors, actresses, public Speakers and you, (Yes, I mean YOU) to join him on https://www.udemy.com/user/poetri-2/ to learn the art of poetry.
POETRI, Amusement Park Entertainment, Director of Creative and Development: With a Tony, Emmy and a few advertising acknowledgements (One Show, Cannes, Clio, LIA) under his belt, Poetri stands out as a unique creative and cultural driver. He starred in Def Poetry Jam on Broadway, toured the world twice, and co-founded the largest poetry venue in the world, Da Poetry Lounge. However, to regard him as just a poet would be underestimating his abilities. He has appeared in, created, written, and/or produced for agencies such as Wieden + Kennedy, BBDO, TBWACHIATDAY and Amusement Park, plus, brands, such as, Nike, Microsoft, Intel, Los Angeles Lakers, Delta Airlines, JBL, Snickers, Stride Gum and BET. Poetri even helped convince a young LeBron James to sign with Nike by performing for the King on Nike's hallowed campus grounds.
Interested in learning more about the challenges of writing and performing spoken word? Can't get your words right on paper? Want to scream but don't even know what to yell? Poetri's Poetry Workshop is the class for you. Yes, you! You will be doing writing exercises, laughing while learning, and becoming more confident during this exclusive webinar on writing. It's called Poetri's Poetry Workshop and it's on Udemy. (https://www.udemy.com/user/poetri-2/)
As mentioned, Poetri is the co-founder and former host of the largest weekly poetry venue in the nation. Having been around for over 20 years, Da' Poetry Lounge has not only broadened the appeal of spoken word in Los Angeles, but has become a haven for young people to come and express their emotions in a positive atmosphere. For 12 years, Poetri took his popularity in the Spoken Word community, added some comedy, and founded another popular show in Los Angeles called Spoken Funk. By having created two of the hottest spoken word venues in Southern California, Poetri has certainly left a lasting mark on the culture of Los Angeles.
In addition to tackling hard and thought-provoking exercise about writing, Poetri's Poetry Workshop also covers confidence during the webinar. One of the most surprising facts explored during Poetri's Poetry Workshop is how writing affects every aspect of our lives. If we learn how to write better, we learn how to speak better, which in turn allows us to live better. Who is not trying trying to be better?
The full agenda of this informative webinar also includes:
Writing – Of course, we will have exercise that you can do over and over again. They are fun and challenging. We have 11 lectures for you to go over and over again to make you a more effective writer.
Confidence – We teach confidence while you write. Confidence while you talk. Confidence while you breath. Tools that you can use in everyday life all through the art of poetry.
Command the (Stage) – Your stage is anywhere. When you walk into a room, we teach how to command it. At your job, in your home, at the club, where ever you find yourself…command the room.
For more information and to registrar for the class Poetri's Poetry Workshop, you can visit the website at https://www.udemy.com/user/poetri-2/. Right now for a limited time click this link and get $10 off! https://www.udemy.com/course/poetris-poetry-workshop/?couponCode=POETRIDEALS and use code "POETRIDEALS"
Contact Info:
Name: Poetri Smith
Email: Send Email
Organization: Poetri's Poetry Workshop
Address: 12461 Via Posada Drive, Victorville, CA 92392, United States
Phone: +1-805-776-3874
Website: https://www.udemy.com/user/poetri-2/
Source: PressCable
Release ID: 88994368