Many gardeners are starting to plant their vegetable seeds indoors in preparation for the outdoor planting season. 4Patriots LLC officials strongly suggest using only non-GMO seeds.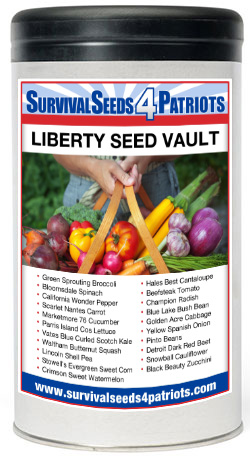 Nashville, TN, United States - February 21, 2017 /MarketersMedia/ — Late February is a great time to plant vegetable seeds indoors for replanting outdoors following the last frost, according to the Chillicothe (Ohio) Gazette. By that time, the seedlings will be hardened and better able to handle outdoor conditions. Among the vegetable seeds traditionally started indoors are tomatoes, peppers, eggplant, broccoli, cabbage and cauliflower.
Officials at 4Patriots LLC agree with this strategy, adamantly recommending that gardeners stick with seeds that are not genetically modified. They recommend using only open-pollinated, non-hybrid seeds.
"Nature doesn't need any help when it comes to growing healthy, nutritious food," said
4Patriots Partner Allen Baler, whose company offers products that help people become more independent and self-reliant. "Messing with nature can cause all sorts of problems, as a number of tests with GMO foods have revealed."
Baler also reminds home gardeners that they are free to have their own stockpile of non-GMO vegetable seeds to use for planting, growing, harvesting, replanting and storing for the future.
Providing a path to independence and self-sufficiency, 4Patriots offers the Liberty Seed Vault. This air-tight metal storage container includes more than 5,300 heirloom seeds from 22 varieties of vegetables including broccoli, spinach, carrots, squash, corn, tomatoes, onions, beets and zucchini. Each order is accompanied by four guides and a 100 percent money-back guarantee.
"After growing and enjoying these nutritious vegetables, gardeners can use the seeds from the harvest for next year's crops, so they never have to buy seeds again," Baler said. "This strategy provides additional benefits because it allows people to be less affected by food shortages and increasing food prices."
Genetically modified foods are plants or animal that have had genes copied from other plants or animals inserted into their DNA. While farmers have been selectively breeding plants for centuries, this manipulation is done in a lab, speeding up the process by transferring a gene from one plant or animal to another. The engineering is done to create certain traits, such as resistance to herbicides.
SurvivalSeeds4Patriots is the premier source for heirloom, non-hybrid, non-GMO seeds people can use in their gardens to grow nutritious vegetables. Containing more than 5,300 heirloom seeds from 22 varieties of vegetables, the Liberty Seed Vault allows people to achieve independence and self-reliance, despite whatever food shortages and price increases might occur.
Contact Info:
Name: Tim Boyle
Email: timm.boyle@4patriots.com
Organization: 4Patriots LLC
Source URL: https://marketersmedia.com/with-indoor-planting-season-here-4patriots-llc-officials-recommend-using-only-non-gmo-seeds/171193
For more information, please visit http://www.4patriots.com
Source: MarketersMedia
Release ID: 171193