Alternative Protein Market by Stage/Type (Insect, Algae, Duckweed, Lab Meat, Pea, Rice, Potato, Corn, Soy, Wheat, Corn, Mycoprotein, Mushrooms), Application, and Geography - Global Forecast to 2025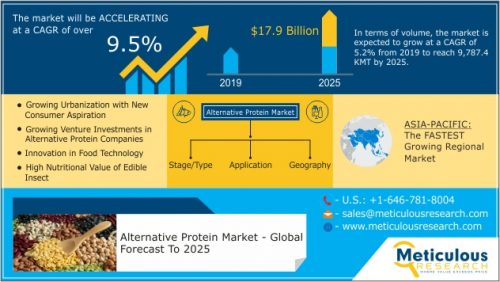 Pune, India - January 13, 2020 /MarketersMedia/ — An accelerating pace of transformation is reforming the food industry. Consumers are actively trying to incorporate more healthy foods into their diets. As a part of an increasing trend towards healthy eating, there is a renewed interest in alternative proteins. Alternative proteins such as plant-based protein, edible insect, cultured meats, algal protein, and microbial protein provides substantial amount of protein as well as require fewer natural resources as compared to common protein sources, like meat, pork, and fish. A growing awareness among the population about healthy and sustainable foods has led to a rising interest in alternative protein-based products in many countries worldwide. Meticulous Research® in its latest publication on Alternative Protein Market states that the global alternative protein market will increase at a CAGR of 9.5% from 2019 to 2025 to reach $17.9 billion by 2025.
One of the major factors impacting the growth of the global alternative protein market is acceleration in the investment, as the investors are always on the lookout for the emerging ideas with the potential to the disrupt the status quo and bring big returns; the alternative proteins are poised to do just that. Hence, the companies across the food value chain, from producers to retailers, are also focusing on investing in alternative protein market.
To provide efficient analysis, Meticulous Research® has segmented this market on the basis of stage/type (emerging alternative protein (insect, algae, duckweed, and lab meat), adolescent alternative protein (pea, rice, corn, potato, and others), and matured alternative protein (soy, wheat, canola, mushroom, mycoprotein, and others)); and application (plant protein based products, insect protein based products, aquatic plant protein based products, microbial protein based products, and cultured meat based products); and geography (North America, Europe, Asia-Pacific, Latin America, and Middle East & Africa).
Between 2019 and 2025, most of the demand for alternative protein is expected to be driven by growing population and urbanization with new consumer aspiration, growing venture investments in alternative protein companies, innovation in food technology, and high nutritional value of edible insects.
Product-wise, soy protein segment is estimated to command the largest share of the global plant-based protein market in 2019. The large share of soy protein is attributed to higher consumer acceptance level, presence of large number of manufactures and their high scale of production, low cost than other types of alternative proteins, increased demand for plant-based products, easy availability of raw materials, and large number of applications in various industries.
Geographically, the North America alternative protein market is expected to dominate the global alternative protein market in the next five years, owing to the rising concern over animal products and protein, increasing vegan population, and increased investment in protein alternative products.
The report provides competitive intelligence in terms of financials, growth strategies, product portfolios, and geographical presence on some of the key players in this market including AgriProtein (South Africa), Ynsect (France), Enterra Feed Corporation (Canada), Protix (The Netherlands), Proti-Farm Holding NV (The Netherlands), Entomo Farms (Canada), Global Bugs Asia Co., Ltd. (Thailand), Aspire Food Group (U.S.),etc
Buy Complete report of Alternative Protein Market @ https://www.meticulousresearch.com/buy_now.php?pformat=284&vformat=844
Table of Content -
1. Introduction
1.1. Market Ecosystem
1.2. Currency and Limitations
1.2.1. Currency
1.2.2. Limitations
1.3. Key Stakeholders
2. Research Methodology
2.1. Research Process
2.1.1. Secondary Research
2.1.2. Primary Research
2.1.3. Market Size Estimation
3. Executive Summery
3.1. Introduction
3.2. Market Insight
3.3. Segment Analysis
3.3.1. Stage/Type Analysis
3.3.1.1. Emerging Alternative Protein
3.3.1.2. Adolescent Alternative Protein
3.3.1.3. Matured Alternative Protein
3.3.2. Application Analysis
3.3.2.1. Insect Protein Market, by Application
3.3.2.2. Plant Protein Market, by Application
3.3.2.3. Aquatic Protein Market, by Application
3.3.2.4. Microbial Protein Market, by Application
3.3.2.5. Lab Meat Based Market, by Application
3.4. Regional Analysis
3.5. Competitive Landscape
3.6. Key Players
4. Market Insights
4.1. Introduction
4.2. Drivers
4.2.1. Growing Urbanization with New Consumer Aspiration
4.2.2. Growing Venture Investments in Alternative Protein Companies
4.2.3. Innovation in Food Technology
4.2.4. High Nutritional Value of Edible Insect
4.2.5. Environmental Sustainability with Production and Consumption of Alternative Protein
4.3. Restraints
4.3.1. High Cost of Alternative Protein
4.3.2. Significant Preference for Animal Based Products
4.4. Opportunities
4.4.1. Research & Development and New Product Launches
4.4.2. Emerging Economies
4.5. Trend
4.5.1. Mergers and Acquisitions in Alternative Protein Space
4.6. Regulatory Analysis
4.7. Investments/Funding Scenario
4.8. Pricing Analysis
4.9. Value Chain Analysis
4.10. Market Share Analysis, by Key Player
5. Alternative Protein Market, by Stage/Type
5.1. Introduction
5.2. Emerging Alternative Protein
5.2.1. Insect
5.2.2. Algae
5.2.3. Duckweed
5.2.4. Lab Meat
5.3. Adolescent Alternative Protein
5.3.1. Pea
5.3.2. Rice
5.3.3. Potato
5.3.4. Corn
5.3.5. Others
5.4. Matured Alternative Protein
5.4.1. Soy
5.4.2. Wheat
5.4.3. Canola
5.4.4. Mycoprotein
5.4.5. Mushrooms
5.4.6. Others
Inquire or share your questions if any before the purchasing this report - https://www.meticulousresearch.com/enquire-before-buying/cp_id=4985
6. Alternative Protein Market, by Application
6.1. Introduction
6.2. Insect Protein Market, by Application
6.2.1. Introduction
6.2.2. Value Added Whole Insects
6.2.3. Animal and Pet Feed Products
6.2.4. Value Added Insect Powder
6.2.5. Insect Protein Bars and Protein Shakes
6.3. Plant Protein Market, by Application
6.3.1. Introduction
6.3.2. Foods and Beverages
6.3.2.1. Meat, Poultry, & Seafood
6.3.2.2. Bakery
6.3.2.3. Meat Analogue
6.3.2.7. Others
6.3.3. Animal Feed
6.3.4. Nutrition & Health Supplements
6.3.5. Pharmaceuticals
6.3.6. Others
6.4. Aquatic Protein Market, by Application
6.4.1. Introduction
6.4.2. Food and Feed
6.4.3. Nutraceutical
6.4.4. Cosmetics
6.4.5. Chemicals
6.4.6. Others
6.5. Microbial Protein Market, by Application
6.5.1. Introduction
6.5.2. Dairy Alternatives
6.5.3. Beverages
6.6. Lab Meat Market, by Application
6.6.1. Introduction
6.6.2. Meatballs
6.6.3. Burgers
6.6.4. Sausages
6.6.5. Hot Dogs
6.6.6. Nuggets
7. Geographic Analysis
7.1. Introduction
7.2. North America
7.2.1. Introduction
7.2.2. U.S.
7.2.3. Canada
7.3. Europe
7.3.1. Introduction
7.3.2. Germany
7.3.3. U.K.
7.3.4. France
7.3.5. Italy
7.3.6. Spain
7.3.7. The Netherlands
7.3.8. Belgium
7.3.9. Denmark
7.3.10. Finland
7.3.11. Rest of Europe
7.4. Asia Pacific
7.4.1. Introduction
7.4.2. China
7.4.3. India
7.4.4. Japan
7.4.5. Australia
7.4.6. Thailand
7.4.7. South Korea
7.4.8. Vietnam
7.4.9. Rest of Asia-Pacific
7.5. Rest of World
7.5.1. Introduction
7.5.2. Latin America
7.5.3. Middle East and Africa
8. Competitive Landscape
8.1. Introduction
8.2. Expansions
8.3. New Product Launches
8.4. Agreements
8.5. Acquisitions
8.6. Partnerships
8.7. Approvals
9. Company Profiles (Includes Business Overview, Financial Overview, Product Portfolio, and Strategic Developments)
9.1. AgriProtein
9.2. Ynsect
9.3. Enterra Feed Corporation
9.4. Protix
9.5. Proti-Farm Holding NV
9.6. Entomo Farms
9.7. Global Bugs Asia Co., Ltd.
9.8. Aspire Food Group
9.9. Tiny Farms
9.10. EntoCube
9.11. EnviroFlight, LCC.
9.12. Entofood Sdn Bhd.
9.13. Coalo Vally Farms
9.14. Armstrong Cricket Farm Georgia
9.15. Rocky Mountain Micro Ranch
9.16. DIC Corporation
9.17. Cellana Inc.
9.18. Taiwan Chlorella Manufacturing Company
9.19. Algaetech International Sdn Bhd
9.20. Cyanotech Corporation
9.21. BlueBiotech Int. GmbH
9.22. Algatechologies Ltd.
9.23. Pond Technologies Inc.
9.24. E.I.D. - Parry (India) Limited
9.25. Tianjin Norland Biotech Co., Ltd
9.26. AlgaeCan Biotech Ltd.
9.27. Corbion NV
9.28. Sun Chlorella Corporation
9.29. Parabel, Inc.
9.30. Plantible Foods, Inc.
9.31. Archer Daniels Midland Company
9.32. Cargill, Incorporated
9.33. Roquette Frères Le Romain
9.34. Ingredion Inc
9.35. Kerry Group
9.36. E.I. Dupont De Nemours and Company
9.37. Now Foods
9.38. Tate & Lyle Plc
9.39. Axiom Foods Inc.
9.40. Burcon NutraScience Corporation
9.41. BENEO GmbH
9.42. Glanbia Plc
9.43. Sotexpro
9.44. Farbest Brands
9.45. CHS Inc.
9.46. Just, Inc.
9.47. Mosa Meat
9.48. Memphis Meats
9.49. MycoTechnology Inc.
9.50. 3fbio Ltd.
10. Appendix
Get Sample Report with all Graphs & Charts related to it @
https://www.meticulousresearch.com/download-sample-report/cp_id=4985
More Trending Reports by Meticulous Market Research:
Plant Based Protein Market by Type (Soy Protein, Wheat Protein, Pea Protein, Potato Protein, Rice Protein, Corn Protein) and Application (Foods and Beverage, Animal Feed, Nutrition and Health Supplements, Pharmaceuticals) - Global Forecast to 2025 @ https://www.meticulousresearch.com/product/plant-based-protein-market-5031/
Contact Info:
Name: Khushal
Email: Send Email
Organization: Meticulous Market Research Pvt. Ltd.
Address: Pune, India
Phone: +91 744-7780008
Website: https://www.meticulousresearch.com/product/alternative-protein-market-4985/
Source URL: https://marketersmedia.com/with-cagr-of-95-alternative-protein-market-reach-179-billion-by-2025-meticulous-research/88942556
Source: MarketersMedia
Release ID: 88942556