Singapore-based global payments technology company Wise MPay and renowned blockchain experts...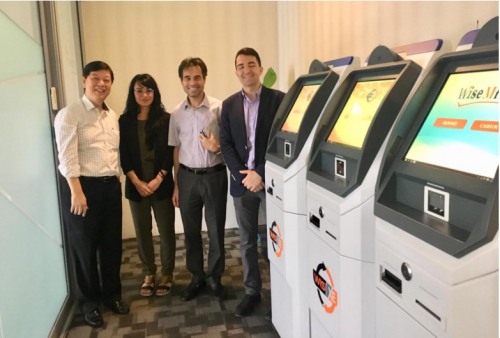 June 17, 2019 — Singapore-based global payments technology company Wise MPay and renowned blockchain experts, Jelurida announced the launch of a new permissioned blockchain financial services platform, expected to be available in September this year as JPL-compliant software, to transform the financial sector and bring cutting-edge digital payments and innovative digital financial assets to governments, banks and end users.
The Coalculus blockchain financial services platform is built on the time-tested Proof-of-stake (POS) consensus algorithm which ensures high levels of decentralization, security, scalability and efficiency. Based on Jelurida's scalable Ardor blockchain technology, the platform promises lower costs, faster execution of transactions, improved transparency, auditability of operations, and other advantages that will be beneficial to both the financial institutions themselves and their clients.
Banks and financial institutions using Coalculus's enterprise blockchain solutions will be able to move from experimentation to production by creating new blockchain financial services from scratch or adding blockchain functionality to integrate with the Coalculus enterprise blockchain. Our unique approach means a wider range of institutions can realise the full potential of blockchain – executing complex logic and automating key finance-related tasks among others.
To support its customers, Wise MPay has added end-to-end KYC/AML/CFT processes to its enterprise blockchain solution, value added with full internet-of-things (IoT) devices such as prepaid cards, automated teller machines, QR code generators and standard application programming interfaces (API) to help enterprises speed up the development, integration, and adoption of new enterprise blockchain applications.
Mr. Jack Bai, Director of Wise MPay, said, "Our vision for Coalculus is to create a new financial transaction facilitation platform which is truly trusted globally, but will focus initially between ASEAN (Association of Southeast Asian Nations) countries, Hong Kong and Australia. Our framework is a convergence of public and private blockchains developed on the simple idea that organizations should be able to easily implement new financial services and acquire all the benefits of blockchain in the least amount of time needed. This is our USP and this is why we chose Jelurida as our partner and technology provider."
Trusted by World's Leading Organizations and Enterprises
Using blockchain in financial services, banks and financial institutions are establishing new ways to increase trust in multi-party centralized ecosystems and increasing the speed, security and efficiency of a wide range of traditional banking processes. Coalculus's rapidly growing list of global customers that have deployed on its financial services platform include:
Crypto Digital Currency Coin (CDCC). The CDCC and Sovereign Wallet will provide a reliable 24x7 digital payment service that will be used to settle real-time payments with other government entities, banks and financial institutions as well as promote greater financial inclusion to over 12 Million non-online banking and unbanked users in one of the Southeast Asian nations.
ASEAN Stable Coin. The ASEAN Stable Coin is backed by a basket of fiat currencies as reserves. The first use case for ASEAN Coin is led by the ASEAN Youth Committee as a medium of exchange to pay for education services and progressively adopted as a popular store of value within the ASEAN economic region.
Remittance Network For South East Asia. Remittance companies and banks are connected to real-time transaction networks on the blockchain, enabling merchants and consumers to safely utilise their stable coins and other digital assets to send fiat money at the speed of the internet.
WisXe Asset Exchange. European incorporated financial institution utilizes a blockchain-enabled exchange system to deliver a comprehensive range of financial products and digital asset exchange services globally.
"We are impressed by the professionalism of the Coalculus team. Wise MPay came to us with more than just a vision." said Lior Yaffe, Senior Developer and Managing Director of Jelurida. "They keenly understand the different blockchain technologies on the market and have identified opportunities for maximizing the value of the Coalculus BFS platform. It has been our pleasure to support the team at Wise MPay in making Coalculus a reality."
For more information, please visit: www.coalculus.com
Contact Info:
Name: liufeng
Email: Send Email
Organization: Wuhan Shengxia Youxun Network Technology Co., Ltd..
Website: http://www.youxunkj.com/
Release ID: 524314