A new winter tire replacement campaign has been launched by the team at Dilawri's Crown Auto Group in Winnipeg, Manitoba. It's the latest in their focus on high quality customer service.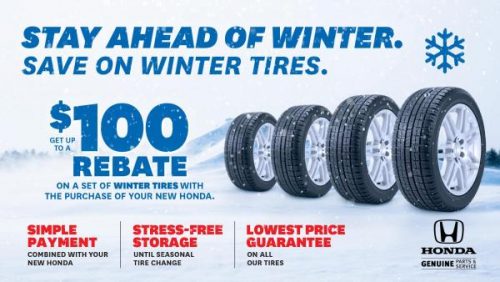 Winnipeg, Canada - December 17, 2020 /PressCable/ —
Dilawri's Crown Auto Group has launched a new winter tire campaign across all six of its dealerships in Winnipeg, Manitoba. Winnipeg Honda, Crown Honda, Crown Toyota, Crown Acura, Crown Mazda and Crown Nissan strive to provide customers with the best deals on their winter tires. Crown Toyota is pairing this with a 5% Tire Price Beat Guarantee.
More information can be found at: https://www.crownautogroup.ca
Dilawri's is known for its high quality service and focus on customer experience, and the newly launched winter tire campaign is part of their commitment to the best service.
In addition to stocking a full range of winter tire options, customers can also get storage for their existing tires, with added security through contactless sales and storage options.
Winter tires are an important part of the preparation vehicle owners need in order to ensure safety in the colder months. They are designed to be grippier and safer than summer tires in all weather conditions.
When weather is cold and the roads are slippery, additional grip is important. While they provided added reassurance and safety in the snow and ice, they are also better suited to cold-weather driving even in clear conditions.
Between November and March, winter tires are likely to provide drivers with a more secure and stable driving experience. With specially designed tread patterns, they can displace water and bite into snow and ice more securely.
As part of the new campaign, a set of tire replacement coupons are available for customers throughout the local area. Customers can secure up to a $100 rebate on a set of winter tires with a purchase of a new vehicle.
Additional information can be found at: https://www.winnipeghonda.ca/tire-coupons-winnipeg-mb
Stress-free storage is available until seasonal tire change, and the company strives to ensure that customers get an affordable price on their deals.
A spokesperson for the company states: "The Crown Auto Group is one of Manitoba's most progressive automotive groups. We have been a part of the Winnipeg fabric for over 30 Years. We are network of car dealerships in Winnipeg and Manitoba and we sell, service and maintain new and used cars including hatchbacks, crossovers, hybrids, trucks, vans and SUVs."
Full details can be found on the URL above. Further deals are available at: https://www.crownnissan.ca/tire-coupons-winnipeg-mb
Best prices on winter tires can be found here:
ttps://www.winnipeghonda.ca/tire-coupons-winnipeg-mb
https://www.crownhonda.ca/tire-coupons-winnipeg-mb
https://www.crowntoyota.ca/tire-coupons-winnipeg-mb
https://www.crownacura.ca/tire-coupons-winnipeg-mb
https://www.crownnissan.ca/tire-coupons-winnipeg-mb
https://www.crownmazda.ca/tire-coupons-winnipeg-mb
Contact Info:
Name: Jason Bekiaris
Email: Send Email
Organization: Dilawri's Crown Auto Group
Address: 900-1717 Waverley St, Winnipeg, Manitoba R3T 6A9, Canada
Website: https://www.crownautogroup.ca/
Source: PressCable
Release ID: 88990418