White Palace has announced a brand-new center with the most spacious event and exhibition venue in the city's northern part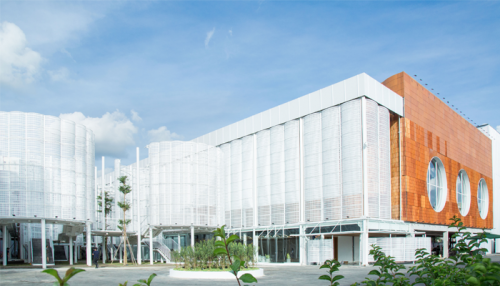 Ho Chi Minh, Vietnam - July 24, 2019 / / — Known as the best conference center in Ho Chi Minh City during the past 10 years, the name White Palace has become familiar when it is associated with many events of weddings, culture - entertainment shows, and summits. However, anyone will be surprised to come here and experience the completely new location of White Palace at 108 Pham Van Dong Boulevard – the city's most gorgeous in-city road, only 10 minutes' drive from Tan Son Nhat International Airport, White Palace Event And Exhibition Center.
The first impression is that space is decorated in a minimalist style but still retains the modern elegance, the new look of White Palace does not focus on too many flashy details but instead brings a feeling of being overwhelmed by the shape of a bold European architecture with delicate white colors. Taking nature as a perspective makes beauty here as a rhythm of time and space music. The surprise continued with the banquet hall and multi-function room, where models put on the designs for the first time in Vietnam. The area of up to 20.000 sqm brings the capacity of 6500 guests to serve, White Palace Event and Exhibition Center is confident and able to meet all the demands of parties and events.
Glamour not only comes from the outside look but impressive touches that the guest experiences with optimized functional spaces, advanced equipment, and diversity service package that White Palace is providing. The feast of shimmering and vibrant music, the modern light sound system and the banquet tables is the definition of the White Palace brand that brings lively taste.
"The event and exhibition center White Palace was just built. The design is beautiful, stylish. The center located right on Pham Van Dong Street near Binh Trieu Bridge and Binh Loi Bridge so it is convenient to travel. At first, it was like a maze and I made some effort to find the hall. In my opinion, it is a great hall for organizing seminars, conferences or wedding parties. I was attending at Vietnam Digital SEO Summit 2019 there." Sang Nguyen Thanh reviewed on Google Maps.
About the company
White Palace Event And Exhibition is the location for companies looking for new ways to deploy vivid ideas and ways to create aesthetic points in the new look, White Palace has great halls with banquet scale from a few hundred to thousands of guests. It is added to the "top choice" as a new bright spot by bringing together all design criteria, meeting high capacity for exhibitions, new product launch events or parties. With the professionalism in the field of party organizer, it promises to be the most wonderful hours than ever before. Types of the party that center provides are company event, exhibition, fully packed conference, product launch, art performance.
Contact Info:
Name: Vivian
Email: Send Email
Organization: WHITE PALACE EVENT AND EXHIBITION CENTER
Address: 108 Pham Van Dong Street, Thu Duc District, HCMC
Phone: +84 982 70 71 70
Website: https://whitepalace.com.vn/
Video URL: https://www.youtube.com/watch?v=1lAbr7U3ORs&feature=youtu.be
Source:
Release ID: 88897333