Author Les Cochran's first two books in his mafia historical fiction series, SAX CLUB and BLIND PIG available at Booksellers at Fountain Square in Cincinnati and Blind Pig Grille & Bar event on Sunday, Sept. 30, 11:00 am to 3:00 pm.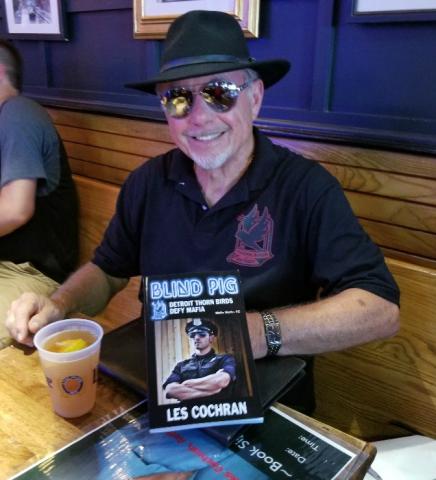 Weaverville, United States - September 25, 2018 /PressCable/ —
Crime fiction author, Les Cochran will be visiting Cincinnati September 28-30. His new historical fiction series features the mafia takeover of the City of Detroit in the 70s and 80s.
Cochran's first srop will be The Booksellers at Fountain Square Friday, September 28th, beginning at 11 am. He will autograph books and share mafia stories with readers. The first two books in the series, SAX CLUB and BLIND PIG will be available. More information on the books can be found at his website: LesCochran.com
September 30, he will at the Blind Pig Grille & Bar, 24 W 3rd St, Cincinnati, OH from 11 am to 3 pm.
At both locations he will be asking "What's a Blind Pig?" He says there are two correct answers to that question.
Attendees are encouraged to wear sunglasses to both events as photos will be taken with the author in his mafia attire.
At the time of the Detroit riots, Cochran was a high school teacher in the inner city there. His experiences as a teacher, basketball coach and supervisor for the student co-op program provided inspiration for him to write this new series. He anticipates there will be five or six books in the series, maybe more." I spend 3-4 hours a day researching and writing; every week I uncover great ideas for more books."
In addition, Cochran has spent many hours interviewing the head of the Detroit Division of the FBI during the 70s and 80s. "Oscar Westerfield has shared scrapbooks, news clippings and what I like to call 'inside information' with me regarding his investigations into the inter-workings of the mafia."
His mafia crime thriller series featuring actual events in the 70s and 80s are woven into the lives of the Detroit Thorn Birds, fictional characters created by the author to tell the real story.
Series Synopsis: Detroit is hemorrhaging; a criminal juggernaut has brought the city to its knees – – the Mafia has outwitted and outmaneuvered what is widely known as the nation's most corrupt police force. The city's social fabric is torn beyond repair, neighborhood gangs are rampant – – unethical political officials offer no help – – the situation is hopeless.
Those that stayed in the city fought to save their homes, businesses and neighborhoods. Cochran refers to them as the Detroit Thorn Birds, a name he adopted from Colleen McCullough's novel. Readers will likely find a particular interest in how the Detroit Thorn Birds are clawing to save their dignity and way of life.
When asked about why he is writing this historical fiction crime thriller series, Cochran said: "Even though I lived there at the time, the opportunity to research more deeply into the backroom workings of the mafia, FBI, local politicians and many others is addictive."
Cochran hopes the series will help readers understand why Detroit has struggled for so many years. This positive outlook from the author is certainly testament to his optimism about the recovery process currently taking place in Detroit.
"I'm looking forward to meeting Cincy residents who enjoy reading crime thrillers and gaining historical perspective at the same time. My thanks to the managers and owners at The Booksellers and Blind Pig Grille & Bar for agreeing to host these book signing events."
Those interested in learning more about the books can visit: LesCochran.com
Contact Info:
Name: Lin
Email: Send Email
Organization: Les Cochran, Author
Address: 26 Endless View Drive, Weaverville, North Carolina 28787, United States
Phone: +1-239-777-7646
Website: http://www.LesCochran.com
Source: PressCable
Release ID: 411257