The premier venue for world jazz and global beats in Berlin announces original music, a unique Jazz event in Berlin—Rehearsed and recorded live on Facebook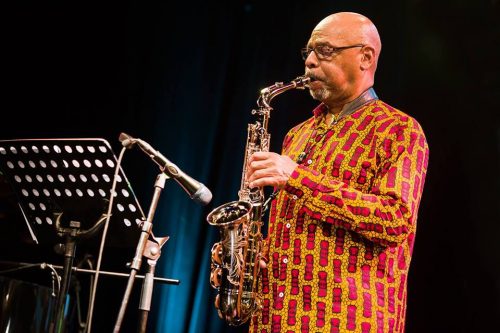 BERLIN, GERMANY - September 16, 2018 /MarketersMedia/ — WERKSTATT DER KULTUREN announced today that it will present a two-day live Facebook event consisting of newly composed original jazz. For two days the venue will be converted into a recording studio. A 48-hour Facebook livestream gives music lovers the chance to see how new jazz music is composed, rehearsed and recorded. During this time, brand new tracks from the in-house jazz ensemble LITTLE BIG BAND & friends, are created and recorded under the direction of Fuasi Abdul-Khaliq (sax), and Eric Vaughn (drums), (and) with the help of 8 international Berlin based musicians.
Watch the process via Facebook livestream from 10:30am on 17th of September until 10:30pm of the 18th of September.
"People rarely have the chance to witness what goes on in a recording studio, we would like to give jazz lovers the opportunity to attend the entire process from rehearsing to recording, "says Philippa Ebéné director of WERKSTATT DER KULTUREN. "There's hardly anything more exciting than being part of the creation of a brand new, never-heard before song. We recognised that fans may want to be present during this event."
Tune in to watch and listen to the recording session of facebook event "ORIGINAL MUSIC" under the direction of the musical director of LITTLE BIG BAND Fuasi Abdul-Khaliq co-director
Eric "Naked Jazz" Vaughn, and:
Christoph Titz - trumpet
Geoffroy De Masure - trombone
Kenny Martin – drums
Max Hughes - bass
Mette Nadja Hansen - vocals
Ondrej Stveracek - saxes
Rolf Zielke - piano
Tal Arditi - piano
To learn more, visit https://m.facebook.com/events/239949823369836/?acontext=%7B%22action_history%22%3A%22%5B%7B%5C%22surface%5C%22%3A%5C%22external%5C%22%2C%5C%22mechanism%5C%22%3A%5C%22social_plugin%5C%22%2C%5C%22extra_data%5C%22%3A%5B%5D%7D%5D%22%7D&refsrc=https%3A%2F%2Fwww.facebook.com%2Fplugins%2Fpage.php
About WERKSTATT DER KULTUREN
WERKSTATT DER KULTUREN is dedicated to jazz and global fusion music, collaborations, and mergers, thereby creating a musical mirror of the world, which overthrows static music genres. It is a popular destination not only for people from Berlin, but also for tourists who visit Berlin and love world music, world jazz and global beats. This is your chance to watch and listen to ground-breaking original music. The WERKSTATT DER KULTUREN presents and represents local and global, traditional and
contemporary cultural practices and arts lived in Berlin. In its position as a platform for art, culture and action, the WERKSTATT DER KULTUREN is a meeting place for the many people in Berlin with close biographical associations to different regions and cultures of the world - and hence to different cultural contexts in the city. We celebrate cultural difference!
Click here to watch: https://www.facebook.com/events/239949823369836/
# # #
Contact Info:
Name: Media Relations
Email: Send Email
Organization: WERKSTATT DER KULTUREN
Phone: 030-609770-0
Website: https://m.facebook.com/events/239949823369836/?acontext=%7B%22action_history%22%3A%22%5B%7B%5C%22surface%5C%22%3A%5C%22external%5C%22%2C%5C%22mechanism%5C%22%3A%5C%22social_plugin%5C%22%2C%5C%22extra_data%5C%22%3A%5B%5D%7D%5D%22%7D&refsrc=https%3A%2F%2Fwww.facebook.com%2Fplugins%2Fpage.php
Source URL: https://marketersmedia.com/werkstatt-der-kulturen-to-present-a-two-day-live-facebook-event-of-newly-composed-original-jazz/408044
Source: MarketersMedia
Release ID: 408044