Virginia Residents Urged to Maximize Tax-Exemptions and Stock up on Surviveware's Small First Aid Kit for Hurricane and Emergency Preparedness Needs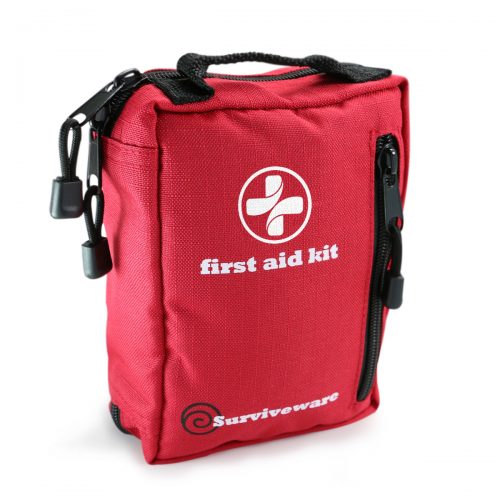 Woodbridge, United States - August 3, 2019 /MarketersMedia/ — With hurricane season starting in full throttle, families in Virginia are advised to prepare for the worst-case scenario. Authorities are advising local residents to replenish their supplies and double-check the hurricane essentials in their emergency packs.
Thanks to Virginia's tax-free weekend, which runs from August 2-4, families can save when they stock up on hurricane and emergency preparedness items. These provisions, along with identified school supplies, clothing, shoes, and Energy Star or WaterSense appliances, can be purchased without paying the state and local sales taxes. This suspension on sales tax allows residents to replenish their first aid supplies and purchase Surviveware's Small First Aid Kits.
One of the desirable features of this kit is its small, sleek frame, enabling it to fit inside one's pack with ease. Moreover, due to its compact and lightweight design, hikers and campers won't have any trouble carrying this pack on long hikes or treks.
Surviveware's Small First Aid Kit also offers a lot of punch in a small bag. Containing 100 pieces of medical supplies, users have the option to use more suitable supplies for most common emergencies. This pack holds the non-adhesive dressing, steri-strips, and wraps. These items are perfect for patching up abrasions, cuts, and scrapes sustained from rough terrain. Tools such as safety pins, tweezers, shears, triangular bandages, and splinter probes were also added to this first aid kit.
A notable trademark of Surviveware first aid kits is their organized and labeled compartments. Each section is marked with its contents as well as its appropriate use. These markings ensure that kit owners, bystanders, and first responders can easily retrieve supplies and respond to an incident quickly.
Surviveware's Small First Aid Kit is also perfect for individuals who want total protection for their outdoorsy family members. In the following review written by a Surviveware Amazon customer, he shared that he'd recommend this pack to any outdoorsy family:
"Great quality and thought were put into this first aid kit. The items included are very thought out for different situations you might need it for. It is lightweight for the amount of items that are included. The plastic resealable bag it is packaged in is perfect for adding a bit of water resistance when out on the river or near water in general.
The attachable CPR kit is a bonus with proper steps for performing CPR. I am very happy with this product and would strongly recommend it to friends and family."
Enjoy Virginia's Tax-Free Weekend while ensuring that you and your family members are protected at any time of the day. Place your order now and enjoy a 20% discount off your purchase when you use a Surviveware Amazon discount code. Plus, you get these items sales tax free!
Don't miss out on this limited-time offer and order your Surviveware Small First Aid Kit now by clicking here.
Contact Info:
Name: Amanda Condry
Email: Send Email
Organization: Surviveware
Phone: 703-910-5188
Website: https://surviveware.com
Source URL: https://marketersmedia.com/virginias-tax-free-weekend-starts-friday/88903875
Source: MarketersMedia
Release ID: 88903875