Breckinridge Park Animal Hospital in Richardson, TX strives to give patients the most up-to-date veterinary care possible. This fall 2018, doctors and staff attended veterinary conferences to stay on top of cutting-edge treatments and medicines. This is a highlight of what was learned.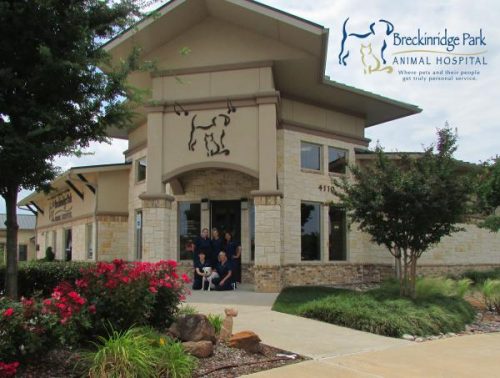 Richardson, United States - November 8, 2018 /PressCable/ —
Richardson, TX (November, 2018) – The veterinarians and staff at Breckinridge Park Animal Hospital strive to be one of the best animal hospitals in Richardson, Texas. Their goal is to give animal patients and pet owner clients the most up-to-date veterinary care possible. Dr. Erica Erickson, one of the principal veterinarians, shares that large conferences and smaller seminars help staff to learn about cutting-edge treatments and medicines. This fall 2018 Dr. Layne Sager and Practice Manager Sarah Ayers attended the Southwest Veterinary Symposium. Dr. Cinthia Peeples attended the American Association of Feline Practitioners (AAFP) Conference.
Highlights from Southwest Veterinary Symposium (SWVS) Held September 20-23, 2018 in San Antonio, Texas
The Southwest Veterinary Symposium included continuing education, exhibits, interactive labs and social activities. It served DVMs, RVTs, hospital personnel, veterinary and technician students, and suppliers who provide products and services that support veterinary medicine.
Mrs. Ayers shares, "Conferences like SWVS allow veterinarians and veterinary professionals to congregate and share knowledge and ideas, as well as learn new and upcoming developments in the veterinary industry. The more we know about something, the more it empowers us to provide quality services for the patient and the client."
Dr. Sager also attended the Pacific Veterinary Conference (PAC) in San Francisco in June. "While I normally attend only one large conference each year, I decided to attend two this year. This allowed me to compare and contrast varying opinions on similar topics from different specialists within the same field. This was helpful as it reminded me that there is not always a consensus; we are continually learning new ways of providing the best care."
At the two conferences, Dr. Sager refreshed her knowledge on early disease detection in many areas. Since then, she has been consciously more proactive in screening patients for certain diseases. This can extend the lifetime of patients, and consequently, quality time with family members. For example, protein losing nephropathy in canine patients can be more manageable if caught early. This is a type of kidney disease in which dogs can lose vital proteins through their kidneys. "The specialist at PAC reminded us to "always get the pee" as performing a urinalysis to look for protein in the urine is the best screening test." Updates and information like this, provided at conference lectures, allowed these Richardson veterinarians to bring information back to their colleagues at Breckinridge Park Animal Hospital. The veterinary team then determined which ideas to implement into the everyday practice.
Lessons Learned from American Association of Feline Practitioners (AAFP) Conference Held September 27-30, 2018 in Charlotte, NC
This year's American Association of Feline Practitioners (AAFP) Conference, held September 27 to September 30, 2018, focused on senior and geriatric care, emergency medicine, and critical care. Dr. Peeples gained knowledge in several ways to prolong a feline patient's life. "The annual conference is an extremely valuable resource providing some of the most current and relevant feline-focused continuing education."
AAFP highlights included:
· New ways to diagnose and treat kidney disease
· New studies on providing better pain control in older feline patients
· Safer sedation and anesthesia protocols
· Decreasing stress levels on feline patients in order to improve overall health
· Heartworm disease updates
· Nutritional update to relieve chronic gastrointestinal diseases
· New strategies for managing feline patients with multiple diseases
Dr. Peeples reflects, "I was very pleased to be able to attend this conference and bring new information to our team. We want to be able to provide the best care possible to our clients."
Prolonging and improving a feline patient's life is very important to the doctors at Breckinridge Park Animal Hospital. According to Dr. Peeples, "We have several feline patients that are 20 years old!" Armed with new information, Dr. Peeples and the staff continue providing caring and cutting-edge medical treatment to give cat patients a long, happy and healthy life.
Importance of Continuing Education through Conferences and Seminars
Veterinarians and staff at Breckinridge Park Animal Hospital feel it is crucial to bring pertinent updates and advances to their small animal patients. They strive to help pets prolong their quality of life, and bring joy to their owners for many years. That kind of care and attention to detail is what makes Breckinridge Park Animal Hospital one of the leaders in Richardson veterinary care.
Breckinridge Park Animal Hospital serves the northeast Dallas suburban area including Richardson, Garland, Plano, Murphy, Wylie and Mesquite. For more information, please call Breckinridge Park Animal Hospital at 972-690-6900 or visit BPAH.net.
This information is not a substitute for professional veterinary medical advice. Prior to starting any new treatment or questions regarding an animal's medical condition, always seek the advice of your veterinarian.
– end –
Contact Info:
Name: Sarah Ayers
Organization: Breckinridge Park Animal Hospital (BPAH)
Address: 4110 East Renner Road, Richardson, TX 75082, United States
Phone: +1-972-690-6900
Website: https://BPAH.net
Source: PressCable
Release ID: 440617