Global ventilators market is expected to reach USD 2,636.2 million by 2023, at a CAGR of 7.2% during the forecast period of 2018 to 2023.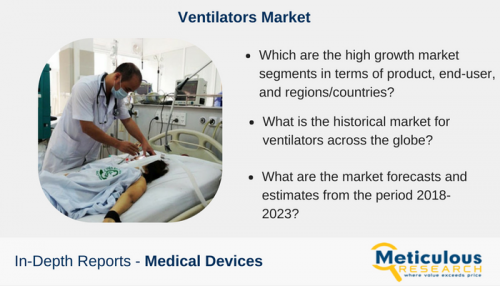 Pune, India - June 25, 2019 /MarketersMedia/ — Ventilators market has shown strong growth pattern in recent year's majorly due to increasing burden of chronic pulmonary diseases with rising geriatric population, rise in sedentary lifestyle, excessive consumption of tobacco, rising level of air pollution due to urbanization, and increasing incidence of preterm births. In addition, growing demand for home care therapeutic devices and high growth in developing countries across APAC and Latin America provides significant growth opportunity for the ventilator providers.
Meticulous Research® in its latest publication on ventilators market states that the global ventilators market will increase at a CAGR of 7.2% from 2018 to 2023 to reach USD 2,636.2 million by 2023. Wherein, geographically, North America commanded the largest share in this market followed by Europe. The major share of North America is mainly attributed to its well established healthcare system with wide network of suppliers & distributors; higher adoption of advanced medical devices in the healthcare system; increasing incidence & prevalence of pulmonary disorders with rising tobacco smokers, rise in geriatric population, and growing pollution level; increasing incidence of premature births; higher & rising healthcare expenditure; and presence of many key players in the region which improves the accessibility of various products.
Download free sample report and gain crucial industry insights @ https://www.meticulousresearch.com/download-sample-report/cp_id=3902
The report provides meticulous analysis of global ventilators market by segmenting it on the basis of product type (ventilator instruments and ventilator accessories/consumables), interface (invasive ventilators and non-invasive ventilators), mobility (intensive care ventilators and portable ventilators), age group (adult & pediatric ventilators, and neonatal & infant ventilators), mode (volume mode, pressure mode, dual/combined mode, and others), and end user (hospitals & clinics, ambulatory surgery centers, home care and others). Wherein, among product types, ventilators instruments segment commanded the largest share majorly due to higher demand for ventilator/instrument in healthcare settings with rising number of intensive care unit beds and high cost of the ventilator machine in comparison to its disposables.
The key players analyzed in the global ventilators market are Philips healthcare, ResMed Inc., Medtronic plc, and Becton, Dickson and Company. The other key players in this market are Hamilton Medical, Fisher & Paykel Healthcare, Limited, Draegerwerk AG CO. KGaA, GE Healthcare, Maquet Holding B.V. & Co. KG, Apex Medical Corp, Zoll Medical Corporation, and Schiller AG.
Browse in-depth Report on: https://www.meticulousresearch.com/product/ventilators-market-2023/
Key Topics Covered in This Report:
1. Introduction
1.1. Market Ecosystem
1.2. Currency And Limitations
1.2.1. Currency
1.2.2. Limitations
1.3. Key Stakeholders
2. Research Methodology
2.1. Research Process
2.1.1. Secondary Research
2.1.2. Primary Research
3. Executive Summary
4. Market Insights
4.1. Introduction
4.2. Drivers
4.2.1. Increasing Number of Intensive Care Units (ICU) and ICU Beds
4.2.2. Rising incidence & Prevalence of Respiratory Diseases
4.2.2.1. Rising Number of Tobacco Smokers
4.2.2.2. Urbanization and Growing Pollution Levels
4.2.3. Rapid Growth in the Geriatric Population
4.2.4. Increasing Incidence of Preterm Births
4.3. Restraint
4.3.1. Complications Associated with the Use of Mechanical Ventilators
4.4. Opportunities
4.4.1. Growing Demand for Home Care Therapeutic Devices
4.4.2. Emerging Countries in the Asia-Pacific and Latin America
4.5. Challenges
4.5.1. Harmful Effects on Neonates
4.6. Market Share Analysis, by Key Players
5. Ventilators Market, By Product
5.1. Introduction
5.2. Ventilators/Instrument
5.3. Ventilator Accessories/Consumables
5.3.1. Ventilator Catheters
5.3.2. Endotracheal Tubes
5.3.3. Ventilator Masks
5.3.4. Others
6. Ventilators Market, By Interface
6.1. Introduction
6.2. Invasive Ventilators
6.3. Non-Invasive Ventilators
7. Ventilators Market, By Age Group
7.1. Introduction
7.2. Adult & Pediatric
7.3. Neonatal & Infant
8. Ventilators Market, By Mobility
8.1. Introduction
8.2. Intensive Care Ventilators
8.3. Portable Ventilators
9. Ventilators Market, By Mode
9.1. Introduction
9.2. Volume Mode
9.3. Pressure Mode
9.4. Dual Mode/Combined Mode
9.5. Others
10. Ventilators Market, By End-User
10.1. Introduction
10.2. Hospitals & Clinics
10.3. Home Care
10.4. Ambulatory Surgical Centers
10.5. Others
11. Ventilators Market, By Geography
11.1. Introduction
11.2. North America
11.2.1. U.S.
11.2.2. Canada
11.3. Europe
11.3.1. Germany
11.3.2. France
11.3.3. U.K.
11.3.4. Italy
11.3.5. Spain
11.3.6. RoE
11.4. Asia-Pacific
11.4.1. Japan
11.4.2. China
11.4.3. India
11.4.4. RoAPAC
11.5. RoW
11.5.1. Latin America
11.5.2. Middle East & Africa
12. Competitive Landscape
12.1. New Product Launches
12.2. Mergers & Acquisitions
12.3. Agreements, Collaborations, and Joint Ventures
12.4. Approvals
13. Company Profiles (Business Overview, Financial Overview, Product Portfolio, Strategic Developments)
13.1. Hamilton Medical AG
13.2. Becton Dickinson and Company
13.3. Koninklijke Philips N.V.
13.4. Fisher & Paykel Healthcare Limited.
13.5. Draegerwerk Ag & Co. Kgaa
13.6. GE Healthcare
13.7. Medtronic Plc
13.8. Maquet Holding B.V. & Co. Kg
13.9. Resmed Inc.
13.10. Smith Group Plc.
13.11. Zoll Medical Corporation
13.12. Schiller AG
14. Appendix
14.1. Questionnaire
14.2. Available Customization
Download free sample report and gain crucial industry insights @ https://www.meticulousresearch.com/download-sample-report/cp_id=3902
Contact Info:
Name: Khushal
Email: Send Email
Organization: Meticulous Market Research Pvt. Ltd.
Address: Pune, India
Phone: +91-744-7780008
Website: https://www.meticulousresearch.com
Source URL: https://marketersmedia.com/ventilators-market-will-reach-usd-26362-million-by-2023-meticulous-research/88889693
Source: MarketersMedia
Release ID: 88889693