Veintec Now Offers the Newest Advance in Varicose Vein Treatment with Medtronic's VenaSeal™. VenaSeal has been approved for clinical use in the United States.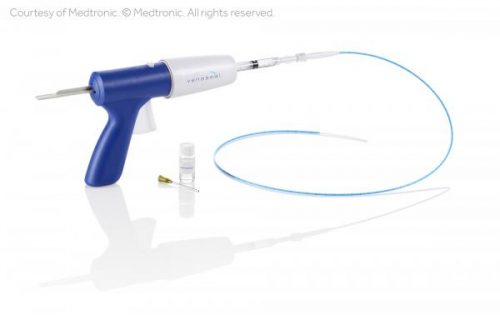 San Antonio, United States - August 15, 2018 /PressCable/ —
Venous reflux disease affects more than190 million people have CVI or varicose veins globally (30 million Americans). It occurs when valves in the veins of the lower leg no longer function properly. This allows blood to flow backward, or reflux, resulting in enlarged, or varicose veins as well as other symptoms.
Nearly two decades ago the doctors at Veintec began offering the EVLT procedure that revolutionized varicose vein treatment. Replacing the much-maligned "vein stripping" technique, EVLT (also known as LASE) involved the use of laser energy to seal the incompetent saphenous vein in the leg (the source of most varicose veins) with a single needle puncture to introduce the laser fiber into the vein. For the first time, the large varicose veins could be treated in the comfort of an office with less risk, minimal pain, and prompt return to work and normal activity. Since then, over 5,000 EVLT cases have been successfully performed at Veintec's clinics. Unfortunately, the procedure still requires multiple additional needle sticks to administer local anesthesia in the leg, as well as a cumbersome compression stocking afterwards.
Veintec now offers the newest advance in varicose vein treatment:GLUE!
The same adhesive glue commonly used to insert artificial joints into arthritic knees and hips has been reformulated by the Medtronic company into VenaSeal which can now be injected into that same incompetent saphenous vein through a catheter with a single needle puncture. The technique is similar to the EVLT procedure, except that no additional local anesthesia or compression stocking is required! Extensive trials in the U.S. and Europe have shown the procedure to be equally as safe and effective as the EVLT procedure with a very favorable patient experience. VenaSeal has been approved for clinical use in the U.S. and recently received acceptance for insurance coverage by Medicare with the appropriate indications.
Established in 1988, Veintec Varicose Vein Clinics continue to specialize in the treatment of Varicose Veins, Spider Veins and Reticular Veins. Veintec clinics are owned and operated by board certified vascular surgeons David J. Mozersky, M.D, Alfred L. Laborde, M.D and Robert K. Thompson III, M.D.
Veintec
www.veintec.com
18626 Hardy Oak Blvd, Suite 209
San Antonio, Texas 78258
Contact:
Robert K. Thompson III, M.D.
210-483-8822
rthompson@pvasatx.com
Contact Info:
Name: Dr. Thompson
Organization: Veintec
Address: 18626 Hardy Oak Boulevard Suite 209, San Antonio, TX 78258, United States
Phone: +1-866-957-3298
Website: https://www.veintec.com/
Source: PressCable
Release ID: 393340