Innovation of new car engineering and the day to day of capitalization of the industry are driving a demand for used car inventory. Reviews are important for nearly every local business, yet even more so for used car dealers in today's automobile industry landscape.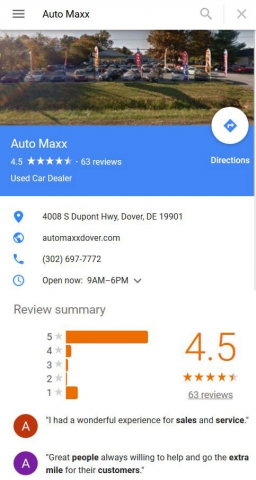 Dover, United States - November 6, 2017 /PressCable/ —
Trends in new car innovations, such as the increased electronic components, adding a variety of digital services, novel powertrains and connectivity systems have been hastening the need for expensive new parts replacements, components, and functions in repairs.
For example, interior surfaces are potential areas for ambitious enhancements of safety or entertainment. New technologies such as 3D laminated glass, haptic sensors, and augmented reality heads-up displays — which offer drivers alerts, safety aids, and warnings on invisible screens embedded in the windshield — have entered the vocabulary of traditional new car suppliers.
Potential U.S. regulatory relaxation under the new administration has bouyed some hope that higher costs associated with tightened emissions standards might manifest more slowly or avoided altogether. It is to date an open question whether a change in federal U.S. regulations would make a significant difference because individual U.S. states can continue to push for stricter standards, as California has
These complex factors have lead to a sizeable sector of the automobile consumer market to appreciate used cars based on simpler less experimental technology that on the whole have cheaper repair bills in the long run. In addition, the new focus on electronic innovation has forced up new car price tags — as much as 20 percent greater than the cost of the previous generation of automobiles.
Automaxx, a used car dealer in Dover, Delaware, has reached an average review rating of 4.5 with it's most recent review. These reviews are important for consumers in the new age of Yelp and Google reviews.
Ralph DeBlasi, owner of Automaxx.com, which has been in business for 29 years, said "We treat every person who visits our used car dealership exactly how we would want to be treated. It's the best standard we know as it's one that we can all maintain a consistent focus on when delivering our service. We couldn't be happier with the results as our reviews illustrate."
Studies and surveys by Cars.com have shown that 8 out of 10 car shoppers read online reviews. 33 percent of consumers seek out a specific salesperson based on positive reviews. 95 percent of car buyers actually start their vehicle search online. More than ever, reviews that illustrate a dealership's commitment to conducting business with integrity are important to the players in the used car sector of the auto industry.
As the auto industry struggles to adapt to the evolving landscape in new car sales where capital is more stringent, and bankruptcies for suppliers are rising, safety and environmental regulations contributing to rising costs, used automobiles in the after market gain greater appeal to the frugal and pragmatic car shopper looking for a dependable travel solution.
"The automobile industry is so radically different than it was before 2008, and these new business challenges from the industry as always trickle down to the choices the consumers get in the automotive products. We like to cater to our customers' individual and varied needs, which means doing a lot more listening. This approach has made us better at what we do every day" Mr. DeBlasi said.
Contact Info:
Name: Ralph DeBlasi
Organization: Automaxx
Address: 4008 S Dupont Hwy, Dover, Delaware 19901, United States
Phone: +1-302-697-7772
Website: http://automaxxdover.com/
Source: PressCable
Release ID: 259389