GearMaart is excited to announce the launch of its underseat carry on luggage bags on Amazon. The bags fall within TSA measurement guidelines while still affording travelers plenty of storage.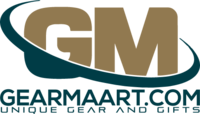 August 15, 2019 —
GearMaart, a company specializing in high-quality travel accessories, has recently launched its compact underseat luggage on Amazon. According to the brand, this travel bag fits under the seat of most airplanes and can slide on top of one's rolling suitcase. Its carry-on bag can also double as a backpack for hiking.
More information about GearMaart's premium travel bag can be found at https://gearmaart.com/pages/underseat-carry-on-luggage.
One worry that travelers face is how to comply with the TSA's carry on luggage 22x14x9 rule while still carrying everything with them that they need during the flight. Families with small children who need to carry toys and other items to distract them during long flights find it particularly difficult to maneuver around the size restrictions.
"Our under seat carry on bag falls well within TSA's rules while still allowing for plenty of space to store everything you need on your flight," says Terri, the spokesperson for GearMaart. "It easily slides under your seat and, at only one pound, our bag is so lightweight that even loaded down with a laptop, snacks, and toys for the kids, you can easily carry it on and off your flight without any worries."
The product's specifications indicate that the travel bag for men is made from canvas, a material known for its sturdiness and high wear-resistance. The interior is padded to protect its contents, and its many pockets provide ample storage. It also features padded shoulder straps to make it comfortable to carry. Mesh pockets on the straps let users access small items, such as hand sanitizer wipes, without opening the carry on underseat luggage.
"We're a small, family-run business — cool fact: the unusual spelling of Maart is derived from the names of our family team: Micah, Anika, Annaliese, Ralph, and Terri. We love spending time on the lookout for the most unique, most useful, most fun products around to bring back home to you. From exciting, uplifting prints to quality products with handy features you never knew you needed and now can't live without, we enjoy bringing them to you."
Anyone interested in finding out more information about the elegant travel bag should visit the official company website or its Amazon storefront.
###
Facebook: https://www.facebook.com/backpackequip
Instagram: https://www.instagram.com/backpackequipforyou/
About Us: Our goal is to bring you our valued customer the most unique gifts at the best prices possible.
Contact Info:
Email: Send Email
Organization: GearMaart
Website: https://www.gearmaart.com
Release ID: 88908481