Contempt ruling and sanctions comes on heels of appeal dismissal.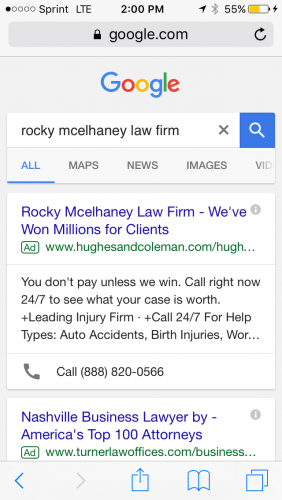 Nashville, TN, United States - August 6, 2019 /MarketersMedia/ — In a recent Wilson County court ruling, Chancellor C.K. Smith held the owners of Hughes & Coleman law firm in contempt of court and ordered them to pay over $10,000 in sanctions to Rocky McElhaney for failing to comply with a previous ruling. In August of 2018, Chancellor Smith ruled Hughes & Coleman violated McElhaney's name rights when they employed an internet marketing scam to send internet users who clicked on Rocky McElhaney's ads to the Hughes & Coleman website instead. McElhaney's July 31st win comes on the heels of a May 23rd ruling of the appellate court dismissing Hughes & Coleman's appeal of Chancellor Smith's earlier ruling in the name rights case.
The fight with multi-state law firm Hughes & Coleman began when Nashville injury lawyer Rocky McElhaney discovered his competitors were using an unauthorized marketing internet scam designed to steal McElhaney's business prospects.
According to the court papers, Hughes & Coleman recognized the unique brand of law publicized and practiced by the "Rocky" brand. Hughes & Coleman intentionally, unethically, illegally and unfairly set in motion an internet marketing campaign based on stealing the identity and popularity of McElhaney for their own profit.
In his lawsuit, McElhaney explained that Hughes & Coleman was placing bids with Google so that when an individual searched for "Rocky McElhaney Law Firm" on a mobile device, the popular search engine would display a banner with McElhaney's firm name at the very top of the search results. This ad for McElhaney's firm was linked to a Hughes & Coleman website landing page and included a phone number that rang at Hughes & Coleman's offices. The Court ruled this a violation of McElhaney's legal rights.
A screen shot of the advertisement, which ran online from February to June 2017, according to McElhaney's suit, was included in the court documents. The lawsuit seeks $2.5 million dollars in compensation and other damages. McElhaney also seeks forfeiture of the Hughes & Coleman website and the phone numbers used in what the lawsuit dubs "unfair competition and unethical deceit."
On Wednesday, the embattled personal injury law firms were back in court on a motion filed by McElhaney to hold Hughes, Coleman, and Lewis in contempt of court. McElhaney's motion alleged that the three lawyers disregarded Chancellor Smith's November 2018 order requiring the men to provide personal financial information relevant to McElhaney's claim for punitive damages. Punitive damages are permitted as punishment for egregiously wrongful conduct and to deter others from engaging in the same forms of wrongdoing.
Court transcripts show that during the proceeding, McElhaney argued, "These are experienced lawyers who knew what was going on. They just don't want to do it, and they don't think you've got the constitution to make them do it." McElhaney called the actions of the defendants, "hijinks" and "obstruction."
At one point in the hearing, Chancellor Smith told McElhaney, "I'll put him in jail if you want them to go." According to the transcript, McElhaney said no.
Hughes & Coleman argued the requested information was premature because McElhaney had not made the required factual showing under the law. McElhaney pointed out that their arguments were the same ones rejected by Chancellor Smith when he initially ordered the financial information be produced. The court ruled in McElhaney's favor for the second time.
This win for McElhaney comes on the heels of a May 23rd ruling of the appellate court dismissing Hughes & Coleman's appeal of Chancellor Smith's August 2018 ruling deciding that Hughes & Coleman had violated McElhaney's name rights. The law that protects individual's rights to their name and likeness is called the Tennessee Personal Rights Protection Act. The law provides that "every individual has a property right in the use of that person's name, photograph, or likeness in any medium in any manner."
"I think both courts got it right," said McElhaney. "No one is above the law, not even lawyers."
Nashville attorney, Cynthia Sherwood, who represents McElhaney, stated, "Rocky has dedicated his entire career to fighting for others. It's good to see he knows how to fight for himself."
The parties are due back in court on August 14.
Contact Info:
Name: Alexis McCoy, Chief Marketing Officer
Email: Send Email
Organization: Rocky McElhaney Law Firm
Address: 545 Mainstream Dr., Suite 105, Nashville, TN 37228
Phone: 615-425-2500
Website: https://www.rockylawfirm.com
Source URL: https://marketersmedia.com/two-more-big-wins-for-rocky-mcelhaney-against-hughes-coleman-in-name-rights-advertising-scam-case/88904294
Source: MarketersMedia
Release ID: 88904294