Triple+ SAFE@HOME app helps seniors maintain independence by monitoring activities like waking up, eating, taking medication, falls, and monitoring CO2 and Smoke emergency systems. Alerts are sent to people connected to the app if the senior doesn't perform the activity or experiences an emergency.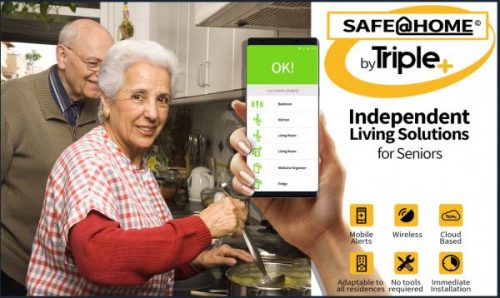 Oakville, Canada - January 29, 2021 /PressCable/ —
January 2020, Toronto, Canada: Already tremendously popular in Europe, TriplePlus has just launched its Safe@Home app in Canada and the US. The app is designed to allow seniors to continue living independently at home. The app consists of a suite of sensors that monitor daily routine activities, such as waking, taking medications on time and eating. When the senior engages in the activity, the app informs loved ones and/or caregivers in real-time. If the senior doesn't engage in the activity within a set time, an alert is sent to all people connected to the app.
"Seniors are reluctant to leave the homes they have lived in for decades. They're also concerned about moving to a long-term care facility as it means giving up their independence ─ and their beloved pets," says Dwight Smith, Director of Operations for North America. "TriplePlus Safe@Home enables families and caregivers to monitor day-to-day activities to ensure the senior is safe".
The non-intrusive sensors include motion detection, door sensors, smoke & carbon monoxide (CO) detection, and emergency notification. The sensors are placed throughout the home and will passively react to motion, or the lack thereof, and provide notification accordingly.
This innovative monitoring system connects to critical daily activities. "We all develop routines that we tend to stick to. We wake up, eat, exercise, and sleep at approximately the same time periods every day. Safe@Home is designed to work with this regular routine," says Smith. "For example, if your father, living alone, tends to get up early in the morning, around 8am, the motion sensor will detect this but do nothing. However, if no motion is detected by 8:30, the system will send a notification to let you know. Did dad sleep in or is something more serious going on?"
Most homes do not have smoke or CO detectors that are ­monitored by outside services such as the fire department or an alarm company. Safe@Home's Acoustic Sensor is designed to listen for only these alarms and will send notifications ­i­mmediately to let someone know that there might be an ­emergency like fire, or simply a stove or oven left running!
Safe@Home comes with a ­wearable panic button that sends alerts if there is an emergency. This allows the family members or caregiver to ­immediately dial 911 and/or head directly for the senior's house!
TriplePlus designed Safe@Home to be very user friendly and inexpensive to operate. The system is delivered pre-configured. All that is needed is to insert the batteries, plug in the Hub, and connect to the internet. Once done, users can set schedules for all sensors to provide a safe environment without knowing that anything is there!
There are four features that distinguish Safe@Home from other monitoring systems. The first is that it does not require any monthly subscription. Users can expect to save upwards of $4,000 over the first 4 years. The second is that there is no limit to the number of people who are able to monitor the system. The third is that regular activities are monitored, ensuring loved ones and caregivers, in real-time, that the senior has, for example, woken up, had breakfast, has gone for a walk, and returned. This allows the responsibility of caring for parents to be shared by several people. The fourth, and perhaps most important feature is that, other than the personal safety device and CO detector, there is no alarm to trigger. As seniors get older, they often have memory problems. It is not uncommon for them to forget to alert the monitoring system when leaving the premises. This often results in tripping the alarm which causes the monitoring company to be alerted and extra fees incurred. It is not uncommon for alarm monitoring company employees, frustrated with the repeated triggering of alarms, to shame and embarrass the senior, causing a further lack of confidence.
The Safe@Home bundle includes a free APP for smartphones where users can manage all of the features and functions to fully customize the system. It provides peace of mind without anyone knowing it's there!
TriplePlus is a technology-based company with a state-of-the-art, cloud-based central monitoring station. It specializes in monitoring systems for residential, commercial, and industrial needs. It is the world leader in flood protection and is proud to introduce assisted living protection for seniors.
For more information contact or to order contact Dwight Smith at 416-561-0021 or visit SafeAtHomeForSeniors.com
Contact Info:
Name: Dwight Smith
Email: Send Email
Organization: Triple+ SAFE@HOME
Address: 36 East Street Suite 604, Oakville, Ontario L6L 5K2, Canada
Phone: +1-416-561-0021
Website: https://safeathomeforseniors.com/
Source: PressCable
Release ID: 88995376