Rehearsal.com, a video-based training solution, has identified the mandatory five practices common to all successful skills coaching programs, regardless of industry. After working with numerous Fortune 500 companies, the company is releasing their findings in a free report.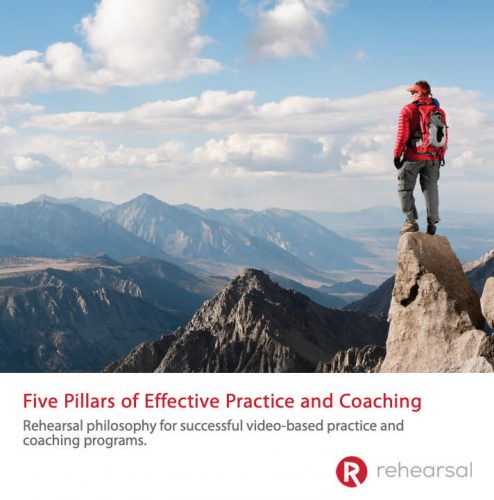 Reno, Nev., United States - December 11, 2019 /MarketersMedia/ — Rehearsal Senior Director Don Schmidt said that the company identified five characteristics common to all successful programs across industries where skill development and coaching is required. Rehearsal's team discovered these insights through work with numerous clients including Fortune 500 companies like Allstate, Capital One and Honeywell.
"It's remarkable," Schmidt said. "Programs that have the five pillars mindfully built into them have improved adoption, increased engagement throughout, and ultimately a greater impact."
Schmidt is an expert in video-based practice, training and coaching. Rehearsal is a video-based practice platform. It gives teams a safe place to develop their selling and communication skills so they can perform well in the real world. But it's not just one-sided practice. Rehearsal.com makes remote coaching possible, so trainers and managers can review the performances of their teams and provide personalized feedback at times that work for them on any device. Additionally, individual and group progress can be tracked to provide meaningful metrics.
The team at Rehearsal.com produced a free report capturing 49 actionable insider tips to fully support the five pillars available at https://www.rehearsal.com/resources/philosophy/5-pillars-of-effective-practice-and-coaching/
The five pillars are:
1. Align the program: this first step requires identifying the desired outcome and defining the skills needed to achieve it. It's critical to identify what constitutes "good." Taking these steps to establish clarity determines direction and ultimately the success of skills coaching programs. Expectations need to be set and clearly communicated.
2. Engage leadership: Commitment from key leaders is critical not only for launch, but to keep the program top-of-mind throughout the program's implementation. It's critical to obtain support from leadership, have them show engagement and review the program's impact. Although it is expected that leaders will personally engage with the platform in limited scope, it is imperative they experience it.
3. Drive accountability: program effectiveness depends on each person performing their responsibilities on time, with enthusiasm, and most importantly meeting expectations. To achieve this, identify accountability, communicate needed actions and monitor progress.
4. Showcase the results: Reviewing outcomes, identifying successes, and celebrating results are key in demonstrating return-on-investment, reinforcing commitment to the program, and paving the way to realize the value of video-based practice and coaching throughout the organization.
5. Elevate culture: Organizations that build a culture around practice and continuous improvement attract and retain the best talent. In these organizations, deliberate and purposeful practice becomes cultural, not simply another training activity. Executive backing, mentor development, and redefined training play key roles in elevating an organization's learning culture.
These principles can apply to any project where skill development and coaching would be beneficial, but some of the most common use-cases are:
- Company messaging
- Leadership development
- Sales competencies
- Product messaging
- Storytelling
- Mentor and coach readiness
- Customer service and support
- Customer success
- New hire onboarding
- Effective presentation skills
- Knowledge and skill assessments
- One-on-one coaching
"Video has been an extremely effective tool for improvement and engagement," Schmidt said. "Employees are 75% more likely to watch a video than read documents, emails, or web articles. Plus, it's a great way to reduce travel costs while still having the feeling of a face-to-face interaction."
The free report capturing 49 actionable insider tips to optimizing implementation of the five pillars is available at https://www.rehearsal.com/resources/philosophy/5-pillars-of-effective-practice-and-coaching/
Contact Info:
Name: Andrew Sizelove
Email: Send Email
Organization: Rehearsal
Address: 5475 Reno Corporate Drive #500, Reno, Nevada 89511
Phone: 1 (775) 848-2772
Website: https://www.rehearsal.com
Source URL: https://marketersmedia.com/training-solution-rehearsalcom-reveals-5-pillars-of-effective-practice-coaching/88937848
Source: MarketersMedia
Release ID: 88937848