Waldorf Academy at Madison Avenue, Toronto, has announced an Open House day so interested parties can better understand their engaging learning program to help shape young minds.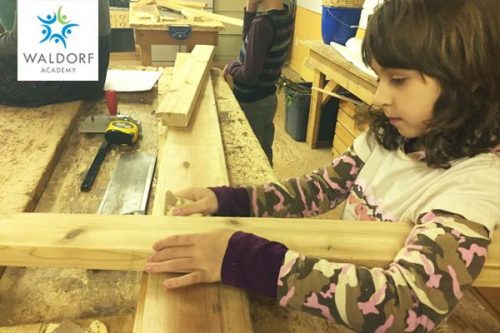 Toronto, Canada - September 25, 2018 /PressCable/ —
Waldorf Academy has announced it offers a unique teaching method that parents and students won't find anywhere else outside of a Waldorf school, with one approach using no textbooks. The announcement comes ahead of the October 27 Open House event, when interested parties can visit to learn more about the school and its teaching style.
More information can be found at: https://waldorfacademy.org
The site explains that Waldorf Academy has over 30 years' experience in education, with a focus on young minds from Pre-K through to Grade 8. It aims to provide a high-quality learning environment that is stimulating, nurturing, and creative.
With a unique education model, which focuses on creativity, emotional intelligence, resilience and perseverance, and intellectual development, Waldorf Academy helps students to become the best they can be.
One element of its learning program is based on a "Main Lesson" approach with no textbooks. When Rudolf Steiner inaugurated the first Waldorf School, he established this approach, which is a two-hour class during which all academic subjects except for foreign languages would be taught.
Waldorf explains that the concept of a Main Lesson may seem like a completely foreign one. It doesn't fit into any particular subject, and requires students to make their own book.
The Main Lesson is not purely academic – students will often sing, play recorder or even do mental math exercises. These activities may vary from day to day or week to week according to what the teacher feels is necessary to engage the children.
Waldorf is the only educational method to use rhythm as a learning aid. This means, for example, that a new story might be told on Monday. On Tuesday, something will be done that is connected to the story. On Wednesday, students might work on academic pieces such as writing summaries in their Main Lesson book.
While Waldorf Academy has been using this approach for many years, many are confused at how it might work. This is why they have decided to hold an Open House day event where parents, teachers, politicians, and other interested parties can learn more about the Main Lesson and its role in Waldorf Academy's programs.
The Open House will be held on October 27, from 10-noon at 250 Madison Ave.
Full details can be found on the URL above.
Contact Info:
Name: Jennifer Deathe
Email: Send Email
Organization: Waldorf Academy
Address: 250 Madison Avenue, Toronto, Ontario M4V 2W6, Canada
Phone: +1-416-962-6447
Website: https://waldorfacademy.org/
Source: PressCable
Release ID: 411946