A U.S.-based startup reimagined glass crafting and came up with a device that helps you turn your empty bottles into gorgeous decorative items, such as lamps, vases and glasses. But they say it offers much more, it brings the crafting experience to everyone.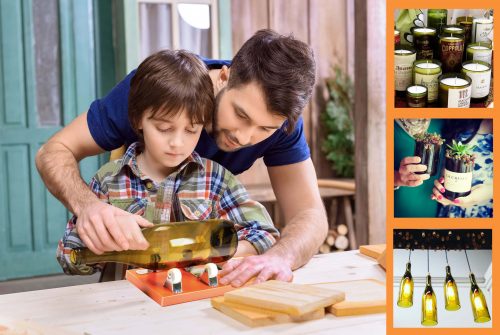 November 19, 2018 /MarketersMedia/ — When Constantin Olaru, a young entrepreneur, started working on DIY projects as a hobby, he was blown away by the lack of suitable quality devices out there for people interested in glass crafting, especially when it came to cutting glass bottles. He says popular glass cutter models in his eyes had poor quality and horrible user experience.
After he learned how many uses there are for empty glass bottles, including vases, drinking glasses, plant holders, wind chimes, and even candle holders, Constantin came up with the idea to build a glass bottle cutting device, that cuts bottles of all common sizes and shapes. This is how Home Pro Shop was born.
The hardest part he encountered was creating a device that was safe to use for anyone, even if they had no prior glass crafting experience. He solved this problem by creating a bottle cutter that offers a seamless user experience, equipped with a laser-sharp diamond carbide blade that is guaranteed for over 100.000 cuts. He wanted to make sure that anyone that uses this glass cutting tool can cut precisely and efficiently any glass bottle with no hassle. To offer extra protection, since we are talking about glass, he also included a pair of cut resistant gloves inside the box.
They say that this is not just a bottle cutting tool, but an experience that can turn into a rewarding hobby. The mission of the Home Pro Shop company is to deliver customers crafting tools that will help them create beautiful memories by spending quality time with their loved ones and friends. In a phrase, their mission is to deliver their customers those moments that are the true essence of a beautiful life. They promise that their bottle cutter will give you that experience and more!
Constantin describes the glass cutting device as such:
"As the founder of Home Pro Shop Bottle Cutter, I have spent nearly 10,000 hours researching and learning about glass cutting and WHY many other glass cutting products have failed to deliver a swift experience. The unique device that we created combines all the most essential aspects of glass cutting, from a specially created premium blade to easy handling and NONE of the hassle! I created it so that a person who has never done anything like this before can easily start crafting and create something unique from the first try with an effortless experience.
We feel that we understand and relate to our customers because we are just like them - real people with a real love for crafting. This Bottle Cutter was created for people just like you and me. You and I want the same thing: to spend rewarding quality time with our loved ones."
Manufacturers' confidence in this glass cutter is so high that they offer a lifetime warranty. This shows just how much they believe in their device. The product was recently launched on Amazon and it was very well received. Their inbox was flooded by customer messages filled with positive feedback and appreciation, which gave the company strength and confidence to invest more in the project and continue innovating. A company spokesperson confirmed with us that they are developing two more products as we speak, but would not elaborate.
This bottle cutter tool is also a great innovation for those who embrace the eco-friendly choices. It is known that every month, our country throws out enough glass bottles and jars to fill up a giant skyscraper. A modern glass bottle takes 4000 years or more to decompose. Reusing bottles and jars to create beautiful decorations, will help each one of us do our part for the environment.
Contact Info:
Name: Constantin Olaru
Organization: Home Pro Shop
Website: https://homeproshop.net
Video URL: https://youtu.be/U9SDylqKLKA
Source URL: https://marketersmedia.com/this-start-up-is-bringing-diy-glass-crafting-to-everyone/441290
Source: MarketersMedia
Release ID: 441290