Live on Kickstarter, The Time Capsule is a new age and stylish way to store watches and jewelry.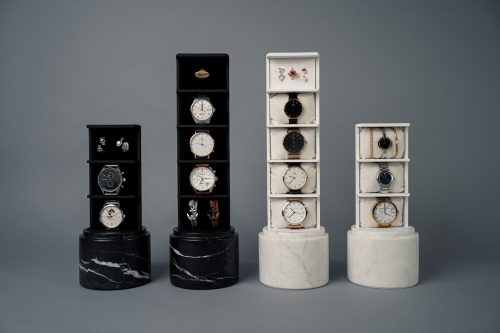 Melbourne, Australia - July 28, 2020 /MarketersMedia/ — The Time Capsule, the all new luxurious and stylish way to store watches and jewelry from Marbus Carpar, is live on global crowdfunding platform Kickstarter and raising funds to bring the project to life.
In today's world, watches have become more than just a way to tell time— they are now more than ever worn as a fashion accessory. As legacy watch companies continue to grow and new brands emerge everyday around the world, it stands to reason that a wearer should have an equally stylish storage solution to match their showcase timepieces.
"The origins of Marbus Carpar can be traced back to late 2017 when one of our founders brought to the groups attention to how prevalent watches had become in day to day life and how much the industry in general was excelling around this point in time," says co-founder Matthew Marshall on the inspiration behind the project. "This is what initially prompted us to do some research into where everyone, ourselves included, were actually storing their watches and what options were currently on the market. Not going to lie, we were disappointed in our findings, as we found most watch boxes available were typically large, impractical and unappealing. However this also had us feeling inspired, as we saw the chance to fill this gap in the market."
The Time Capsule is the result of years of prototyping to ensure a stylish storage system that helps keep wearers organized and jewelry safely stored, while also retaining a luxurious look and feel. The result is a vertical stemmed storage system made of a genuine marble base, lined with store quality watch pillows and a perspex cover to protect jewelry from dust and other elements. The Time Capsule is available in a soft touch finish with either a black or white marble base to match.
"In this modern era watches in particular have a new primary use which has seen them become more of a fashion statement rather than just a single purpose functional accessory for interpreting the time as they once were. There is no reason that the way in which we store these items shouldn't be thought of in the same way, the days of a bulky space invasive watch box sitting on a bedside table need to be left behind and replaced with a sleek, modern and convenient watch and jewelry storage option that can also double up as a feature piece in any room, the 'time capsule' encapsulates this concept," adds Marshall.
The Time Capsule is currently live and available to support on Kickstarter: www.kickstarter.com/projects/marbuscarpar/the-time-capsule
About Marbus Carpar
We are MARBUS CARPAR. Founded in Melbourne, Australia. Our origins can be traced back to 2017 when our four founders identified a common interest in watches, it soon became evident that there was no practical, space-savvy or aesthetically pleasing storage solutions for our timepieces on the market, ever since that realisation we have been on a mission to create a solution that covers off all of the aforementioned.
For more information on Marbus Carpar please visit: www.marbuscarpar.com
###
Contact Info:
Name: Chris Woods
Email: Send Email
Organization: Marbus Carpar
Website: https://www.marbuscarpar.com
Source URL: https://marketersmedia.com/the-time-capsule-is-a-luxurious-new-stylish-way-to-store-watches-and-jewelry-at-home/88970321
Source: MarketersMedia
Release ID: 88970321