The Rich Center for Autism celebrates its 25th Anniversary with a free webinar led by Dr. Temple Grandin, who will discuss autism research and early intervention strategies.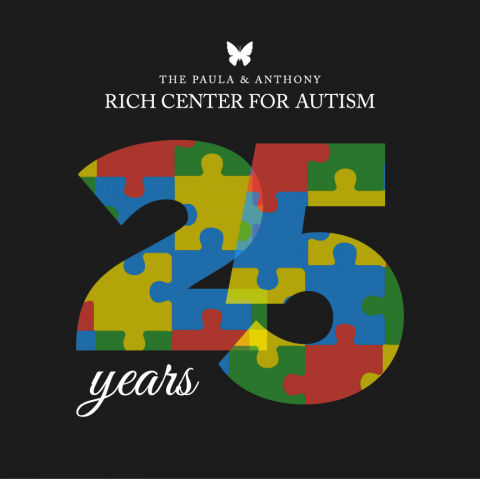 Youngstown, United States - February 25, 2021 /PressCable/ —
The Rich Center For Autism is proud to present a virtual lunch with Temple Grandin on March 5, 2021 at Noon-EDT
The Rich Center For Autism is celebrating its 25th anniversary with a number of events planned throughout the year, including the launch of a newly designed 25th-anniversary commemorative logo. The celebration, commencing with presenting Dr. Temple Grandin on March 5, 2021, at Noon-EDT, will conclude with a soon-to-be-announced August event.
Dr. Grandin is a world-renowned autism spokesperson, scientist, and inventor has served as an inspiration and role model to hundreds of thousands of families and persons with autism. In this unique presentation, Temple eloquently and candidly describes the challenges she has faced and offers glimpses into her own childhood, with ideas on how others dealing with autism can meet these obstacles and improve the quality of their lives.
Greg Boerio, officially named the Executive Director (moving from interim status) of The Rich Center For Autism, stated, "It's a big honor to have Temple Grandin as our featured speaker to help bring awareness and education about Autism to our community, we are thrilled to host this event!"
Registration for the March 05, 2021 event can be found at https://zoom.us/webinar/register/WN_oLBT010CT6S9HHKETHjNSQ
Backed by her personal experience and evidence-based research, Temple shares her valuable insights on all types of thinkers (i.e. pattern, visual, and audio thinkers), why they are important, what jobs they are best suited for and ways in which young people can continue to think about and understand what it means to be innovative.
· Create a learning environment to accommodate those who think differently.
· Distinguish between voluntary behaviors and involuntary behaviors.
· Identify ways of intervention for those newly diagnosed.
· Review methods to assist the older child and Adult to form social relationships.
This complimentary community event is presented by The Friends of The Rich Center For Autism Board. Our goal and mission is to help bring us together to create awareness and education for individuals, families, faculties and friends with special needs. This will be a FREE 60-minute live webinar with a Q&A session.
You can sign up for this free event today at The Rich Center For Autism Presents a Virtual Lunch with Temple Grandin.
We could not offer events like this without the generous support of our sponsors, most notably our presenting sponsor Premier Bank. For more information on the event, our sponsors, or to make a donation in recognition of our 25th year, click this link.
ABOUT THE RICH CENTER FOR AUTISM
The Rich Center for Autism will serve as a lasting tribute to the memory of Paula and Anthony Rich and their unborn child, whose lives tragically ended in a plane crash outside of Pittsburgh on September 8, 1994. It is the founders' dream that from this tragedy will spring hope for those affected by autism.
Realizing that autism is a major educational challenge for parents and teachers, the founders established The Rich Center for Autism's goal: to improve the conditions with which children with autism learn to live. By combining current research about autism with the newest and most innovative theories in education, The Rich Center for Autism offers hope that children affected with autism can reach their full potential. Therefore, the primary emphasis is on teaching and research, as well as focusing on intensive training to children with autism.
The Rich Center for Autism, a component of Youngstown State University's Beeghly College of Liberal Arts, Social Sciences and Education, fulfills the mission to prepare educators, medical specialists and other professionals in best practices for teaching and caring for these special people; to increase our knowledge base through the promotion of scholarly research in a living laboratory; and to provide public service and advocacy on behalf of those affected by autism. These goals are accomplished through the Academic Program, the Behavior Program, the Research Program, and the Public Service Program, which includes Professional Development, Full School Year, Summer, and Outreach Consultation programs.
Like autism, The Rich Center for Autism has no geographic boundary and touches children of all socio-economic backgrounds and cultures. Children are enrolled in our programs regardless of their caregivers' ability to pay. Referral, treatment, and support are provided at no cost to families.
Contact Info:
Name: Mike Latessa
Email: Send Email
Organization: The Rich Center For Autism
Address: 1 University Plaza, Youngstown, OH 44555, United States
Phone: +1-330-941-1927
Source: PressCable
Release ID: 88998868