The Oscars' new service publishes deeper, more incisive valuations than existing ones.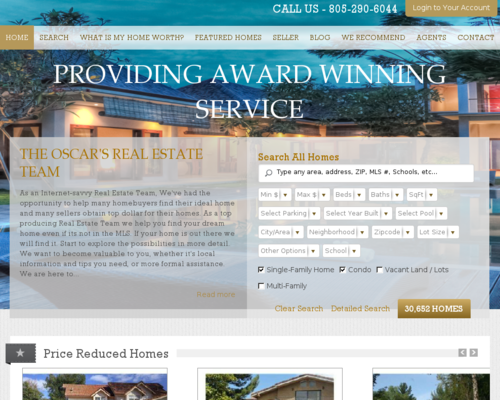 Oxnard, CA,, United States of America - - June 13, 2014 /MarketersMedia/ — Residential property specialist The Oscars Real Estate Team announced the release of an innovative new Internet-based tool for valuing residential properties. Users of the newly unveiled service may check house value, free of charge, by simply entering an address. Compared to other such services, this new offering makes use of far more sophisticated and in-depth analytic approaches and data points, thereby producing more useful and accurate price estimates.
"With the real estate markets in Los Angeles and Oxnard counties heating up once again," company representative Oscar Vasquez noted, "more and more owners are looking to put their properties on the market. Our newly released tool makes it easy to get an accurate, specific take on a home's real market value." Traditionally, automated tools for assessing the likely selling price of homes have relied on only a few simple metrics in order to make their assessments. While these services have undoubtedly been valuable for homeowners who wanted to get a broad idea of their homes' values, their relatively shallow perspectives limited their overall usefulness. The tool just unveiled by The Oscars Real Estate Team, on the other hand, uses information from a wide variety of databases to arrive at more conclusive and accurate valuations than has previously been possible.
"If thought I might want to sell my home," Vasquez continued, "now would be a great time to start the process. Buyer interest in the area has been high for some time and is only growing as the days pass." While the real estate markets in many inland portions of the state suffered greatly during the last recession, most coastal areas held up much better. In fact, housing values in many of the cities serviced by The Oscars Real Estate Team are now at record highs, with many prime properties quickly pulling in offers well above their listing prices.
A particularly Internet-savvy company, The Oscars Real Estate Team has a strong record of matching buyers with sellers in mutually beneficial ways. The resourcefulness which the company cultivates in its agents has allowed it to satisfy some of the most demanding clients in the area, including a strong record of facilitating sales for properties which were not listed in the industry-standard MLS database. The operation's intense focus on realizing the potential for real estate sales afforded by the Internet has led it to participate in a number of important innovations, with its newly released valuation tool being one of the latest. Homeowners and others may make use of it, effective immediately and free of charge and obligation, by visiting the company's website.
About The Oscars Real Estate Team:
An innovative collection of Internet-aware and technologically savvy real estate specialists, The Oscars Real Estate Team is one of the most successful in Oxnard and Los Angeles counties. The company's personalized service and cutting-edge techniques have made it one of the most valuable and reliable for both buyers and sellers in the area.
Contact Info:
Name: Oscar Vasquez
Organization: The Oscars Real Estate Team
Phone: 805-290-6044
Source URL: https://marketersmedia.com/the-oscars-real-estate-team-unveils-sophisticated-new-pricing-tool/51423
For more information, please visit http://www.TheOscarsRealEstateTeam.com
Source: MarketersMedia
Release ID: 51423