Multifaceted hip-hop group, The Band of the Hawk, teaches fans the Basic Instructions Before Leaving Earth (B.I.B.L.E.)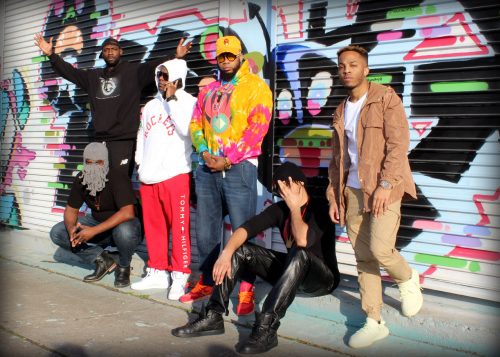 August 17, 2020 — The Band of the Hawk is again looking to disrupt the entertainment industry in their usual tradition as the talented group looks set to drop another body of works titled "B.I.B.L.E." While the new project is far from being a gospel album, the group aims to teach their fans and lovers of good music the Basic Instructions Before Leaving Earth - B.I.B.L.E. Dedicated Hip Hop heads and beat tape junkies will again have their ears blessed with some of the best music to come out of their speakers in recent times as they learn words of wisdom from the unlikeliest source.
The music industry has been graced with several talented minds. Over the years, the industry has evolved, with new acts adding twists and turns to the relatively old content and style to offer consumers great sounds. The hip hop community has done well to seemingly spearhead the evolution, with tons of stakeholders from artists to music producers and labels using their creativity and ingenuity to give fans good sounds as desired. The Band of the Hawk has done more than enough to establish themselves as one of the drivers of the hip-hop revolution in recent times.
Otherwise known as DEF on the battlefield, The Band of the Hawk offers an unprecedented mix of everything, all looped menace and blunted minutiae. The band's uniqueness has been substantiated over the years and is again reiterated with "B.I.B.L.E."
Fair warning, this is not a Gospel album. B.I.B.L.E. is the audio stew produced from a state quarantine, rising unemployment, child births, and uncertainty. The project is particularly unique as it has 4 Hawks soaring lyrically on 3 tracks. This is the first time more than 3 Hawks will be on a song since the release of "BOHUP Vol.2" in 2018.
The latest project is released in line with the group's tradition of giving fans an annual dose of their total collective force, but this time, in a more condensed form. "B.I.B.L.E." features "Psycho" offering crazy energetic beat and Harpies Harmony with its smooth groove. The project has 5 more songs with 3 Hawks spitting bars like a musical melee. "Slauson Shuffle," featuring DJ Mastermind, Noah Archangel and Yeaux Majesty literally brings down the roof while the "Unseen (LP Cut)" features veteran hawk P. Ey3 with vocals from Vita Rose.
With 11 tracks on the album, listeners will truly learn the Basic Instructions Before Leaving Earth.
For more information about "B.I.B.L.E." and other works from The Band of the Hawk, please visit - http://www.BandoftheHawk.com. The Band of the Hawk can also be found across several digital platforms, including Spotify, YouTube, Facebook, Instagram, and Twitter.
Contact Info:
Name: Noah Archangel
Email: Send Email
Organization: The Band of the Hawk
Address: P.o. box 421323, Houston, TX 77242
Website: https://www.bandofthehawk.com/
Release ID: 88971435