The Ambullneo Mastiff is considered a majestic testament to selective breeding, and a new litter of puppies is being offered to the public after celebrity owners have increased demand.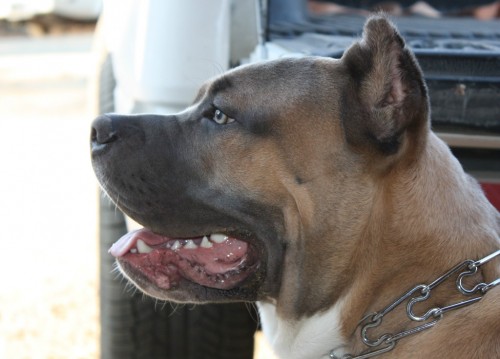 San Francisco, CA,, United States of America - - April 11, 2014 /MarketersMedia/ — The Ambullneo Mastiff is known to some a superhero dog- it has superior night vision and hearing, a muscular 140 lb frame when fully grown but the speed and agility of a much lither dog. The Mastiff is loving to its family and ferocious to assailants, and were created by a number of breeders including Mark Reasinger Ph.D. Loved by celebrities and even featured on magazine covers with the likes of Ving Rhames, a new litter of puppies have just been born that are now open to the general public from Ambullneo.net, the home of the nation's best Ambullneo Mastiff breeders.
A Licensed Kennel located in Southern California,one of the original breeders who created the Ambullneo have been breeding the dogs for over 25 years. The company has shipped puppies in temperature controlled conditions to select groups of new owners worldwide.
Now in their 14th generation of Abullneo Mastiffs, every one of their dogs for the last fifteen years has been registered with the National Kennel Club. Selecting only finest and most even tempered Ambullneo's for the brood stock, they have been able to ensure highly intelligent, even-tempered, well balanced progeny that have improved iteratively to the famous dogs now loved by celebrities.
A spokesperson for Ambullneo.net explained, "It is important for those interested in purchasing an Ambullneo Mastiff to understand the balance between immediate lineage and individual temperament. Our dogs have a direct line to the original F1 breeding stock and we have kept a tight leash on mating to ensure these dogs are intelligent and capable of loving a family as well as protecting it from intruders. With a new generation of puppies newly born, we want to make sure that each of them finds a great home, and that is why we accept deposits year round and will accept applications from the wider public."
About Ambullneo Mastiff:
Ambullneo.net is the home site of one of the original creators of the powerful, yet loyal, Ambullneo Mastiff. The Ambullneo Mastiff was created by breeding three types of mastiff with three types of bulldog, and has now evolved to be an intelligent, powerful and loving creature under the careful nurturing of Ambullneo.net.
Contact Info:
Name: Joe Bragg
Organization: Brandoutreach
Phone: (415) 632 1664
Source URL: https://marketersmedia.com/the-ambullneo-mastiff-is-now-available-in-purebred-puppy-form-from-ambullneo-net/40062
For more information, please visit http://ambullneo.net/
Source: MarketersMedia
Release ID: 40062