New Company Burton Lighting® Debuts High-Quality LED Bulbs
Founder and CEO addresses quality issues in LED Lighting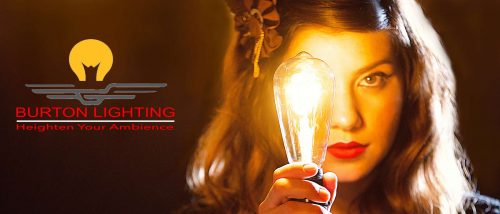 Oakland, United States - April 9, 2019 /MarketersMedia/ — Oakland, CA - Burton Lighting, a new, premier LED lighting company, designs and creates high-quality, vintage bulbs that solve the quality issues from the previous generation of LED incandescent-style bulbs. Company Founder and CEO, Burton Vargas-Chambers, became an expert in lighting while working in the film and television industries for more than twenty years and noticed there was a gap in the market of Neo-vintage LED lighting. Out of necessity, Burton engineered a new, superior LED light bulb and created The Burton BulbTM.
"I have dedicated my life over the past several years to engineering an LED bulb that casts a warm, soft light, and is beautiful to gaze at," says Vargas-Chambers. "The LED revolution has come, yet the vintage bulbs on the market still lack quality. The Burton Bulb provides bulbs that offer Flicker-less LED TechnologyTM and True Color DimmingTM capabilities. Customers can be Eco-friendly with the energy-saving benefits of LED, and at the same time be 'on trend' with the look of vintage incandescent lighting."
Burton Lighting solutions also aim to solve the health concerns associated with exposure to flickering LED light. Many people suffer adverse side effects like headaches and eye strain, due to the "stroboscopic effect" of first generation LED lights. Burton addresses this effect with its "Flicker-less LED Technology™."
Flicker in LEDs can be felt by a wide range of consumers; it forces us to strain our eye muscles and can cause discomfort or headaches. Sensitive customers can suffer from acute and immediate effects. This happens because LED's are direct current (DC) and the power coming out of your wall is alternating current (AC). During this conversion, an LED will physically turn off 60-120 times a second! This is too fast to see, but can still have alarming effects on our brains.
The Burton Bulb is created with superior electronics that are designed with capacitors to "fill" the dead spots where the AC current reverses, thus preventing that flicker. This flickerless light allows your eye muscles to relax and creates a more appealing ambiance which is of particular benefit to bars, restaurants or other venues where owners want their customers to feel comfortable and want them to return to enjoy the "atmosphere" of a quality location.
"My company is built on the principle of 'creating an experience' with high quality lighting, while focusing on the health of our customers," says Vargas-Chambers. "Big companies have tried to save money and skimped on the quality. Our bulbs create an elegant and sophisticated ambiance with a steady stream of light. They are versatile, energy-saving, and emulate the vintage Edison incandescent bulbs."
About Burton Lighting
Burton Lighting® is the premier company dedicated to providing unique and high quality decorative LED lighting solutions. Founder and owner, Burton Vargas-Chambers, has been in the film and TV industry for more than twenty years and decided he would solve the quality issues that come with LED lighting. Burton Bulbs™ "Change the look of LED Lighting" with less flicker, better color, and the ability to dim. These modern LED light bulbs have the look and feel of old Vintage Edison incandescent bulbs, while being energy efficient. Burton Bulbs™ are the only bulbs on the market that address the quality issues from previous generations of LED vintage light bulbs and create an unbeatable experience on film, in homes and restaurants, and anywhere that can benefit from a beautiful glow.
Based in Oakland, CA, Burton Lighting distinguishes itself in the market by being a boutique company who delivers higher quality design and product features. The company creates lighting that is suitable for film and theaters, and additionally, flexible for many spaces including restaurants, bars, businesses, and homes. Burton Lighting solutions provide elegant Neo-Vintage style, while providing an energy-savings of 75-80%.
Contact Info:
Name: Burton Vargas Chambers
Email: Send Email
Organization: Burton Lighting
Website: https://BurtonLighting.com
Video URL: https://www.dropbox.com/s/1tx90kf3u2ifcco/The%20Burton%20Bulb%20video%20Lo%20Res%20w%3A%20music.mp4?dl=0
Source URL: https://marketersmedia.com/the-2nd-generation-of-leds-is-flicker-less-dimmable-and-provides-a-warm-glow-delighting-designers/473967
Source: MarketersMedia
Release ID: 473967