Gloria Wang and Alex Swift visit Taiwan to attend a wedding.They become collateral damage as China invades Taiwan. First person view points balance a deepening contemporary romantic relationship with techno thriller war action.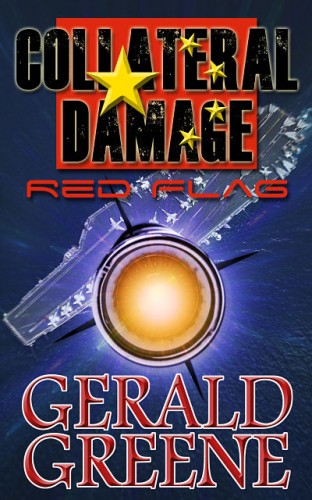 Atlanta, GA,, USA - - December 24, 2013 /MarketersMedia/ — Techno Thriller War Romance Novella Earns Page Turner Status
"Collateral Damage - Red Flag - An Alex Swift Novella", the latest techno thriller war action book by Gerald Greene is balanced with two relationships forever changed by war; funny and sometimes brutal, this novella delivers combat action well balanced with romance.
Author Gerald Greene has done it again with his latest novella, Collateral Damage - Red Flag. This new masterpiece is now published and is quickly becoming a top seller for readers who want to be entertained with exciting techno thriller action. It has its fair share of war romance and intrigue. Readers will become enthralled with the strong and believable male and female characters as they travail through becoming trapped in a war zone. While this novella is just 27,350 words, it is the perfect short read when time is of the essence and particularly those who don't like fluff.
Even though Collateral Damage - Red Flag was published so recently (December, 2013) it is all ready receiving rave reviews. War action fans and romance fans alike are delighted with the imagery and story line this book brings to life.
One Amazon five star review comments: "Collateral Damage - Red Flag projects an all-too-possible future situation involving China's desire to reunite Taiwan as part of the PRC. The compelling story unfolds through shifts in points of view as different characters become the first person speaker. Because of excellent clarity of locations and times, this does not lead to any confusion on the reader's part, and makes for an enjoyable, fast-paced read."
Another Amazon five star review states, "Mr Greene has delivered another page turner. Now Mr. Green gives us a look at the world just a few years from now. The Chinese want their "renegade province" back and are willing to risk war with the United States."
About Gerald Greene:
Author Gerald Greene offers intimate and realistic content based around high action and war-like settings due to being a Vietnam War veteran who served with the Navy Seebees near Da Nang,Vietnam. Vivid descriptions of combat situations in Greene's novels come from these experiences. Gerald Greene has also lived and worked in a variety of settings worldwide including Thailand, Taiwan, Japan, Hong Kong, Pakistan, the Philippines, France, Germany, and Vietnam. This, and his extensive world travels bring the settings to life in all of his publications.
Contact Info:
Name: Gerald Greene
Organization: Village View Press
Address: 968 Village View Circle, Loganville, Ga. 30052
Phone: 7704664636
Source URL: https://marketersmedia.com/techno-thriller-war-romance-novella-earning-consistent-five-stars/29393
For more information, please visit https://www.facebook.com/ebooksgeraldgreene
Source: MarketersMedia
Release ID: 29393