Stock Chart Pro announces results from its unique trading advisory service based on technical analysis that makes reading stock charts easy for beginning stock traders.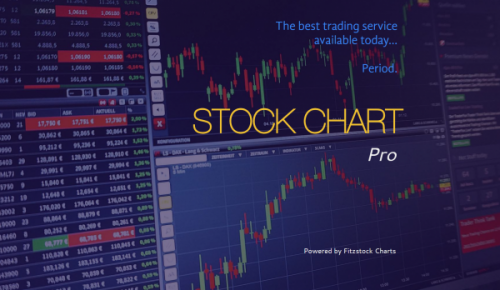 Dublin, United States - February 14, 2019 /PressCable/ —
Stock Chart Pro announces results from it's unique trading advisory service that makes reading stock charts easy for beginning stock traders.
The four essential components of the service employing simple technical analysis are that it utilizes:
1. Moving Averages: Where all key moving averages are moving higher with price (for long setups).
2. Moving Average Convergence Divergence: The popular oscillator that tracks price momentum.
3. Trendlines: The mapping of trendlines, highs to lows and vice versa, with a price "break" of a trendline indicating a trading signal
4. Multiple Time-Frames – Monitoring of various time frames in order to better understand where a stock's price may be heading, depending on whether the trader is a position trader, swing or daytrader.
With this unique strategy, Stock Chart Pro uis able to identifiy the market trend, calculates buy entry, and defines risk. Scanning thousands of charts searching for Historical Chart Pattern Comparisons also allows the user to have a trading edge. Including easy to follow "Rules of Engagement and a "Scaling Profits" strategy with suggested stops allows a beginner trader to keep things simple with trades that deliver high probability trades. Using this proven strategy Stock Chart Pro has developed a track record with over 75% winning trades and over 900 stock options that have doubled.
For more information visit https://youtu.be/Kqb876TuZRQ
Stock Chart Pro, is a monthly subscription service designed to help educate subscribers in the area of stock trading.
The service combines 15 years of market experience along with proven technical analysis of stock trends.
Stock Chart Pro shares that its goals are:
1. To exceed > 75% winning record per year.
2. To identify a risk profile and trading time horizon for each trade while using a scaling method with stops.
3. To ride winning trades and add to them when they reconfirm price strength.
To date, since inception, the service has exceeded each these goals annually.
Stock Chart Pro also features:
1. Private daily blog posts
2. Private twitter feed
3. Weekly stock charts analyzing current and potential new trades
4. Real time trade posts
5. Current Market Analysis videos
6. Trader Education
7. Defined Risk Management
To sign up for the free 10 day trial visit https://stockchart.pro
Stock Chart Pro
info@stockchart.pro
334 Old Spring Ct.
Dublin, Ohio 43017
614-717-5912
*source – stockchart.com
Contact Info:
Name: Stephen Bashaw
Email: Send Email
Organization: Stock Chart Pro
Address: 334 Old Spring Ct., Dublin, Ohio 43017, United States
Website: https://stockchart.pro
Source: PressCable
Release ID: 482269