Best Tattoo Removal In Austin Says They May Know Why Laser Tattoo Removal Is Seemingly More Popular Thank Ever, Especially In Austin, Texas.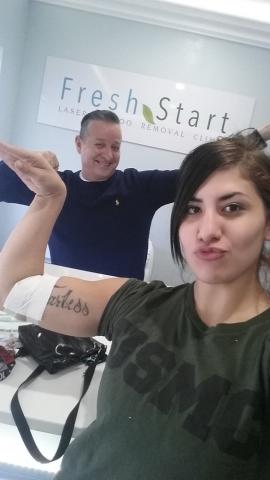 Austin, United States - April 4, 2019 /PressCable/ —
Austin, Texas- Fresh Start Laser Tattoo Removal Clinic is one of Austin's best and most popular laser tattoo removal clinic's says the interest people in Austin, TX is peaking causing more people looking to the renowned laser clinic to get their ink removed.
The reason for the peak in popularity could be many different things, however, the team at fresh start believes it may be due to an increase in expose to social media.
"Celebrities go through things they regret just like us, regular folks.", Anthony from Fresh Start Laser Tattoo Removal Clinic explains, "recently Ariana Grande, a famous celebrity who is constantly in the spotlight, had a mishap with a tattoo of an Asian symbol she found out didn't mean what she thought it did."
The mishap Anthony is referring to actually ended up causing quite the scene on social media as comments came pouring in about what her tiny tattoo actually meant. One laser tattoo removal clinic also offered to remove the tattoo for free.
In addition to social media talk and the uprise in celebrity tattoo removal, another big reason why laser tattoo removal in Austin, TX- is on the rise is because of the advancement in technology over the past decade.
Fresh Start Laser Tattoo Removal in Austin uses the latest and greatest when it comes to tattoo removal. Anthony comments in the clinic's prestigious laser device, "here at Fresh Start we use the Quanta Q-Plus C, a triple wavelength laser tattoo removal device made in Italy. This machine is a workhorse when it comes to removing tattoos because of its ability to take on all colors of the rainbow including the hardest to remove colors and types of ink".
Anthony is referring to blues, greens, and bright colors as the harder to remove ink. According to Fresh Start Laser Tattoo Removal in Austin, blue and green are quite possibly the hardest colors of ink to remove because these colors tend to reside in a specific part of the dermis where most laser wavelengths can't reach.
"For us to be able to attack inks that reside in the midpoint of the dermis like the blues and greens we need a special wavelength called a 'ruby' which has a length of 694 nanometers, and this is just about where the blues and greens reside. our Quanta Q-Plus C is the only laser in production that that has this ruby wavelength in the same machine as the other wavelengths used, making it the only all-inclusive device on the market."
Anthony adds this laser actually is said to have less than a 5% chance of scarring, which is another reason laser tattoo removal might be on the rise in Austin, TX.
Any general internet search will provide horrific photos of tattoo removal treatments gone wrong. These visuals feature blistering, scarring, and bleeding. Which Anthony says is due partly because of out of date technology and poor training.
The team at Fresh Start are all fully trained and certified in both laser tattoo removal and laser safety, (as well as additional training from Quanta Aesthetic Lasers). And scaring is not something their clients will have to go through.
Anyone interested in meeting with Anthony or the team at Fresh Start Laser Tattoo Removal is encouraged to visit their site at https://www.freshstartlaserclinic.com/tattoo-removal-austin-tx/
The clinic offers price estimates right from the form on their website, making getting started with a tattoo removal journey that much easier.
The Austin Tattoo Removal Clinic is located at 12505 Hymeadow Dr #2B
Austin, TX 78750
Directions and the reviews for Fresh Start Laser Tattoo Removal Austin can be found here https://goo.gl/maps/VTN3ptDHay42
Call for more info- (512) 249-0000
Contact Info:
Name: Fresh Start Laser Clinic Representative
Email: Send Email
Organization: Fresh Start Laser Tattoo Removal Clinic
Address: 12505 Hymeadow Dr #2B, Austin, TX 78750, United States
Phone: +1-512-249-0000
Website: https://www.freshstartlaserclinic.com/tattoo-removal-austin-tx/
Source: PressCable
Release ID: 498474