A tattoo is a work of art that can be seen in the body for the rest of one's life. A good tattoo must contain several elements that would make it more attractive and interesting such as the lettering, design, and font.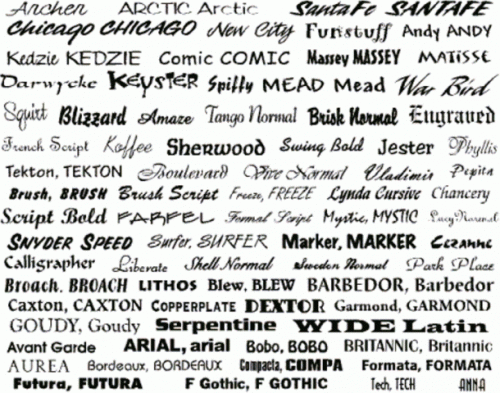 January 27, 2013 /MarketersMEDIA/ — The popularity of tattoo quotes involving meaningful sayings, names, and short quotes make tattoo fonts an important factor that will give tattoos a better look. Since tattoo quotes are not supposed to be read aloud, their appearance can be more significant than the term itself. A good tattoo font can transform an unattractive design into a better work of art.
Like other text fonts, tattoo fonts are available in several styles. Medieval or gothic fonts can turn boring tattoo into a unique and exciting one while still providing a distinct aura. Icy and fiery fonts can spice up the appearance of a tattoo, making it look cool and fresh. Old English font is another popular font used in tattooing. It gives tattoos a medieval meaning and a distinguished classic appearance.
Kanji Japanese calligraphy provides an old-fashion appeal on a tattoo. Mincho Kanji is a type of Japanese calligraphy that is equivalent to the "Times New Roman" font in the English language. Another type of Kanji Japanese calligraphy is the Sosho Kanji. It features smooth and flowing lines that are commonly seen in martial arts studios.
Meanwhile, Celtic fonts are usually characterized by angular or rounded illustrations. They are a widely used with Celtic motif including tribal tattoos and armbrand. Script fonts help enhance the tattoo's message and add personalized touch on every tattoo.
Tattoo fonts are important for several reasons. For one, fonts render a deeper meaning and character to a tattoo. Even simple words and quotes can look artistic when used with a good tattoo font. On the other hand, no matter how inspirational the sayings are, it would be useless if they cannot be read clearly due to poor choice of fonts.
Individuals tend to be overwhelmed by the idea of having a tattoo that they often overlooked the importance of choosing the right tattoo fonts. Intricate tattoo design needs to have a suitable font for it to pop up. When a word is used as part of an image, the tattoo font should reflect the image's attitude. The font should not overpower the image. Instead, tattoo fonts should appear as part of the image.
When choosing a tattoo font, the message that the image or the quote is trying to convey should be considered. It is not appropriate to use a font that conveys anger on quote about happiness. Likewise, words and sayings that express grief, sadness, and sorrow should not be tattooed with fonts that have smooth and curvy lines.
Technological advancement has enabled various tattoo artists to develop new and better way of making a tattoo. The use of tattoo fonts stencils is becoming popular among artists as they help them make a tattoo look better and uniform. Stencils can also make a tattoo look neat. There are already numerous shops that offer tattoo font stencils to tattoo artists. Some even create customized stencils of the own fonts created by a tattoo artist.
There are also tattoo artists that create a freestyle font and personalized design if their customers request for it. It is important that the font and design is appropriate for the quote and the body part where the tattoo will be put. Other tattoo artists generate multiple designs for the tattoo, each with different combinations of tattoo lettering and fonts.
Computers and Internet provide individuals a variety of choices for tattoo fonts. They help them create their own tattoo design and look for the right font to use. With the help of an experienced tattoo artist, the generated design can be polished before engraving it to the body.
Finding the tattoo fonts that are accurate for certain tattoo designs and styles can be challenging. There are thousands of fonts available. Each has its own form and style. Fortunately, there are several websites that aim to help various individuals better understand the process of tattooing. These website also share suggestions about different tattoo fonts, lettering, and designs. Some even provide downloadable and printable photos of these font styles and designs.
Tattoo fonts have an essential role in creating the identity of a tattoo. They can add flair and pizazz to any form of body art such as tattoo quotes.
TattooDesignsQuotes.com.au is a website based in Australia that is designed to provide comprehensive information about tattoo design and ideas as well as tattoo letterings and fonts. It guides individuals in choosing their dream tattoo.
Contact Info:
Name: Michael Ricketts
Email: Send Email
Organization: Tattoo Designs Quotes
Website: http://www.tattoodesignsquotes.com.au/tattoo-fonts/
Source URL: https://marketersmedia.com/tattoo-experts-share-advice-for-choosing-the-right-tattoo-font/1679
Source: MarketersMEDIA
Release ID: 1679