Award-winning Women Innovators Radio Host Tamara "Tami" Patzer earns certification for Business of Speaking with Nancy Matthews and Trish Carr of the Women's Prosperity Network.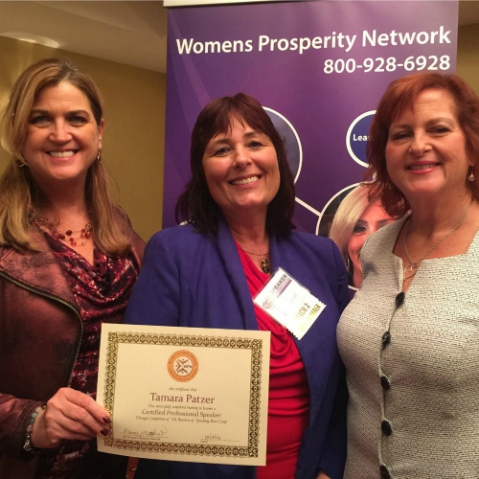 Englewood, United States - July 1, 2017 /PressCable/ —
Award-winning Women Innovators Radio Host Tamara "Tami" Patzer completed Women Prosperity Network's Business of Speaking, not once, but four times. She is now a Quadruple-Certified Business Speaker. "The Business of Speaking is an awesome opportunity to work on messaging and programs for speaking from the stage," said Patzer. I worked with Women Prosperity Network founders Trish Carr and Nancy Matthews to create my impactful speech." Patzer created a new signature speech and program at each of the four Business of Speaking trainings attended.
Listen to Women Innovators Radio here.
Patzer is currently on a national media tour speaking about social media and Women Innovators. She recently shared the story of the Women Innovators "Big Message, Big Mission" international No. 1 best-selling book series at Guerrilla Marketing Global Summit, the California Women's Conference, and on ABC, NBC, CW and Fox in Arizona and New Mexico. She is scheduled to appear in San Diego, Baton Rouge, Albuquerque and Washington, D.C. In July, Patzer will be a featured main stage speaker at the Thought Leaders Business Expert Forum at Harvard Faculty Club.
Since January, Patzer has helped 64 women become best-selling authors in the Women Innovators: Leaders, Makers and Givers book series and radio show. Patzer toured Florida with stops in Melbourne, Fort Lauderdale, Orlando, and Daytona Shores earlier this summer.
At the Guerrilla Marketing Global Summit, Patzer shared the stage with Guerrilla Marketing Co-Founder Jeannie Levinson; Guerrilla Marketing Wealth Author Loral Langemier; Social Media Guru Joel Comm; Social Media Architect Warren Whitlock, Brand Expert and Publisher C. Mike Lewis, Guerrilla Publicity Best-Selling Author Jill Lublin; and other super stars in Guerrilla Marketing.
"It was a true honor to be one of the very first Guerrilla Talk speakers during the Guerrilla Marketing Global Summit in memory of author Jay Conrad Levinson. The energy and The people are magical!" said Patzer, who will tell the story of her mother's journey as a writer at Harvard.
Patzer will speak at the Thought Leaders Business Experts Forum at the Harvard Faculty Club in July as part of the Women Innovators "Super Women" Book Tour.
Currently, Patzer is interviewing entrepreneurs for two new book series: Self-Made Women: The Feminine Journey to Success and Digital Trendsetters to be published later this year by Women Innovators Publishing and its sister company, Blue Ocean Authority. To apply to be part of any of the Women Innovators book series, fill out the online form for more information or contact Patzer directly via email at TamiSocialMedia AT gmail.com.
Contact Info:
Name: Tamara Patzer
Organization: Blue Ocean Authority, a division of Total Audience Market Immersion TAMI LLC
Address: 371 N Oxford Drive, Englewood, FL 34223, United States
Website: http://www.tamipatzer.com
Source: PressCable
Release ID: 213210