The young children's development company has combined the best of all worlds by creating a mess free, draw with water, zero chemicals kids toy that promotes a wide range of benefits for the whole family, including creativity and stimulation for young minds.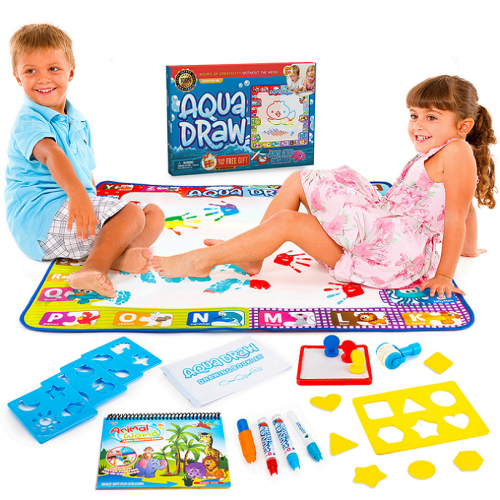 Las Vegas, United States - November 22, 2019 /MarketersMedia/ — Art and creativity is highly renowned throughout the educational industry as a key to children's healthy development, due to the infinite ways that it can enhance the brain. Repeated experiences with open ended art builds nerve circuits in the brain that influence how a child does in school, in relationships, and in society as a whole.
The problem for most parents when choosing crafty toys to help their children develop in art and creativity, is that they are forced to make difficult decisions from a multitude of options when choosing which toy or tool to buy. Most creative toys are messy and creates stains on clothes and furnishings. Furthermore, the vast majority of these products are filled with loads of chemicals and toxins that can do more damage than good.
The Talented-Me Company, a rapidly growing children's toy brand with a focus on early childhood development, recently introduced their highly-anticipated Aqua Draw Water Doodling Mat for Kids. This all-purpose toy promotes your child's cognitive, physical and social-emotional development.
The simple act of adding water to the pens and brushes is what sets this doodling toy apart from other crafty toys. With a stroke of the water brush, magnificent colors appear on the Aqua Draw Doodling Mat. It leaves no mess to clean up and is paint free, giving parents peace of mind while their children are kept happy for hours.
In the Aqua Draw launch phase, the company included a special Bonus water coloring booklet with the product, great for traveling. With Christmas holidays coming up, this booklet is a no-brainer for parents with little busy bodies. The coloring book will help entertain and stimulate your child screen free on the long roads and plane rides ahead. This dual product solves the most common problem that parents face, removing the need to choose between toys giving peace of mind at home, or peace of mind on the road.
It is also known that creativity flourishes between the ages of two and five, and if it is nurtured and supported, it will become a lifelong trait. As Professor Elliot Eisner of Stanford University said at the convention of the National Arts Education Association, "In the arts, imagination is the primary virtue." Art encourages the brain to visualize and interpret things it cannot see, touch, feel, hear, or taste. This promotes creative, inventive thought as well as critical thinking skills.
However, the standards movement is having a direct, negative impact on early childhood development. While this impact is most obvious in public school programs, it also affects early childhood programs by requiring unrealistic kindergarten-level entry skills. Since almost all of these standards are specific academic skills (letters, numbers, even reading), one result of this emphasis is that many programs have increased the time and effort they devote to teaching specific academic skills, and reduced physical activities including art.
In the realm of developmental benefits, the Aqua Draw Mat is also in a class of its own:
- It offers children an important outlet for emotional expression.
- It contributes to individual identity, allowing children to discover their own talents and interests.
- Through art it provides a path to dialogue, a way to share and compare ideas.
- From the young painter concentrating intently on her brushstrokes to the more expressive young mind slapping hand and feet marks unto the water mat, it promotes growth in nearly all areas of development.
- Most research confirms that young children learn best through experimentation, exploration, and multisensory activities. The water drawing mat encourages all of these things.
"Our main goal with the Aqua Drawing Mat was to showcase the limitless potential of arts on kids' brain development, and not just as a trendy toy," said Marie, Co-Founder of Talented-Me. "We wanted to show parents how the drawing mat can change their lives and that of their children for the better, and that's exactly what we're doing."
The Aqua Draw Mat has just been released on Amazon.com. To celebrate, Talented-Me is giving away a special 20% off Amazon discount coupon code to try their Kids Drawing Mat. This way more people can experience this breakthrough toy and developmental solution at the lowest possible launch price. To get yours now, visit https://social.talented-me.com. This type of toy with bonus coloring booklet is rare, so the company has a very limited supply.
Contact Info:
Name: Marie Gouws
Email: Send Email
Organization: Talented-Me
Address: 10785 W. Twain Ave. Ste 210, Las Vegas, Nevada, 89135
Phone: +1 (702) 550-8220
Website: https://social.talented-me.com/special-launch-ibfv1-33sk
Source URL: https://marketersmedia.com/talented-me-announces-release-of-kids-aqua-draw-mat-helps-develop-neuron-pathways-in-childrens-brains-through-creativity/88935343
Source: MarketersMedia
Release ID: 88935343