Amazon's Leading Biodegradable Wet Wipes Highly Praised for Being a Perfect Hygiene Product for Cyclists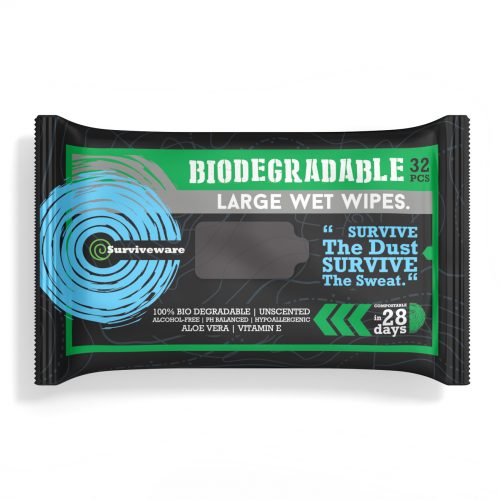 Woodbridge, United States - September 23, 2018 /MarketersMedia/ — According to a report published by Forbes, commuting by bike is becoming a popular habit for commuters. In addition to being an active alternative to vehicles, commuting by bike allows the rider to be more in control of their expenses, gas emissions, and travel route. It is an inexpensive means of transportation while providing an excellent opportunity for exercise at the same time.
More and more cyclists are discovering the value of bicycle commuting. However, despite the number of benefits, people are still wary of using bicycles for commuting to and from work. One of the major concerns is the inconvenience of freshening up at the workplace. Many offices don't provide showers or locker rooms where commuters can freshen up before work; hence, cyclists are having second thoughts about riding their bicycles to work.
Avid cyclists have recently discovered an all-around wet wipe that provides a solution to their hygiene problems. Bicycle commuters are now raving for the biodegradable wet wipes created by the leading manufacturer of camping and survival gears, Surviveware. These wet wipes are formulated to cleanse the skin and provide ample moisture through its natural aloe and vitamin E.
According to reviews by Surviveware customers, the biggest selling point of this product is its formulation. Regular wet wipes tend to leave unwanted scent and sticky residue after use. Surviveware's wet wipes are formulated to keep its users feeling clean and fresh without leaving any residue on the skin. They are also hypoallergenic and designed for all skin types. Hence, users are assured that it's safe even for the most sensitive skin.
Cyclists on a weekend trip also feel the need for wet wipes after a long, sweaty trail ride.
Bicycle commuters also commended the company for creating functional and economical shower wipes. Commuters have reported that regular wipes are small and often takes eight to ten pieces of wipes to clean the entire body. Surviveware's wet wipes are 30% larger than their counterparts. This size makes it possible for users to clean their whole body with only one to two wipes.
In the following review written by one of a Surviveware customer, he emphasized how these wipes helped him freshen up for work after his 12-mile commute: "I ride about 12 miles to work, where there are no showers. It's too far to just go as slow as possible to avoid sweating. I'm going to sweat, but that's OK because I get there, cool down and then use the Surviveware wipes. The key is to start clean, with deodorant on clean skin. Then, after wiping, there is still deodorant on my skin. After wiping, I also apply some body powder. Seems to do the trick."
True enough, these wipes are indeed a life-saver for any cyclist, whether commuting to work or the simply enjoying a long, leisurely cycle. With Surviveware's biodegradable wet wipes, getting decently clean for the office is easy and convenient.
Surviveware's Biodegradable Wet Wipes are now available on Amazon. Now is your chance to grab these wipes and enjoy a more refreshing after cycling ride. Click here now!
Contact Info:
Name: Amanda Condry
Email: Send Email
Organization: Surviveware
Phone: 703-910-5188
Website: https://surviveware.com/
Source URL: https://marketersmedia.com/survivewares-wet-wipes-receives-recommendation-from-avid-cyclists/410157
Source: MarketersMedia
Release ID: 410157