Surviveware Celebrates New Product Milestone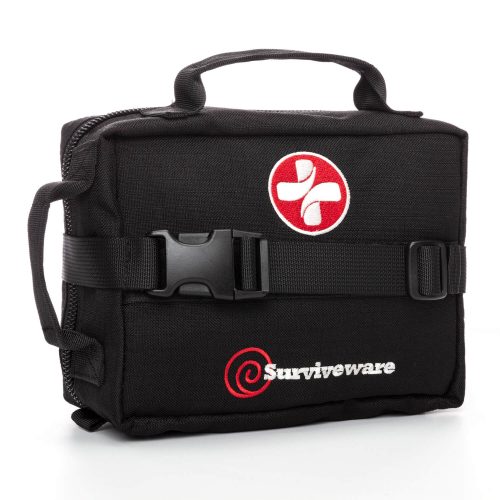 Woodbridge, United States - July 21, 2020 /MarketersMedia/ — Leading adventure and survival gear retailer, Surviveware, is pleased to announce that its Survival First Aid Kit has received 200 reviews on Amazon with an average rating of 4.9 stars. The first aid and survival kit provides means for adventure-seekers and survivalists to be prepared for all eventualities no matter the situation.
This innovative take on a tactical med kit combines first aid, hygiene, and survival in one portable and functional bag. Addressing these three aspects of outdoor emergency preparedness ensures that any hiker or camper has the means to thrive when caught in the middle of a crisis in the backcountry.
Surviveware's Survival Kit contains assorted medical items for handling burns, abrasions, lacerations, punctures, sprains, concussions, twists, and insect bites, among other common injuries. Every kit comes with a complete set of adhesive bandages, conforming and triangular bandages, eye pads, cotton swabs and buds, hypoallergenic tape, splinter probes, a CPR kit, trauma shears, nitrile gloves, and safety pins.
To address the survival needs of its users, the kit contains a multi-tool, premium-grade knife, poncho, wire saw, paracord bracelet, glow sticks, a signaling mirror, and a tactical flashlight. A pack of Surviveware's Biodegradable Wet Wipes is also included to cover hygiene.
While it may seem that this kit is already packed to the brim, it can easily hold additional survival and first aid items, so that users can tailor the kit to suit their unique lifestyles. Some suggested personal supplies include prescription medication, an Epi-pen, tourniquet, or inhaler.
One of the popular selling points of this Surviveware survival kit is its organized and labeled compartments. Each compartment's color-coded markings help boost the functionality of the kit, marked with its contents' name, use, and quantity. These labels serve as a guide for supply retrieval and replenishment. With easy to follow labels, even bystanders can use the tactical med kit with ease.
Surviveware's first aid and survival kit's MOLLE-straps make it easier to lock the kit in place. The snaps provide easy access for fastening the pack on a headrest, backpack, hammock, tree branch, or go-bag. This fluidity is important, especially during emergencies and critical situations.
More and more individuals are trusting Surviveware for their growing outdoor and preparedness needs. In a review written by a Surviveware Amazon customer, she narrated how the survival kit carved its place in her hiking and camping pack:
"I was searching for a small first aid kit to carry with me when I go into the mountains with my family. I was pleased with both the quality and amount of the products located in this amazing first aid kit. I will be fully prepared for anything that is thrown my way with this kit!! I find myself carrying this kit with me everywhere!! Thank you for the amazing product I now feel fully prepared!!"
Make your outdoor escapades safe and worry-free with a durable first and survival kit. Grab your Surviveware Survival Kit today by clicking here.
Contact Info:
Name: Amanda Condry
Email: Send Email
Organization: Surviveware
Phone: 703-910-5188
Website: https://surviveware.com
Source URL: https://marketersmedia.com/survivewares-survival-first-aid-kit-celebrates-200th-amazon-review/88969412
Source: MarketersMedia
Release ID: 88969412