Well-Rounded First Aid Kit from Surviveware has Average Rating of 4.9 on Amazon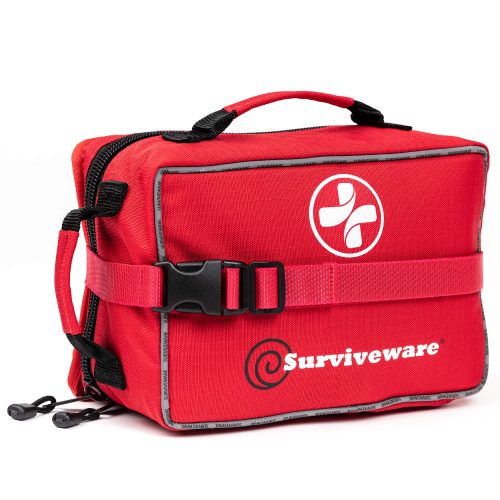 Woodbridge, United States - March 26, 2020 /MarketersMedia/ — Accidents are not scheduled interruptions. They occur in the most unexpected places during the most inconvenient times. Therefore, it's important to have a first aid kit within reach when things go awry.
When home accidents get out of hand, a first aid trauma kit should be readily available. It should hold the essential items that one needs to stabilize severe injuries while having enough resources to patch up minor injuries. Times like these call for an expanded first aid pack. Amongst the most recommended home emergency gear is Surviveware's Large First Aid Kit.
One of the trusted features of this reliable first aid home gear is its water-resistant capabilities. The kit is made of 600D polyester, each one measuring 10" x 7.25" x 5". This fabric helps keep the supplies dry and fresh. Each bag has labeled partitions to separate the supplies, as well as note the content and use of the provisions stored inside each partition. This labeling system enables first aid kit users to quickly locate supplies and provides a guide for replenishing the stocks. Resealable laminate pouches are used to secure the provisions and keep water and dust off the supplies. They also help preserve the shelf life of the items stored inside the bag.
Surviveware incorporated MOLLE-friendly straps on this expanded first aid trauma kit, which allows the package to be strapped conveniently to any headrest or roll bar. It also holds 200 pieces of high-quality life-saving provisions and a mini-first aid pack for shorter excursions.
Individuals who have been involved in an accident appreciate the need for a thorough first aid kit home resource for their households. One Amazon reviewer who experienced a severe accident wrote a comprehensive review of how the Surviveware Large First Aid Kit makes a
huge impact on her life.
"…As someone who nearly lost a thumb and finger to a severe table saw incident, I've begun to take being prepared for trauma very seriously. I've purchased 4 of these FAK's for church and personal use. They are well made and sturdy. Having multiple mounting options for keeping handy in a vehicle, shop, or on/in a bag/pack is great. And they have quality, smoothly functioning zippers to boot, that will not impede access in an emergency.
When I say that this is a very well-rounded kit, I mean it. Just about everything a non-medically trained individual will want/need to use In a minor emergency can be found within. I researched for months in the civilian and tactical medicine markets and needed out a bit running a comparison chart on what I would need to build my own, complete AFAK/Trauma Kit. The results: you can round out Surviveware's Large FAK for an additional $120+- and end up with a Trauma kit that rivals several of the $400-$500 options on the market.
The best part, there's ample room to add and adjust the first aid kit for your personal preferences. In addition, a novice can open your kit and read clearly marked labels to find what is needed.
Quality of content is excellent in comparison to several others on the market. You're not getting any of the cheap surplus stuff from Alibaba, etc. The medical shears, in particular, are better than your standard-issue set. The quantity of everything is reasonable for any single incident you may encounter. All in all, if you are in need of a thoroughly thought out FAK that doesn't compromise on quality or contents, look no further. If you are looking to assemble your own AFAK/Trauma kit, look no further.
If you want to spend more money than you need to, or you want a camouflage exterior so you can lose it, move along. Thank you, guys, for putting so much work into a FAK that made preparing for any emergency a breeze.
To all the potential buyers, you will not be disappointed."
Don't wait until you're the next one to hit the emergency room. Make sure that you have a reliable first aid trauma kit within reach. Grab a Surviveware Large First Aid Kit for home use now by clicking here.
Contact Info:
Name: Amanda Condry
Email: Send Email
Organization: Surviveware
Phone: 703-910-5188
Website: https://surviveware.com
Video URL: https://youtu.be/cSc6D3Pwyas
Source URL: https://marketersmedia.com/survivewares-large-first-aid-kit-reaches-550th-amazon-review/88951185
Source: MarketersMedia
Release ID: 88951185